Rock City Blog
Noah & The Whale gig review!
October 7th
Posted in: Gigs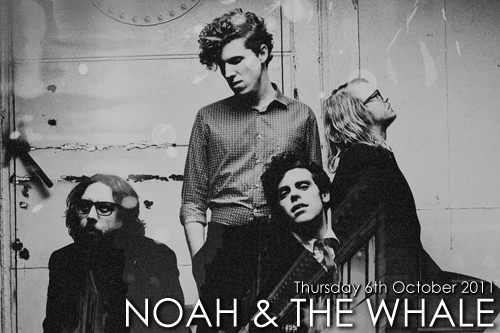 Noah & The Whale played a sold out show at Rock City last night just a matter of months after packing out our Sister venue Rescue Rooms. This explosion in popularity comes as no surprise, seeing as back in 2008, when they released their debut album 'Peaceful, the world lays me down' it went Gold and peaked at 5 in the UK charts. This, coupled with the re-release of the single '5 years time' managing to reach 7 in the singles chart, certainly had me expecting them to ascertain this level of popularity much sooner. They didn't, which has worked great for them, they bided their time and here they are 2 albums later a better band, a more mature band and with a more eclectic audience who have all had the time to discover them by themselves.
The more accomplished sound they managed to achieve on their latest album 'Last Night On Earth' echoed in their set; even when playing their older songs; I believe on purpose, as the set was perfectly crafted, carefully coupling their beautiful melancholy slow tempo songs with their crowd pleasing up tempo faster songs. 'L.I.F.E.G.O.E.S.O.N' being the most notable fan favourite which incited an absolutely overwhelming sing a long which seemed to be coming every single member of the audience.
Photography by David Baird, to buy prints of this gig, or any of his work, please visit his website Here

Noah and The Whale - Images by David Baird