Rock City Blog
Asking Alexandria Kick off the new year in style!
January 19th
Posted in: Gigs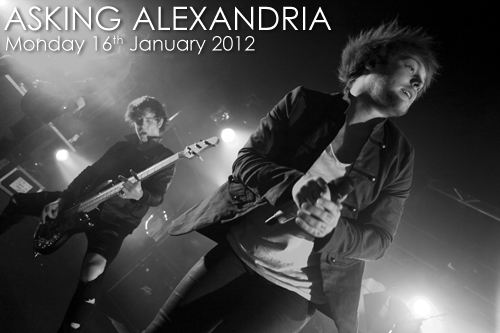 Asking Alexandria kicked off the new year in style, with a sell out first gig here at Rock City. A sign of good things to come in 2012!
After a wonderful festive period filled with many X-Mas parties, special one-off events and the absolutely banging new years eve - Countdown, we hope you're ready for an onslaught of awesome gigs that we have lined up for you over the next couple of months. Check out the gig listing here
Asking Alexandria came on stage and opened with a belter from their 2011 second album (reckless & Relentless), the abtly named 'Welcome' they then followed this with 3 more songs from that album - closure, breathless & a lesson never learned.
Bounding around the stage the entire band were full of energy, a charismatic Danny Worsnop got the crowd buzzing and had them crowd surfing from the off.
You could tell they were enjoying themselves and so was the crowd, it was a belter of a gig.
Setlist - welcome, closure, breathless, a lesson never learned, not the american average, i was once possibly maybe perhaps a cowboy king, dedication, dear insanity, to the stage, morte et dabo and an encore with alerion and the final episode.
Photography by Shaun Wootton