Rock City Blog
ASH Live Album!
September 12th
Posted in: Blog
Fan favourites Ash are here in December for the 20th Anniversary of their number one album 1977! And we've just had news about a live album:

**ASH ANNOUNCE LIVE ALBUM 'Live On Mars: London Astoria 1997'**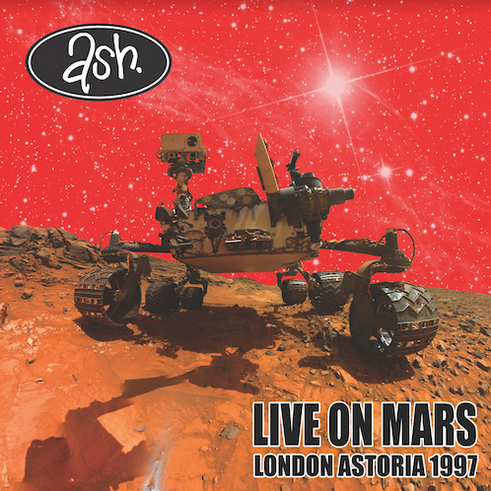 To coincide with the 20th Anniversary of their number one debut 1977, Ash have announced the release of a live album called Live On Mars: London Astoria 1997.
Recorded over the band's record breaking five night run at the London Astoria from the 28th February to the 4th March. The album includes their hit singles 'Girl From Mars', 'Goldfinger' and 'Kung Fu', as well as a covers of Abba's 'Does Your Mother Know' and Dusty Springfield's 'I Only Want To Be With You'. The set captures the raw energy of the band on their homecoming celebration to wrap up the epic year of touring of 1977, which was released the previous year.
The album will be released as a limited edition numbered and coloured vinyl, CD and download via the band's website, the live shows and select retailers. The band said "The Ashtoria Five Night Stand was one of the most memorable run of shows for us. It really was the icing on the cake of a manic year since 1977 was released. We'd achieved a number one album followed by a world tour that came close to breaking us. These shows allowed us to look back and celebrate with everyone involved. And it was one hell of an aftershow!"
"These five nights at The Astoria, from February 28th to March 4th 1997, sound and feel like a party. An exuberant, irresistible celebration of a band who, transcending the faddishness of concurrent Britpop, succeeded on that rarest of commodities: raw talent." - Ian Fortnam, Classic Rock
To commemorate the 20th Anniversary of 1977 the band announced a special run of shows where the album will be played in its entirety. Ash will kick-off the tour with an extensive US tour, followed by shows in the Ireland, mainland Europe and the UK.
GET TICKETS FOR THEIR ROCK CITY SHOW HERE: http://bit.ly/2c9mnjL