Rock City Blog
Sleaford Mods - New Tour!!
February 27th
Posted in: Blog
SLEAFORD MODS ANNOUNCE NEW ALBUM 'ENGLISH TAPAS'
RELEASED ON MARCH 3RD 2017
AND A FILM 'BUNCH OF KUNST'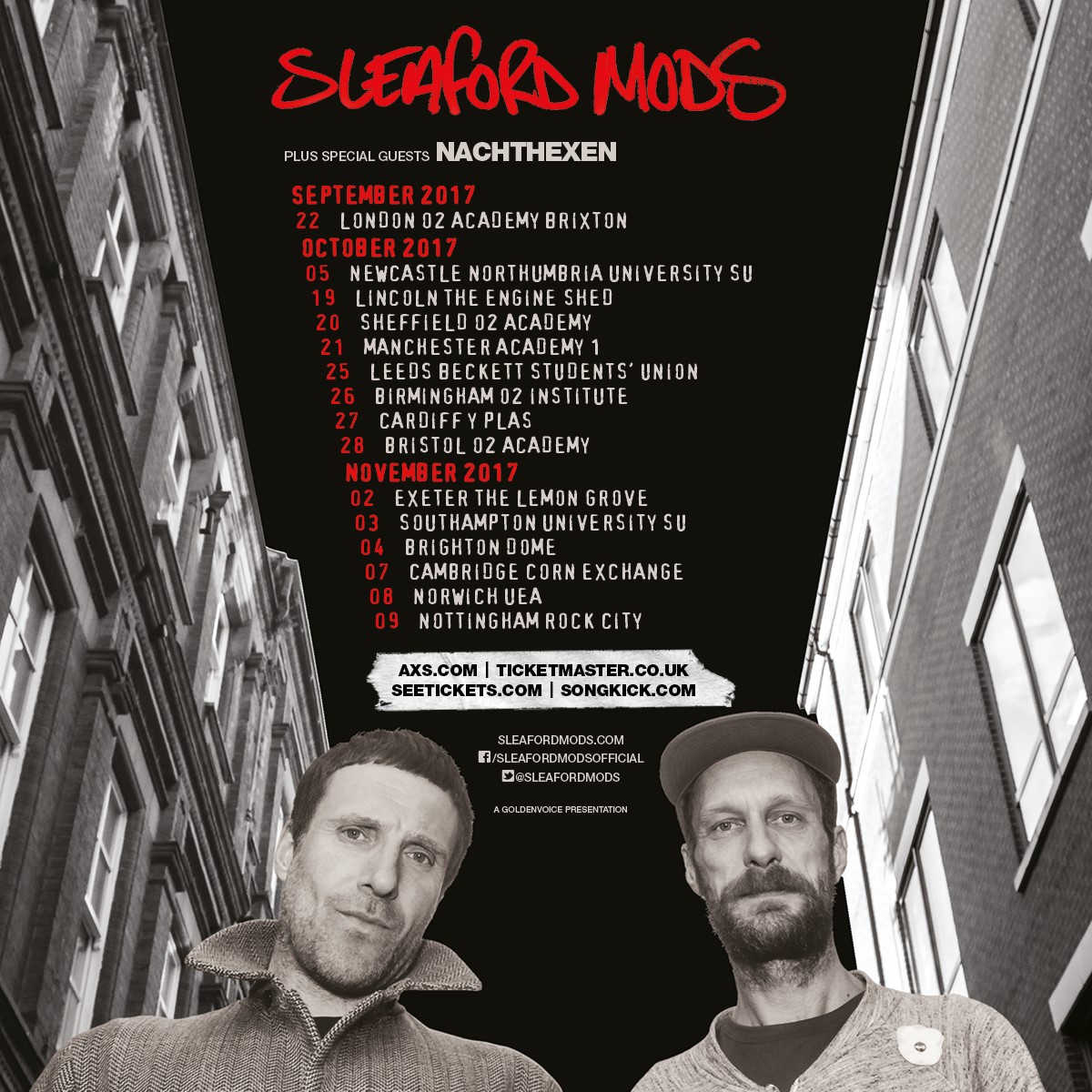 "undoubtedly, absolutely, definitely the worlds greatest rock n roll band……Sleaford Mods" Iggy Pop
Sleaford Mods are pleased to announce the release of their new album 'ENGLISH TAPAS' which will be released via Rough Trade Records on March 3rd 2017. The album was recorded at Steve Mackey's (Pulp) West Heath Garage studios in London.
The album will be released on a limited pressing of red vinyl, CD, DL and very limited edition cassette - 150 only. The first 1000 vinyl pre-orders also include a bonus one sided 7" of exclusive track "Big Trouble In Little Costa", gigography booklet containing unseen photos by Simon Parfrement and commentary by Sleaford Mods, a packet of kingsize rizlas and a beermat. The tape also includes 'Sleaford Mods Live at Dismaland 2015' and with a download code of the live show only.
Fans can pre order here http://smarturl.it/EnglishTapas
Jason Williamson discusses 'English Tapas': "Andrew walked into some random pub and saw "English Tapas" scrawled on the menu board. Underneath this beautiful coupling of words were it's components, half a scotch egg, cup of chips, pickle and a mini pork pie" It says everything about this fucking place. It's comedy, it's make do, it's ignorant and above all, it's shit" Watch Jason's album message https://spaces.hightail.com/receive/GTjrV
Also next year is Christine Franz's 'Bunch of Kunst' – the definitive Sleaford Mods film. Taking over two years to record, it charts the rise of the band from back street pub venues to rock arena's. The film will be released in early 2017. Watch teaser http://www.bunchofkunst.com/ "This documentary film is the perfect antidote to those sexy, racy, rocknroll yawns most bands hide behind. We are indeed A Bunch of Kunst"
Sleaford Mods are Jason Williamson (words) & Andrew Fearn (Music)
TIX ON SALE FRIDAY, SET A REMINDER AT http://bit.ly/2lqjhKD