The Rock City archives: 2016
TUNED - ST PATRICK'S DAY SPECIAL!, ROCK CITY CLUBNIGHT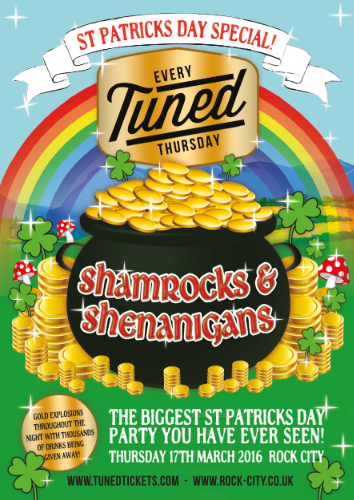 *Top of the morning to you* (Irish voice)

On Thursday March 17th we celebrate the feast of St. Patrick. In the old times this day marked the arrival of Christianity in Ireland, but in modern times this fine fine day means it's time for us all to call on distant Irish heritage and embrace the Irish tradition of drinking copious amounts - With 2-4-1 drinks here at Tuned there really is no better place to be.

This St. Paddy's day we have gone all out to bring you: Shamrocks & Shenanigans - An evening overflowing with Irish-ness... We've already got a: live Irish band, real life Leprechauns, Irish themed drinks, excessive Irish decor and much more tba

All tickets even come with a FREE Paddy Bomb (more Irish JagerBomb)

This event is one of the biggest events of our year so make sure you buy your ticket in advance to avoid disappointment.

GET YOUR PADDY ON!!!