The Rock City archives: 2017
VOODOO SIX, Rock City Basement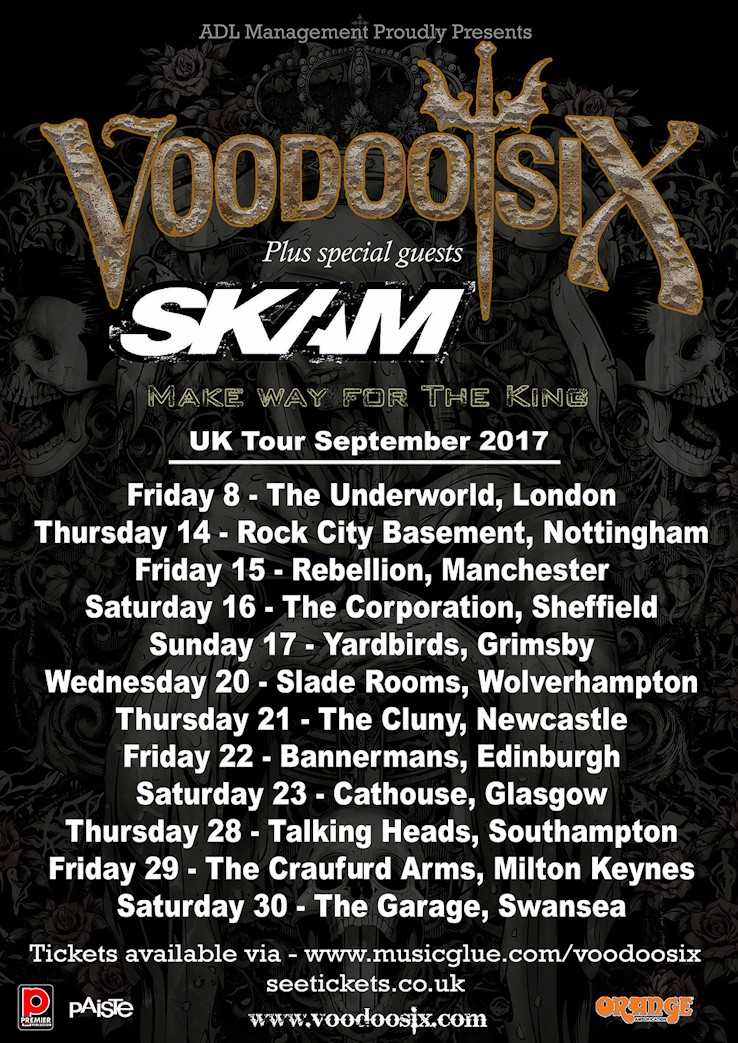 Voodoo Six are delighted to announce a tour of the UK in support of their fourth studio album, 'Make Way For The King', released via Cadiz Music on 8 September 2017.   The band will perform 12 dates, kicking off with the album launch show at The Underworld on day of release, 8 September. Tickets are on sale from 10am on Monday 5 June 2017 from www.musicglue.com/voodoosix. The band are a renowned live force, having toured all over Europe, notably as special guests for Iron Maiden, and indeed for Steve Harris' British Lion, but have also performed four times at Download Festival and twice at Sonisphere.
'Make Way For The King' boasts twelve brand new tracks and was recorded in Los Angeles in 2017. Exclusive special editions will be available viawww.pledgemusic.com/voodoosix; anyone pre-ordering through PledgeMusic will receive, ahead of the album's release, an exclusive Radio Edit of the album title track 'Make Way For The King'. The record was produced by Tom Fletcher [Suicidal Tendencies, Ozzy, Steve Lukather, Yes, Jeff Beck, Scorpions, Toto, Malmsteen].  'Make Way For The King' will be the first album to feature new vocalist Nik Taylor-Stoakes.  Voodoo Six specialise in a delivering driving, contemporary rock with an undercurrent of blues and cut through with killer riffs. Classic Rock approved of their, "groove, pace, power, insistent songs and some stunning musicianship."
Founder member Tony Newton said of the new record and fresh start for the band, "It feels like this is the right time for us to return. We're incredibly proud of the new material and can't wait both for people to enjoy 'Make Way For The King' at home but also to join us for what are going to be some amazing live shows!"
The current Voodoo Six lineup consists of Nik Taylor-Stoakes (Lead Vocals), Matt Pearce (Guitar), Craig Price (Guitar), Tony Newton (Bass) and Joe Lazarus (Drums).
The anticipating building for both the live dates and the new album shows the strength of the loyal following that Voodoo Six have enjoyed since forming in 2003.  There may have been a few bumps in the road along the way but with 'Make Way For The King' Voodoo Six show that they are still in with a chance of seizing the crown.
SUPPORT:
SKAM:
· Leicester, UK, based power trio, featuring brothers Steve (guitars/vox) & Neal Hill (drums) along with Matt Gilmore (bass)
· Influenced by bands such as AC/DC, Iron Maiden and The Foo Fighters the band have a reputation for delivering no-nonsense, gutsy, classic British hard rock music.
· New album due to be released in 2017
· SKAM are undeniably the real deal! KKKK Kerrang! Magazine
· With an armory of songs such as 'Rivers' and 'Peacemaker', they are set to go far. Classic Rock Magazine
· A raucous take on Zeppelin beating up Clutch in a lo-fi grunge street fight. 9/10 Powerplay Magazine
''THE only band that can keep up with us on and offstage. Leading lights on the current British Rock revolution! They impressed us greatly, both as musicians and as people, a rare package''. – Paul Mahon, The Answer
''SKAM are bigger, louder, and a lot more fun than a three piece should be! Get along and see them now if you don't want to miss out!'' – Luke Morley, Thunder
"Fading Before The Sun - UK hard rock trio SKAM return with this machine gun dose of heavy-hitting gusto. Lyrically it's all guns, horses, vultures and other Southern cowboy/deserty images, but sonically it's no-nonsense, chord-crunching rock meat. Watch out for the full new album, due in November." – Classic Rock Magazine