The Rock City archives: 2018
THE TEMPERANCE MOVEMENT, Live At Rock City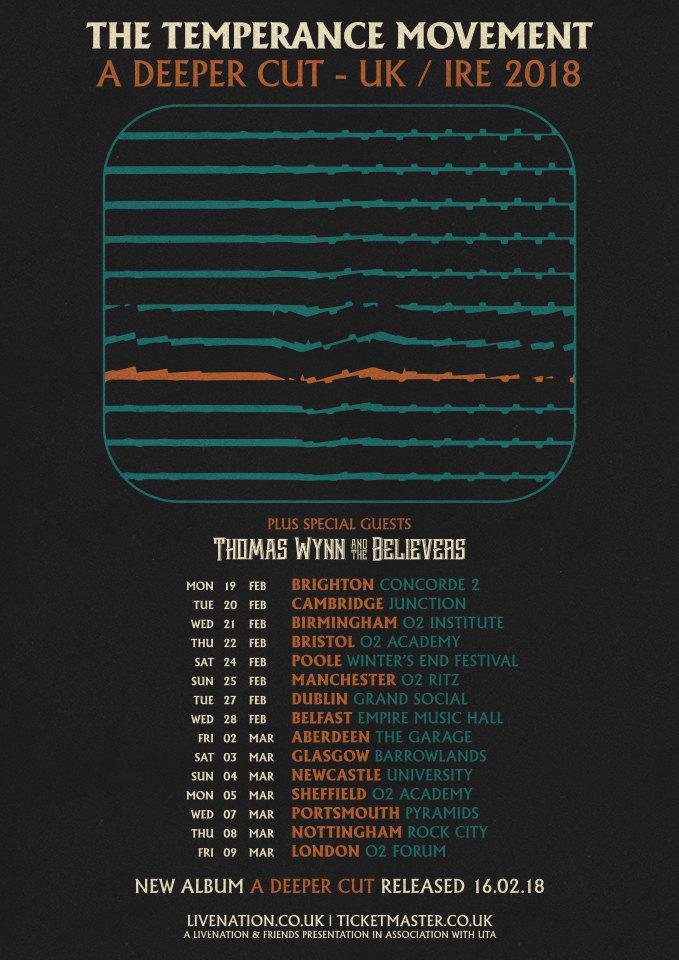 LONDON, UK (30th Oct, 2017) – British rock and rollers THE TEMPERANCE MOVEMENT have returned with news of UK and European tour dates to coincide with the release of a brand new studio album in early 2018. Following a whirlwind few years in which they released two Top 20 albums, toured around the world and shared the stage with such rock megastars as THE ROLLING STONES, THE TEMPERANCE MOVEMENT are finally back, having been hard at work behind the scenes preparing for an even bigger year in 2018.
The tour will see them return to the UK, Ireland, Germany, France, Switzerland, Belgium, Holland, Austria, Poland and The Czech Republic to play to their biggest audiences yet.
Tickets go on sale on Friday 3rd November, accompanied by exclusive plays of the album's first single 'Caught In The Middle'. The band's eagerly-anticipated new album, 'A Deeper Cut', is due to be released on February 16th, 2018 and features 12 brand new songs which draw on the band's most recent experiences. The album will be available to pre-order throughout Europe from November 3rd.
"This is my favourite record we've made so far and I'm more excited about getting this out there than I have been about any of the previous albums," states guitarist Paul Sayer. "I feel like we've really captured what the band is about on this one; I can't wait for people to hear it and I can't wait to get out on the road and play it live to everyone."