The Rock City archives: 2014
Splendour 2014, Wollaton Park
Saturday 19th July 2014
Supported by:

Tom Odell,Happy Mondays,Scouting For Girls,Foxes,Ron Pope,The Boomtown Rats,Reverend & The Makers,The Rifles,A Plastic Rose,Uncle Frank,Keto,Brendan Riley Compere,Nick Page,Gerry K,Steve Royle,Patrick Monahan,Raymond and Mr Timpkins Review,Noah,Billy Lock

A second wave of acts has been announced for this year's Splendour festival, the summer all-day event which takes place at Nottingham's Wollaton Park on Saturday 19 July.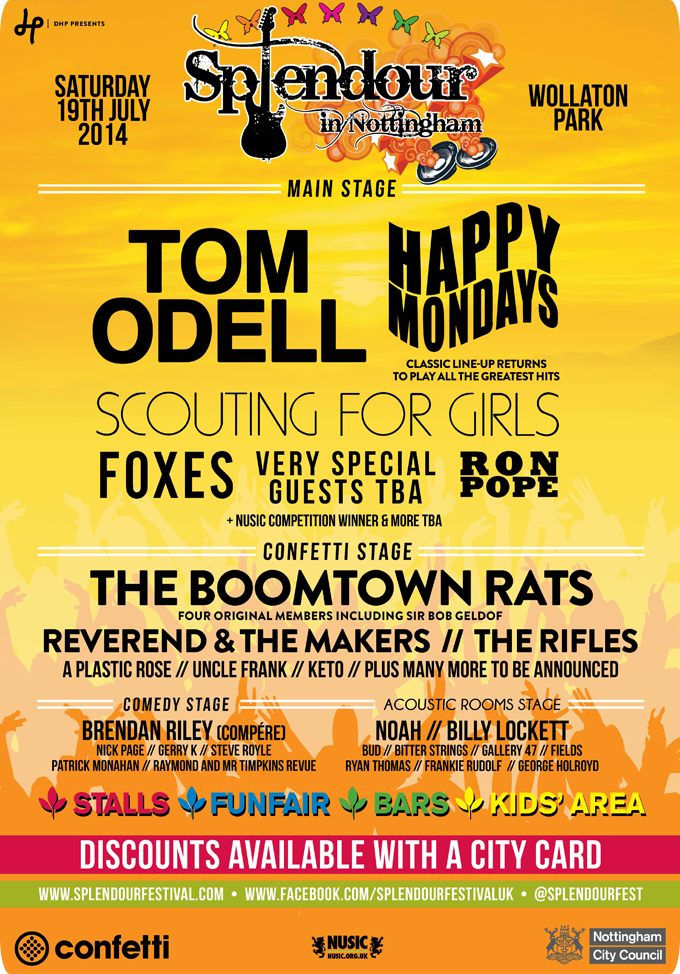 Scouting for Girls, Foxes and Ron Pope have been added to the main stage bill with 'very special guests' still to be announced in support of headliners Tom Odell and the Happy Mondays. Across the park, The Rifles will join Reverend and the Makers and Confetti stage headliners, post-punk legends The Boomtown Rats with their charismatic lead singer Bob Geldof (see 'notes to editors' for list of acts announced to date).
Chart toppers Scouting for Girls have sold more than 2m records and their melodic indie-rock has been nominated for four Brit awards while the young British singer-songwriter Laura Rose Allen, aka 'Foxes', will be looking to continue her recent success by playing plenty of material from her debut album 'Glorious' due out in May. Her latest single 'Let's go for tonight' was a UK top 10 hit in March while 'Clarity', her Grammy-winning collaboration with Zedd, was lodged in the USA's Billboard top-10 last summer.
They will be joined on the main stage by the Atlanta-born, New York based rock and pop singer-songwriter Ron Pope who will bring his US, top 30 Billboard hit 'Heatseeker' to Splendour along with songs from his latest album 'Calling off the Dogs'.
On the Confetti stage indie rockers The Rifles will target the Splendour audience with tracks from their latest album 'None the Wiser' before Reverend and the Makers play tracks from their four albums including their latest 'Thirty-Two', released earlier this year. Confetti stage headliners The Boomtown Rats will run through their greatest hits, including classics such as 'I don't like Mondays' and 'Rat Trap'.
"We've added an exciting mix of established acts and rising stars to the bill. It's important to get a variety of acts at Splendour for a different experience at each of the three stages. I think Foxes will become a big star and will be a big hit with younger people in the audience while Scouting for Girls and Reverend and the Makers will appeal to fans looking for melodic indie-rock," said George Akins of promoter DHP Family.
Singer songwriter and no.1 artist Tom Odell's appearance at Splendour in front of up to 20,000 people will be his biggest headline performance to date. It continues his rapid rise from unknown a couple of years ago to national radio favourite, Brits award-winner and chart-topper with his debut album 'Long Way Down' and hit singles 'Another love', 'Grow old with me', 'I know', and 'Hold me'.
Madchester legends the Happy Mondays are set to continue their revival following critical acclaim for the reunited original line up's live shows. Famed for their party atmosphere, dancer Bez will take time out from campaigning to become an elected, independent MP and lead the band through a set including hits such as 'Wrote for Luck', 'Step On' and 'Hallelujah'.
Cllr Dave Trimble, Portfolio Holder for Leisure and Culture at Nottingham City Council, said: "The announcement of the latest acts is a great addition to the line up for Splendour this year and provides something for everyone, it's great to see well known bands and up and coming talent taking part."
Tickets for Splendour are on sale from just £15 with promoter DHP Family promising a line up of more than 30 top acts in total playing across three stages. DHP runs Splendour in partnership with Nottingham City Council, which operates the beautiful festival site of Wollaton Park. While its natural amphitheatre surrounds the main stage there is also plenty of parkland to roam and enjoy the festival's alternative entertainments including the comedy stage, children's fun fair, and dozens of market stalls.
In the run up to the festival the search for the stars of tomorrow has launched with NUSIC running its annual Future Sound of Nottingham competition. The finalists will battle it out in a showdown at Rock City to win the opening slot on the Splendour main stage.
Line Up:-
Main Stage
Tom Odell
Happy Mondays
Scouting For Girls
Foxes
Ron Pope
+ Very Special Guests TBA
Confetti Stage
The Boomtown Rats
Reverend & The Makers
The Rifles
A Plastic Rose
Uncle Frank
Keto
Comedy Stage
Brendan Riley Compere
Nick Page
Gerry K
Steve Royle
Patrick Monahan
Raymond and Mr Timpkins Review
Acoustic Rooms Stage
Noah
Billy Lockett
Bud
Bitter Strings
Gallery 47
Fields
Ryan Thomas
Frankie Rudolf
George Holroyd
Plus many more acts TBC
FOR MORE INFORMATION VISIT THE OFFICIAL SPLENDOUR WEBSITE - OR  -  VISIT THE FACEBOOK PAGE - SPLENDOUR