The Rock City archives: 2015
Tuned: Willy Wonka's End Of Term Extravaganza!, Rock City + Black Cherry Lounge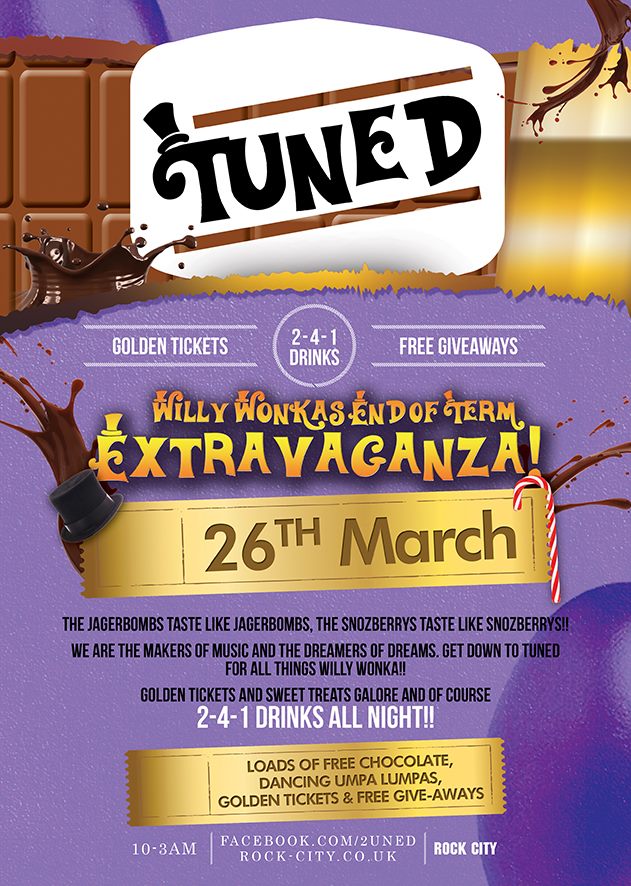 !!!ALL ADVANCE TICKETS INCLUDE A FREE JAGERBOMB!!!
Tuned is opening its Golden Gates for a Willy Wonka Eggstravaganza!!
The Jagerbombs Taste Like Jagerbombs, The Snozberrys Taste Like Snozberrys!!
However, the wall paper doesn't taste like anything nor does it exist!
We are the makers of music and the dreamers of dreams. Get down to Tuned for all things Willy Wonka!!
Golden Tickets and Sweet Treats Galore and of course 2-4-1 Drinks All Night!!
What we are giving YOU on the night,
◆LOADS OF FREE CHOCOLATE◆ ◆HUGE TREATS GALORE◆ ◆DANCING UMPA LUMPAS◆ ◆GOLDEN TICKETS◆ ◆FREE GIVE-AWAYS◆
How we roll each and every week at Tuned!!
MAIN HALL: This is where the action happens! With its huge room it sure is the biggest party in town! With music to treat the masses, you won't want to leave!
BLACK CHERRY LOUNGE: The newest edition to Tuned, with its spacious dance floor accompanied by its plush seating, will allow you to dance until you drop to all the student anthems or just kick back and relax.
THE BASEMENT: STICKTIGHT! The new alt-night with new resident DJ's and a whole new attitude, playing tunes of: pop-punk, hardcore, emo and more. Check out - http://www.facebook.com/sticktightnotts
£5 entry all night Strictly 18+