The Rock City archives: 2016
Simple Plan, Rock City Main Hall
U.S. pop-punks Simple Plan have announced details of their brand-new album, as well as a 2016 UK tour.
The band have announced their fifth album, Taking One For The Team, which is set to drop on February 19. On top of this, the band will embark on a World Tour which will see them hit four dates in the UK in March 2016, with support coming from Ghost Town.
Simple Plan took to their official Facebook to release the following statement:
"It's been a long journey and you have been extremely patient, so we are very excited to announce that our 5th album, "Taking One For The Team", will be released on February 19th 2016! We have been working on these new songs for almost 2 years now and we cannot wait to share them with you. We all feel like this is our best album yet and there's nothing better than knowing that, in a few months, you will be able to hear the final result.
Today, we're also really stoked to reveal our album cover as well as the first set of dates of the "Taking One For The Team" World Tour. This is the first of many tour announcements coming in the next months, as we prepare to travel all over the world and play shows for all of you.
Thank you all for your amazing support. We can't wait for you to finally listen to the new record and to see you on tour!"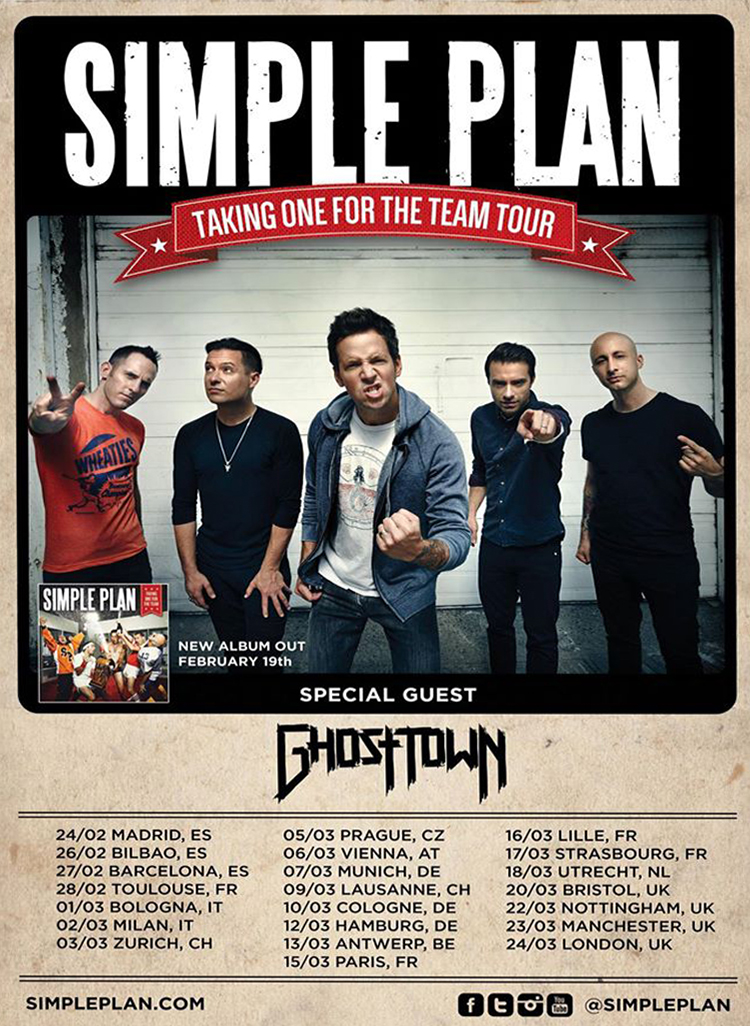 From the band:
A limited number of our Post-Game with Simple Plan Ticketless VIP Upgrade packages are available now for each of the Taking One For The Team EU Tour dates, giving you the chance to hang out backstage with Simple Plan after the show. a
To purchase this package you MUST have already purchased a ticket to attend the tour date. This is a ticketless package, an experience, not a ticket.
What does this Post-Game with Simple Plan include?
- Go backstage for aftershow pizza and refreshments.
- Meet and take selfies with Simple Plan.
- One Limited Edition Tour Screen Print, signed.
- One Post-Game Party Laminate.
- Group Photo (which we'll email to you as well as post on Simple Plan's Instagram!) will be taken.
- Early Entry into the venue.
- Early Access to merch.

To purchase the Post-Game with Simple Plan Ticketless Package:
Get them here: http://tickets.onelivemedia.com/events/22052 to purchase for UK dates.
Each package is 70 GBP (plus service fee) and gives access for one to the Post-Game with Simple Plan After Party at the venue. Packages are not transferable. When purchasing, please make sure to use the name of the person who will be attending so that there are no issues checking in. Each person entering the Post-Game after party needs to have a Post-Game with Simple Plan Ticketless package- packages can be purchased together if you are attending together, they do not need to be purchased separately. No additional guests. No parental escorts in the Post-Game with Simple Plan without their own package.
- if you cannot meet these requirements, please don't purchase a package. The Post-Game with Simple Plan will take place after the show. Purchasers will be sent an email from memberships@spcrewofficial.com within 48 hours of their show date with information on attending our Post-Game with Simple Plan, including where and when to show up at the venue. Please make sure to provide a valid email address during your purchase so that you will have no issues receiving this information. All elements of this package will be fulfilled at the show.
To be clear- This package does NOT include a ticket to the show. You must have already purchased a ticket to attend the date in order to participate in the Post-Game with Simple Plan.