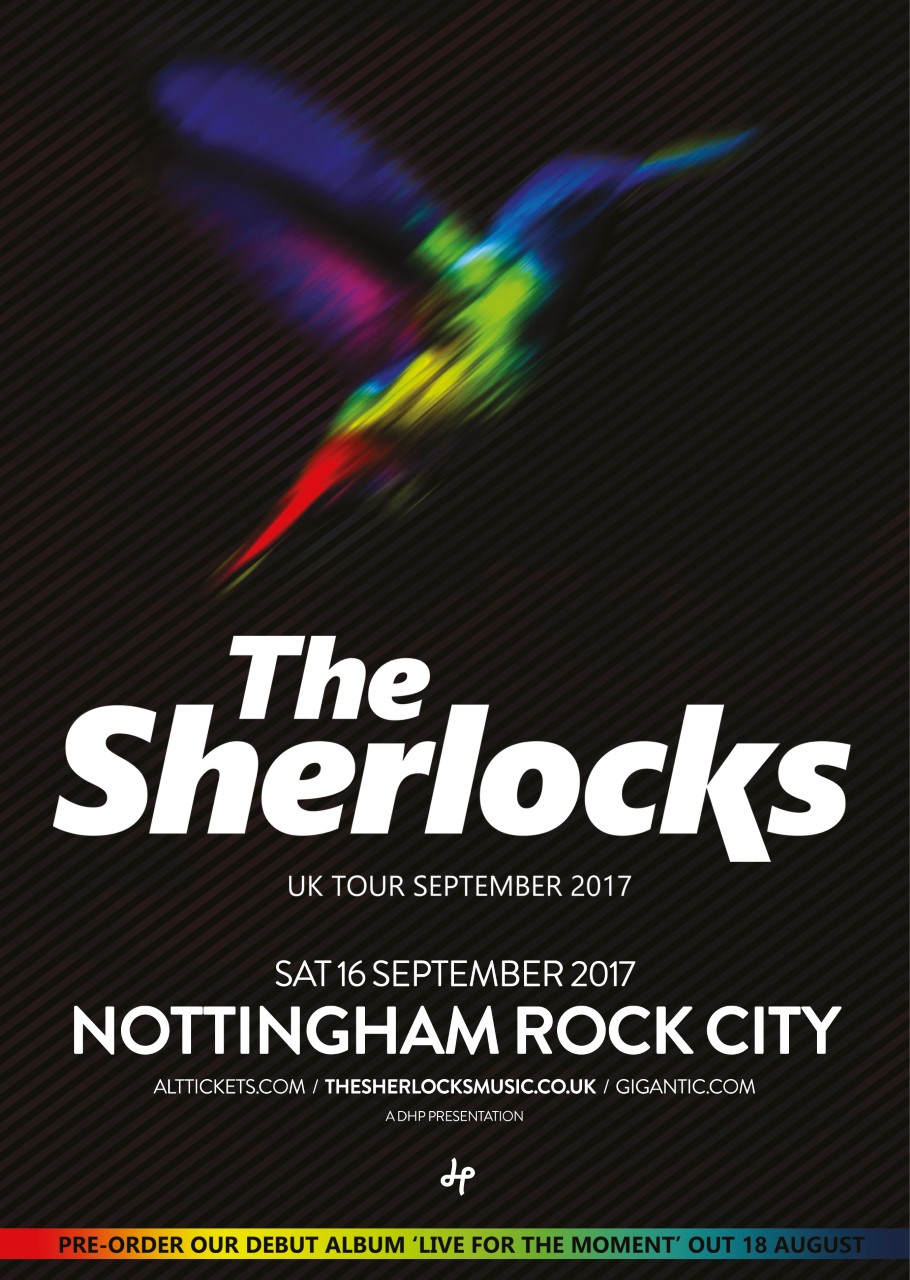 The barflies of Bolton upon Dearne's working men's clubs saw it first. Before long the floundering Sheffield rock scene saw it too, then 6Music, then the massed, churning crowds of Reading & Leeds. Now the whole world is catching on to the wildfire thrill of The Sherlocks' live shows, every single one a flailing frenzy of youthful delirium, a new generation discovering the adrenalizing rush of rock'n'roll.
"We're getting a reputation for our gigs going off," says singer Kiaran Crook, riding a surge of popularity and grassroots excitement that few guitar bands can boast in 2017. "People have started coming to our shows with the intention of bouncing. It's usually a really young crowd, there's a lot of girls and everybody's turning up wanting a good time. The festival season we did last year, every single festival was a blast. People were turning up to shows really wanting it to go off."
It's an ear-to-the-ground buzz that began with ears to a wall. In 2010, after a couple of years of bashing aimlessly at guitar and drumkit (respectively) together, brothers Kiaran and Brandon Crook were playing a private 'gig' for their family at their grandparents' house one Christmas when, between songs, they heard someone next door playing electric guitar. They knew that a guy called Andy Davidson had recently moved in next door, they'd lured him out to play football with them on the nearby field, but they hadn't realised his quieter brother Josh played guitar. Before long the four of them were jamming in the conservatory at the Crooks' house, buzzing from a shared love of everything from The Flaming Lips to ELO and the indie rock classics.
"We liked exactly the same stuff, pretty much," Kiaran says. "The Stone Roses, Arctic Monkeys, stuff like that. Arctic Monkeys seemed even more relevant back then, they were just what you listened to. Guitar bands weren't really a thing but we'd always grown up listening to that, so when we started playing our instruments the go-to tunes we wanted to learn were The Strokes."
Dubbing themselves The Sherlocks after the classic off-colour phrase they'd often say to Andy whenever he made obvious remarks, the band hit the local working men's clubs, playing covers of The Jam every weekend and drinking with the bar sots. Gradually, The Sherlocks began dropping their own songs into their sets and eventually they turned their sights to Sheffield, booking a show at the O2 Academy's smaller room. Post-Monkeys, the city's indie rock scene had dissolved, so the band were amazed to find that word about their onstage fire had already spread there. "We sold it out," Kiaran laughs. "It was unreal. It felt like Wembley Stadium to us at that point. Now we're doing two thousand in Manchester and a thousand in Sheffield and we're up and down all over the country, but if you ask somebody from the village where we live, where you'd think they'd know us best, they probably think we're not doing as well because they haven't seen us in the local paper for playing in a working men's club."
The gig, in fact, was arguably the start of a new generation of Sheffield rock. "Now it's almost like Sheffield's got it's music scene back," Kiaran says, "there seems to be more buzz. We're obviously not responsible for it all but I definitely think we've influenced a few bands to start."
By 2014, The Sherlocks were ready to start letting the world in on Sheffield's most salacious secret. Their first track, 'Live For The Moment', a wiry alt-rock blast in the vein of Arctic Monkeys about enjoying life despite all of its tangled twists, and an anthem which became the band's rallying cry. "It's about where we were at that time, and we still are," Kiaran says. "It means a lot to our band and our fans. We get a lot of people Tweeting us with the hashtag #liveforthemoment. It seems to resonate with our fans, it means something to them. That's definitely our saying."
Subsequent singles 'Escapade' – inspired by Kiaran's schoolmates exaggerating about their supposedly wild weekends – and 'Heart Of Gold' tackled the heartbreak and hedonism of northern youth with the same driving intensity and melodic might, and by the summer of 2015, with virtually no industry help, The Sherlocks had started making waves. Steve Lamacq had his tunebuds tweaked by their Tramlines festival set and the 6 Music, Radio 1, Radio X, MTV and Soccer AM plays began rolling in; by the time the band made their first appearance at Reading & Leeds, they were one of the country's hottest rock sensations. Even if they didn't realise it themselves.
"That were insane," Kiaran recalls. "We were the first band on at twelve o'clock, we soundchecked before that and I remember the tent being empty and we were sat backstage, we didn't have a clue how many people were gonna turn up. Five minutes before we went on somebody took a photo and showed us and the tent was absolutely rammed. We walked on and it was insane. All the hard work we'd been doing gigging up and down the country paid off."
The Sherlocks homegrew their own success, a DIY band by default rather than design. But their plan of self-releasing songs was working like a charm, so as the labels started sniffing they felt no need to jump. Instead they set about expanding their sound over 2016, between the February release of 'Last Night', about Kiaran's one-time drinking partner who'd often attract trouble from pub nutters, and 'Will You Be There?' in September. The crowds expanded too; their tours began taking in the larger venues and support slots with huge acts such as The Libertines gave them a taste of arena life – this June they're thrilled to be supporting Kings Of Leon on their UK arena tour. "It's shown us the next level," Kiaran says. "It's a few levels in front of where we are but that's definitely where we want to end up. To play an arena isn't half as daunting as you might think. When you first walk in you can't believe you're playing an arena with a band you've grown up listening to. But the actual gigs were really comfortable. When we went onstage it didn't feel like an arena, it felt natural. Some bands would play it and they'd just be shaking, but it was a breeze for us."
As was landing a record deal. From the swarm of major label A&Rs frequenting their shows, Infectious won the hunt in October 2016 and released bitter break-up tune 'Was It Really Worth It?' the following January, dropping the video, cheekily, on Valentine's Day. "We didn't realise, but I've been saying we did it on purpose," Kiaran jokes. "Why not?"
The world won't get an album until it's screaming out for one though. "We've definitely got another single in us before any album," Kiaran says. "We never wanted to be one of those bands that releases an album prematurely and it doesn't really do anything, we want our album to have a big impact."
No half-shots, Sherlocks…