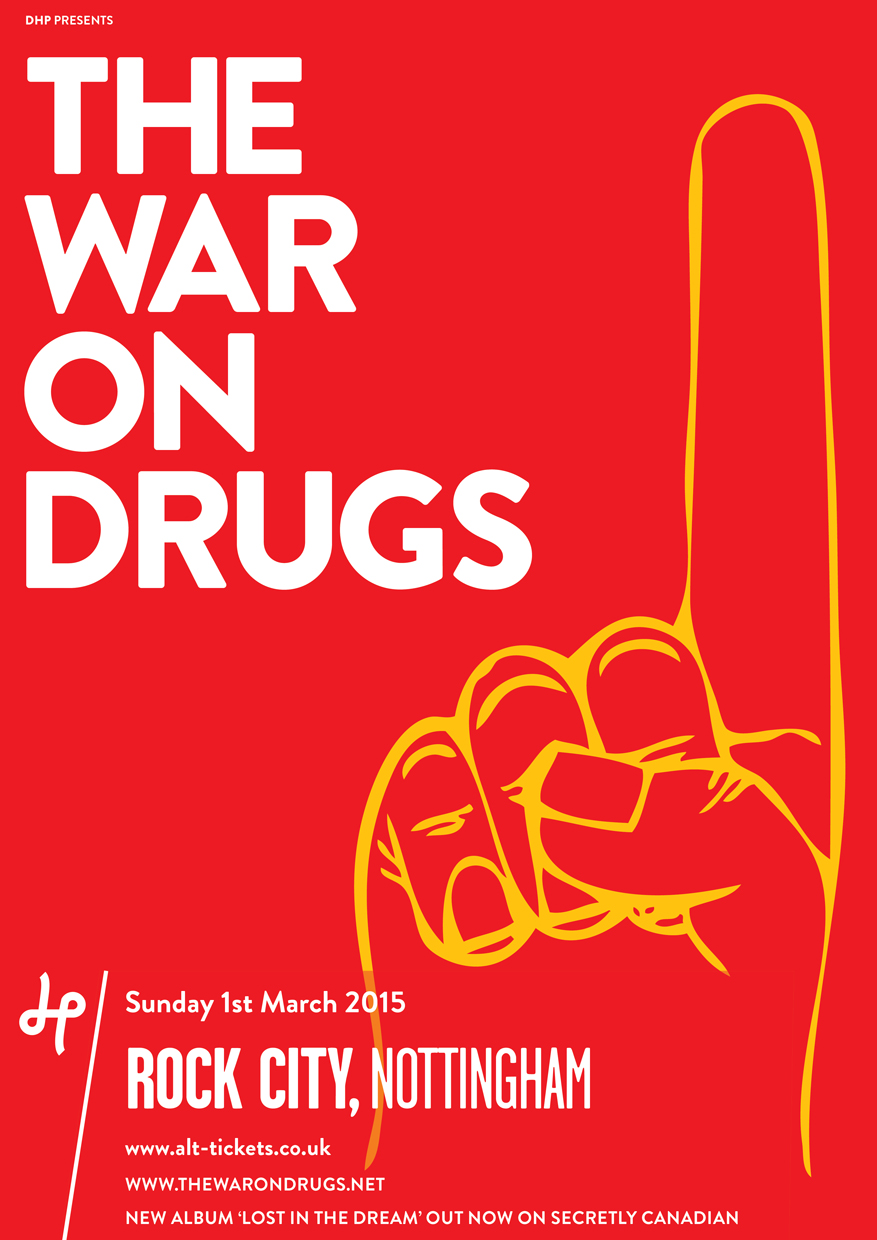 We are proud to announce that Philly band The War On Drugs will be coming to Rock City's main hall in March 2015!
Philadelphia's The War on Drugs reside at the blurred edges of American music: overexposing studio limitations, piling tape upon tape to maximum density, and then — with each song — they pull off the scaffolding to reveal what sticks, keeping only what's absolutely necessary and dig into what sounds like the best kind of fucked up. As on their 2008 debut, Wagonwheel Blues, central member Adam Granduciel takes small moments occurring over multiple tapes and multiple song versions, and puts every last drop of trust in his own keen instinct of momentum.
That's not to overshadow the sharp, personal songwriting at play here. There are certainly cues taken from our very best American bards (Dylan, Petty, Springsteen). Yet, The War on Drugs are wise enough to also implode those cues or send themselves into outer space when the moment calls for it. The driving organ riff that pushes "Baby Missiles," from the band's 2010 epic EP Future Weather, may well be inspired by a fever dream of Springsteen rather than any particular song in his catalogue. And the endless layers of guitar melody and atmospherics of "Comin' Through," also from Future Weather, rather than add weight to the vessel, only work to fill its sails with warmer and warmer winds.
Mixing the grand-scale guitar attack of Sonic Youth and My Bloody Valentine with a melodic sense and lyrical perspective that recalls Bob Dylan roaring down Highway 61, Philadelphia's the War on Drugs are the creation of a pair of Dylan fans, Adam Granduciel and Kurt Vile, who met at a party in 2003. After several drinks, Granduciel and Vile discovered their shared fascination with the Bard of Minnesota, and began working on songs together. By 2005, the pair had enough material to launch a proper band, and the War on Drugs were born.
With Granduciel and Vile fronting the band, a variety of accompanists drifted in and out of the lineup before the War on Drugs settled on a stable lineup of Granduciel on vocals, guitar, and keyboards; Vile on guitar and vocals; Charlie Hall on organ and drums; Dave Hartley on bass, and Kyle Lloyd on drums and percussion. While the War on Drugs were hesitant to quit their jobs and begin touring extensively, the band became a frequent presence on the Philadelphia music scene and impressed out-of-towners during occasional gigs in New York City.
In 2007, the band completed its debut EP, a five-song set called Barrel of Batteries, posted online as a free download. Positive press for both the EP and the group's powerful live shows caught the attention of the noted independent label Secretly Canadian, which signed the band, releasing its first full-length album, Wagonwheel Blues, in June 2008.
However, by the end of that year, Vile, Hall, and Lloyd all departed the band, with Vile making a name for himself as a solo artist soon after. Drummer Mike Zanghi joined Granduciel and Hartley, the lineup that made its recorded debut with 2010's mini-album Future Weather. Multi-instrumentalist Robbie Bennett joined the fold for 2011's Slave Ambient, the band's second proper album.
While touring Slave Ambient, Granduciel set about writing and recording their third album. Taking nearly two years to complete, Lost in the Dream finally saw release in early 2014.