Hey there!
We've been busy here Rock City HQ booking up loads of awesome shows for the new year, whether you're into punk, metal, hip hop or Chas & Dave we've got something for everyone! But enough of that for now, the reason for this blog is to tell you (if somehow you didn't already know!) about all the amazing club nights that we have going on every single week to suit the varied needs of Nottingham's diverse partygoers!
Into Rock? Into chart anthems? Looking for a student night? Or is metal your thing? We've got something for everyone here at Rock City!
Crisis (every Wednesday):

To start us off then let me introduce you to the legend of Crisis, The Official Nottingham University Wednesday Night. Playing the biggest and best chart topping tunes plus dance, indie, RnB and student anthems, Crisis is one hell of a night out. The home of £1.50 Jagerbombs (I know, I know!!), shirt swinging to Baywatch and the Athletic Union on Wednesday nights, this is the only place to be if you want to party hard. Look out for the VIP live lounge and "Hidden" in The Black Cherry Lounge where we play a banging mash up of the dirtiest Dubstep, RnB, electro and Hip-Hop. With 2500 students packing out Rock City every single week, Crisis is the biggest weekly student night in the UK and it's one hell of a party. See you on the dance floor!
2uned/Stick Tight (every Thursday):
Looking for something a little bit closer to the weekend? 2-4-1 drinks sound good to you?! Check out 2uned, Nottingham's Biggest Student night (don't worry we open our arms out wide and accept everyone in!) every single Thursday in Rock City. With it being so popular, we come close to packing in 3000 people every week of the year and once you've been it's clear to see why! There are 3 separate rooms each more awesome than the next, playing loads of different genres from Rock to Pop and everything in-between. Fresher's week never has to end! Come and dance the night away surrounded by thousands of people, a booming sound system and an all night long awe-inspiring light show. If dancing isn't your thing, the 2-4-1 drinks all night long might tickle your fancy! It really is the biggest party in town and you'll have an amazing time going from room to room, starting the weekend in style.
– Looks like it's getting hot in there!
"But guys, I wish there was somewhere I can listen to pop punk and alternative music on a Thursday night :(". Fear not, there is! Introducing 'Stick Tight', Rock City's new alternative night on a Thursday in the Basement (as part of 2uned – you can wander in or out as you please) There's no gimmicks here, it's just straight up fun with your friends. Come down and have a dance to your favourite pop punk, hardcore and emo and remember, pop punk's not dead so, 'Stick Tight!'
– Stick Tight crowd getting down!
Love Shack Presents (every Friday):
Well the weekend is here, work and University are over for a few days, what better way to let your hair down than to come and party with us at Love Shack Presents… This time around its Love Vegas! Every single Friday night we turn Rock City into the strip with 2-4-1 cocktails, prizes and even Casino tables as part of a wild Vegas Casino party in the Basement. Is dancing more your kind of thing? Then head on upstairs and check out the main hall where we'll be playing hit after hit from all of your favourite eras, keeping you moving until the early hours! It's this massive party atmosphere that has made Love Shack such a hugely popular Nottingham night out; it's not to be missed!
– He's having fun!
Top Tip: keep your eyes peeled around town for great discounts from our awesome street team.
Hey Hey Hey (every Saturday):
So, Saturday is here, you might have been out all week but can you be bothered to go out one last time this weekend? Of course you can!! Let me introduce you to one of the best nights out of your life, Hey Hey Hey! Every single Saturday night we cram thousands of people into Rock City for three rooms of musical chaos playing everything from alternative anthems to guilty pleasures. With such awesome drinks offers and banging tunes, you'll have an amazing night dancing with your friends. It's all about having fun and we're here to make sure you have the most fun possible! Lasers, smoke machines, visuals and a massive new sound system will make you feel like you are at a festival in our 2000 capacity main room. Fancy something a bit smaller? Why not check out one of the other two (yes, I said TWO!!) rooms of music, the Basement or the Black Cherry Lounge.
– Looks like it's party time at Hey Hey Hey!
To start you off then, the Basement hosts the best alternative DJs around, bringing you all that's at the cutting edge and all of the power of the underground from the past. If it's loud, aggressive and makes you want to scream out the words, we have it in the Basement. In the Black Cherry Lounge on the other hand, you'll find something a little bit different, namely the Pop Fiction room. Your resident DJ Tenderheart always packs out the dance floor playing the best 'guilty pleasures' all night long!
– The crowd goes wild in the Main Hall! What a night!!!
Top Tip: Regularly check the Hey Hey Hey Facebook page for opportunities to get in absolutely FREE!
So we've talked a little bit about the Black Cherry Lounge, which opens up as part of various other club nights, but it also opens for it's very own club nights on select nights every month! Check these out!: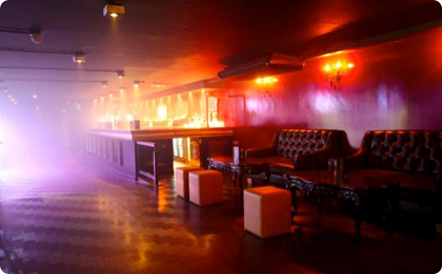 – How nice does this look?!
Rock City in the 90s (first Friday of every month in the Black Cherry Lounge):
This is a night especially for those of you who used to love dancing at Rock City on Thursdays and Saturdays during the final decade of the last Century. Do you miss the likes of Nirvana? Fancy getting on down to System Of A Down? Or are you more of a Blink 182 fan? At this awesome monthly night, our legendary DJ Spiky Mike blasts out these great bands all night long, and with loads of brilliant drinks offers available, this really is a must for anyone who loved Rock City in the 90s!
Mugshot (2nd Friday of every month in the Black Cherry Lounge):
Fancy something a bit new? Check out our brand new night, Mugshot! Featuring the best acts that have ever played at Rock City, we're talking Rock, Hip Hop, Metal and all the freshest underground sounds. There's more drinks offers here, teamed up with dancing and debauchery, we're putting the rock back into the city.
– Check out those moves… ha!
Top Tip: same as Hey Hey Hey, keep your eyes peeled on the Facebook wall for opportunities to get in free!
Distortion (regularly in the Black Cherry Lounge – check Facebook for more info):
This brand new night has a similar idea to Rock City in the 90s but instead of the 90s, all the tunes have come from the 00s! For everyone who remembers dancing on a Saturday night in Rock City during the first decade of the millennium, Distortion is an epic trip down memory lane! It's Spiky Mike again, playing ska/punk, pop punk, emo, nu metal and all your favourite tunes from Rock City in the early 2000s. Oh yeah, and of course there's loads of drink offers alllll night to help you party hard!
– This is where it all started, thanks to John Crumb Caulton for uploading this!
Black Cherry Burlesque (regularly in the Black Cherry Lounge – check Facebook for more info):
Presented by Cherry Deville and in association with DHP, we often host a bit of burlesque in the Black Cherry Lounge! Featuring the UK's best performers, hand picked by Cherry herself this night is guaranteed to be the hottest thing in town. So come on, satisfy your curiosities and try something a little bit different. Burlesque mini market! Cabaret singers! Buxom beauties! Charming chaps! It's great fun!
– Look at those feathers!
So that's about it for now, as you can see we have so many awesome nights going on and I haven't even mentioned any of the HUGE gigs coming up yet!
Why not head over to our gig guide and have a peek at what we've got coming up!
See you on the dance floor!
x