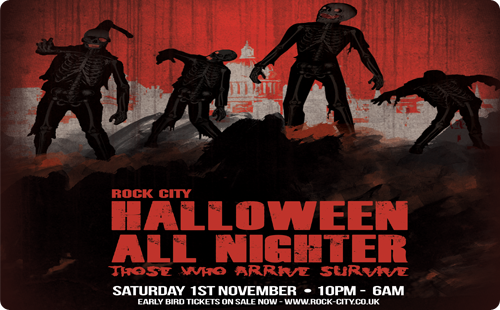 It's back once again and its bigger and more frightful than ever before!
After taking over Nottingham for the last 6 years we don't intend to stop. This year expect it all!
Rock City will turn into a 2000 capacity epicenter of halloween spookyness, full of freaky happenings and more free drinks than you could ever have nightmares about!
We will have our frightful DJs spinning tunes until 6am so you have plenty of time to get your spook on and live like the kings and queens of halloween!
LIKE ALWAYS WE ARE GOING BIG SO EXPECT BIG THINGS!
C'mon down to the only halloween party of its kind! Join the vampires and warewolbess, Frankensteins and freaks. Its Rock City and its where the freaks come out to play!!!!!
EXPECT
2000 people dressed up dancing to the best music in town
Thousands of £££'s worth of drinks to give away
Lights lazers and everything you ever need inside a club
Rock City will turn into a massive haunted house
Giveaways galore!
Its going to be a bloody bonanza!
Get involved/get freaky/Don't miss out
TICKETS
Early bird tickets £4.00 500 available
Standard ticket £7.75
Buy on the door on the night £8.00