The Rock City archives: 2017
THE SAW DOCTORS - Rescheduled Date, LIVE IN ROCK CITY MAIN HALL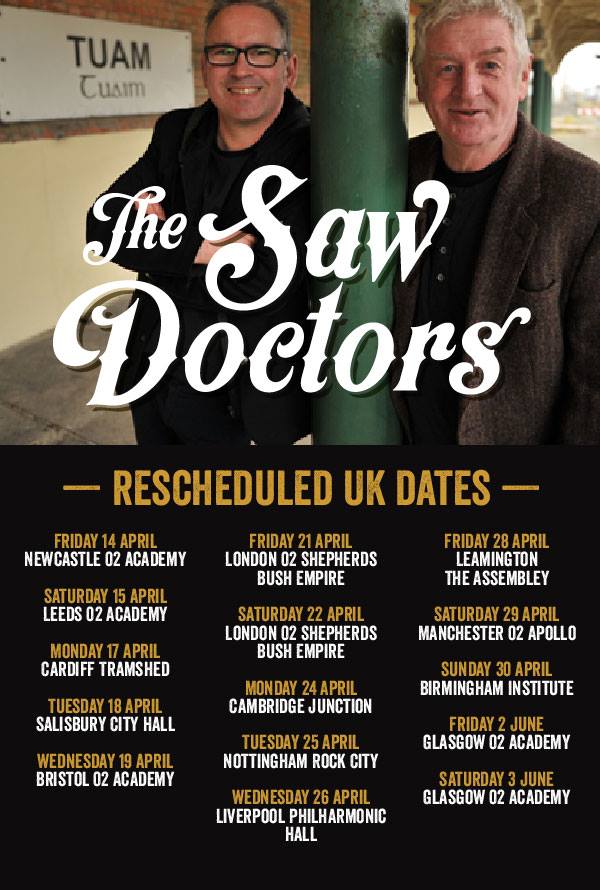 UK Tour Rescheduled to April / June 2017  
Unfortunately due to the illness of singer Davy Carton who underwent a minor throat operation last week, The Saw Doctors will not be able to play their fifteen date UK Tour which was due to start in Cardiff next Monday and continue through till the Glasgow concert on December 17.   
The Saw Doctors have rescheduled thirteen of  the UK Tour dates to April 2017 including the two  sold out London shows at Shepherd's Bush Empire which will now be take place on Friday April 21 and Saturday April 22 and the sold out Manchester Apollo concert which will now take place on Saturday April 29.  
The Saw Doctors will now play their two rescheduled  Glasgow shows on Friday June 2 and Saturday June 3.  
"The Saw Doctors regret that they will not be able to play for all our loyal and faithful UK fans this Winter. Davy Carton  needs some more time to recuperate and rehab his badly  damaged vocal cords" says Leo Moran of The Saw Doctors  
"We are looking forward to getting back on the road next  Spring to play all the rescheduled UK Shows in April and in  early June"   
Tickets purchased for all the UK shows by The Saw Doctors in November and December will be valid for the respective rescheduled gigs in April and in early June 2017.   A full refund is available from the point of purchase if the  2017 rescheduled dates do not suit ticket holders.
About:
The Saw Doctors are an Irish rock band with 18 Top 30 including 3 Nr 1s to their name. Their first number one, "I Useta Lover," topped the Irish charts for nine consecutive weeks in 1990, and still holds the record for the country's all-time biggest-selling single.
Renowned for their live performances, the band has a cult following in the United Kingdom.
"One of the Great Live Bands" Chris Evans, BBC Radio 2
"The Saw Doctors are the very definition of the people's band." - Q Magazine
"The band's formula can best be described as one part Creedence, one part Hootie, and one part Irish Historical Society" - Rolling Stone Magazine