The Rock City archives: 2016
PIERCE THE VEIL, LIVE IN ROCK CITY MAIN HALL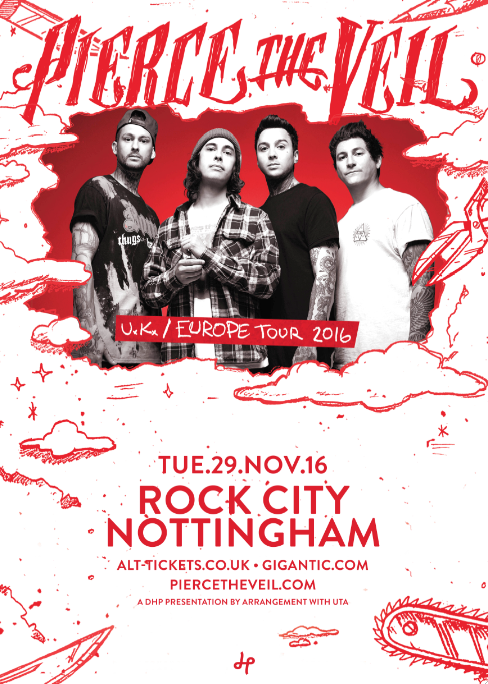 Pierce the Veil are proud to announce a UK & Ireland tour this Autumn.  The tour, which was announced with the premiere of stunning new single 'Circles' on the Annie Mac show tonight, goes on sale Friday 29th April at 10am.  Fans who have pre-ordered the album will have access to a 48 hour pre-sale from Wednesday 27th April at 9am.
'Circles' is available to purchase over all platforms or streaming on youtube.
Misadventures is the follow up to the band's breakthrough album, 2012's Collide With The Sky that has sold more than 400,000 copies worldwide.  The band - Vic Fuentes/vocals, guitar, Tony Perry/guitar, Jaime Preciado/bass, and Mike Fientes/drums - recorded Misadventures on and off between Summer 2014 and Summer 2015, working again with producer Dan Korneff who co-produced Collide.  On Misadventures, PTV spins together eleven sonic stories driven by a high-energy hard rock soundtrack. Lead track Texas Is Forever has already had over 1 million views.
ABOUT PIERCE THE VEIL
Six years ago, Pierce the Veil was playing small clubs and side stages at Warped and other music festivals.  With the 2012 release of their album Collide with the Sky, PTV exploded, selling out North American and UK headline tours in 2012, 2013, and 2014, and headlining 2015's Warped Main Stage.  The band spent years actively developing relationships with its fans through meet'n'greets while on tour (numerous poignant stories told to the band by fans have found their way into PTV's songs) and extensive social media outreach, all of which has established the band's massive, passionate and fiercely loyal fan base.  The band and its members have accumulated north of 5.5-million Facebook "likes," as well as 4.5 million Twitter and 4.5 milliion Instagram followers, and 200-million-plus YouTube plays (the "King for a Day" video alone is at more than 64-million views).  Collide has been streamed 110 million times on Spotify, while the single "King for a Day" has logged 27-million Spotify plays and the single has been certified Gold.  The band has won multiple awards from Alternative Press, Revolver, Kerrang! and Rock Sound.

Links: Website / Twitter / Facebook