The Rock City archives: 2016
GARY NUMAN, LIVE IN ROCK CITY MAIN HALL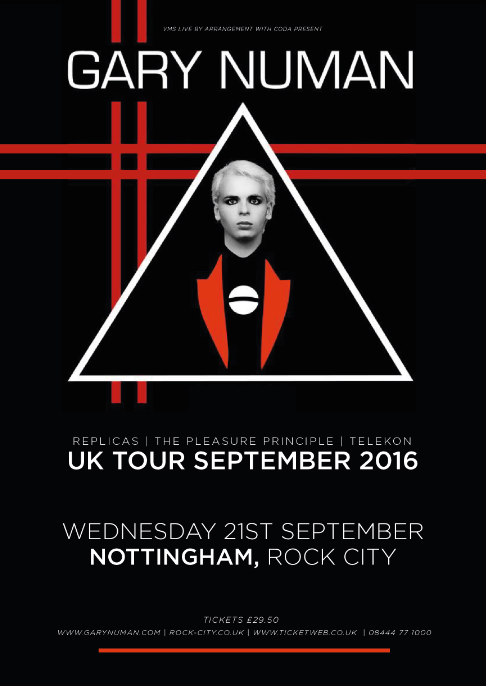 Following the success of his sold-out London residence last October and the sold out Manchester & Cork shows that followed, Gary Numan is back with a September 2016 UK Tour which sees him playing a set compromising of material from his albums 'Replicas', 'The Pleasure Principle' and 'Telekon'.
Following on from the success of his Top 20 album, Splinter (Songs From A Broken Mind), and accompanying two-year Splinter wold tour, electonic and industrial music pioneer Gary Numan returns to the UK to celebrate his classic albums Replicas, The Pleasure Principle and Telekon in September 2016.
"Having spent most of the last couple of years touring Splinter, with the new album released later this year, 2016 seems like an ideal time to revisit the three albums that changed my life," says Numan, "These three albums are now considered classics and playing tracks from each one in September will be very special for me. I very rarely look back at past glories, but with these shows I intend to not only look back, but to celebrate those early days. Without those songs and experiences I wouldn't be here today. Splinter was widely considered to be one of, if not the best album I've ever made. With that achievement I've finally learned to be proud of my history, and that's what these shows are all about."
Numan's influence has been recognised by a diverse array of the world's greatest artist - from Prince to Lady Gag, Jack White to Kanye West, Beck to Queens of the Stone Age, and the Foo Fighters to Nine Inch Nails, many of which have collaborated with Numan and covered or sampled tracks from his vast back catalogue.