The Rock City archives: 2017
DEVILSKIN & SUMO CYCO (Basement Show), Live In Rock City Basement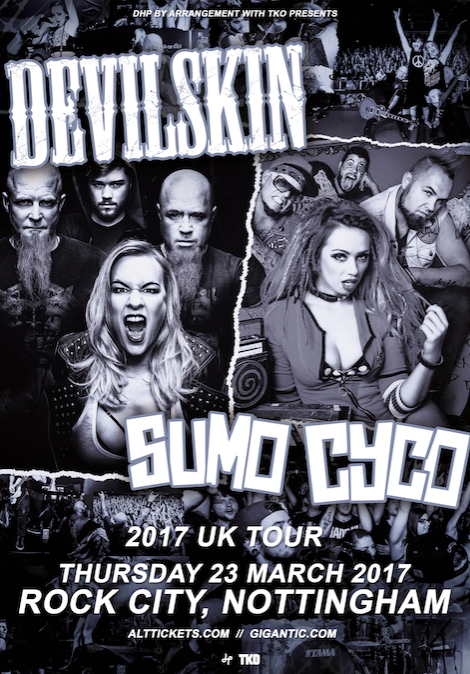 Co-headline show!!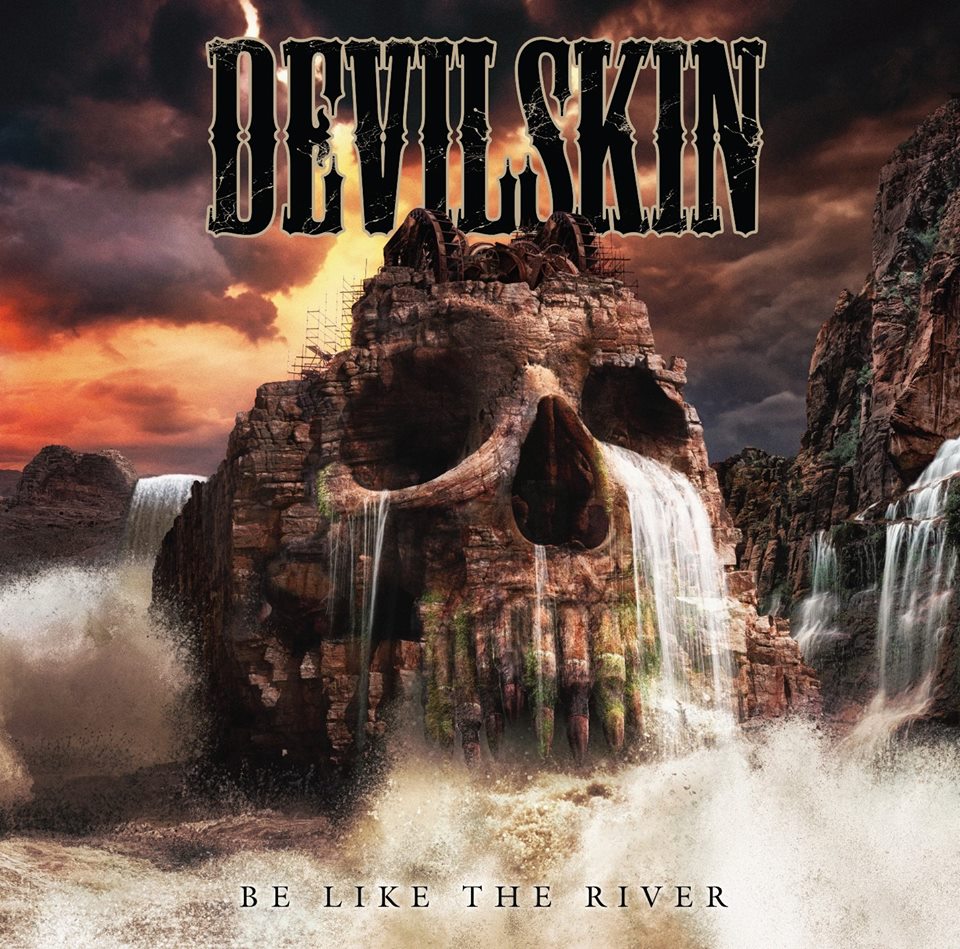 Devilskin is a four piece band from Hamilton New Zealand formed in June 2010, they already have guts, class, kudos and confidence. The sum total of a determined and accomplished group of musicians who know what they want, the music is organic, dynamic and real.

The band features the spectacular Jennie Skulander on lead vocals. Her powerful and compelling voice and alluring stage presence sets her apart from any vocalist New Zealand has put up so far. With an unerring gift for melody, Jennie's incredible voice sweeps from whisper to roar, rips with power, drips with melody and captivates with sincerity.
Jennie previously fronted Rotorua band Slipping Tongue garnering a swathe of fans with their videos, EPs and album. Slipping Tongue also impressed many when they opened for Coheed & Cambria in 2008.

On lead guitar is Nail from popular Waikato band Chuganaut who won the NZ Battle of the Bands and the World Battle Of The Bands in 2004. Played BDO in 2005 and opened for Iron Maiden at Mt Smart stadium in 2009. Chuganaut has played numerous national tours and released several singles, EPs, videos and an album. Nail's searing guitar work and high energy performance bring real intensity to the live show.

Playing bass guitar is Paul Martin, known as the Axeman from arguably, New Zealand's most popular radio show, the Axe Attack. Lead guitarist and vocalist for World War Four, Paul's previous bands include Knightshade and Blackjack. He has opened for Black Label Society (2006), Heaven & Hell (2007) and Motorhead twice (2008), and played BDO (2009). Paul's powerful and aggressive bass style is a propulsive force in the bands sound.

Nic Martin joined Devilskin as drummer in August 2011 at the age of 15. Paul's son, Nic is the youngest artist to ever play the BDO when he performed with World War Four in 2009 at the age of 13. Nic adds to the show with a real display of power and passion on the drums. With a fierce style all his own and the inexhaustible energy of youth, Nic's truculent style and showmanship are fast becoming a talking point on the NZ live music scene. Not to mention making Devilskin one of the few bands featuring a father and son in their line-up.

Together, Devilskin have the ability to write songs that have depth and passion. They create a compelling and irresistible sound and perform a stunning, explosive, live show. 

The art of song-writing is back.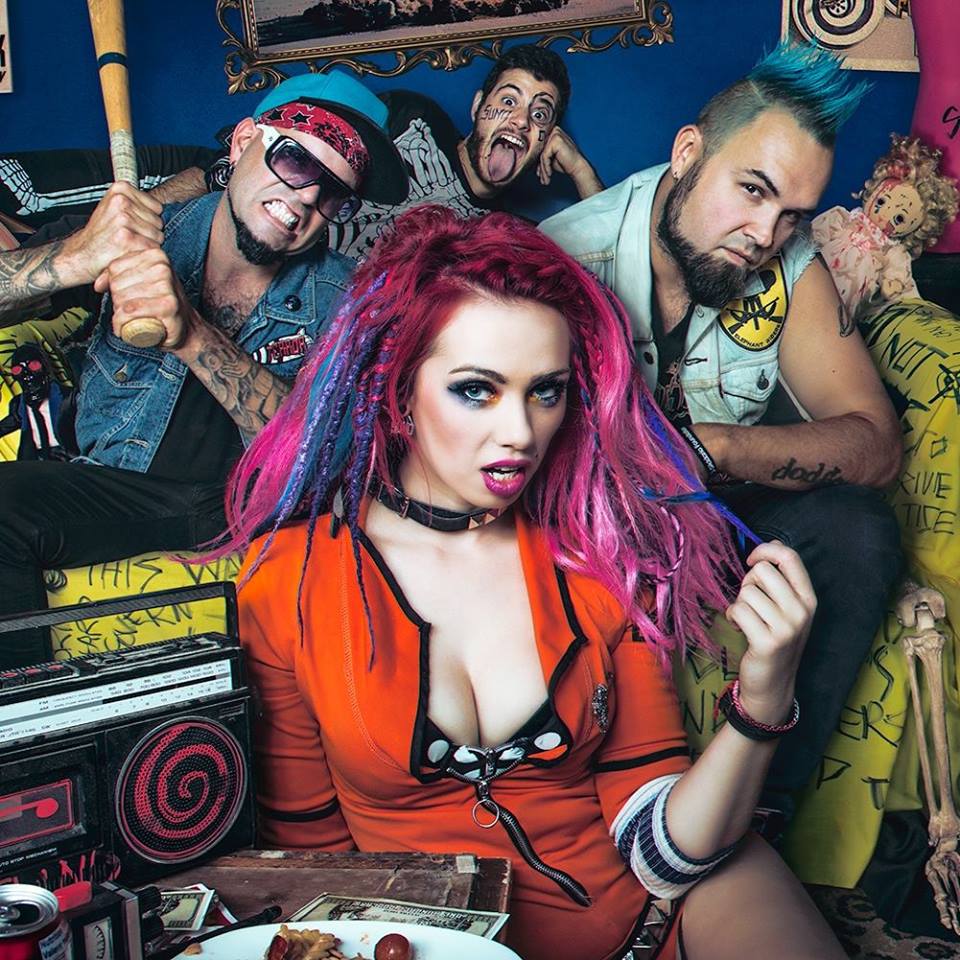 Sumo Cyco is a four-piece, female fronted, hard rock band from Toronto, Ontario. Sumo Cyco fuse hard rock guitar riffs with in your face blast beats and dance hall rhythms, topped by electric female vocals. The band is currently working on their sophomore album. The band's full length debut album 'Lost in Cyco City' is produced by Matt Drake (Dodger, illScarlett) and was released in June 2014 on Fontana North in Canada and in Europe on May 25, 2015 by RSK Entertainment.

Sumo Cyco is represented worldwide by TKO / The Kirby Organization Booking Agency and managed by Dani Oliva, Esq of Errant Entertainment based in Los Angeles, California. Sumo Cyco also have a publishing agreement in the U.S. and Canada through Sony/ATV and a non-exclusive sync licensing deal with North Star Media. You may have heard their single "Go Go Go" on Don Cherry's new Rock 'Em Sock 'Em DVD.

Front-woman Sever is the alter ego of former teen-pop sensation and Juno nominee Skye Sweetnam, who signed to Capitol Records and EMI (Sony/ATV) Publishing at the age of fourteen. Skye performed in over 25 countries and opened for Britney Spears for 50 dates on the Onyx Hotel Tour, all before her 17th birthday.

Skye co-wrote with hit makers such as Dr. Luke, Max Martin, The Matrix and Tim Armstrong (Rancid). Tim's hit 'Into Action' features Sweetnam on backing vocals. After two full-length albums, Sweetnam decided to take her career in an extreme direction and initiated her departure from the major label craving artistic control and rock n' roll. Since forming in 2011, Sumo Cyco has taken a novel approach to releasing music. They have recorded and released 10 singles digitally to date, alongside grindhouse-esque movie videos, which have attracted over 2.2 million Youtube views and counting. The band takes pride in building a strong online presence by creating and marketing their own content.

The band has shared stages with Mushroomhead, Butcher Babies, Coal Chamber, Filter, Finger Eleven, Life of Agony, Hollywood Undead, Fozzy, Nonpoint, Hollerado, and illScarlett, to name a few. In the studio, Sumo Cyco has worked with the likes of Jag Tanna (I Mother Earth), Julius 'Juice' Butty (Alexisonfire) and Matt DeMatteo (Big Wreck). Sumo Cyco is currently working on new material with James "Lerock" Loughrey (Skindred, Joss Stone). The new unreleased song "Move Mountains" features Benji Webb, singer of Skindred. Sumo Cyco won the Hamilton Music Award 2015 "Best Loud" Award. In 2012, Sumo Cyco won "Best Female-Fronted" band at the Toronto Independent Music Awards. In 2013, they won Indie Week Canada then went on to tour the UK and Ireland in April 2014.

In support of "Lost in Cyco City", Sumo Cyco took their home turf in full force beginning with East Coast Canada dates, and then hit Europe in April 2015. Highlights from Europe include single "Fighter" being featured on Kerrang Radio K!Nights Playlist for the past 6 weeks, Kerrang Radio Fresh Blood Support, Team Rock Radio "Breaking Bands" Support, Italian television news coverage and in-print coverage by L'Arena.it, and an in-print one-page "Fresh Blood" feature on Sumo Cyco in the May, 2015 issue of Kerrang! Magazine.

In June 2015, Sumo Cyco toured the U.S. with 10-dates on Warped Tour. In November 2015, Sumo Cyco embarked on their third trip to Europe - a 21-date, 5 country, and 2 festivals tour supporting bands FOZZY and NONPOINT! In 2016, things kept growing as they played NXNE for the 4th time, Two showcases for Canadian Music Week and toured Europe for the 4th time with Butcher Babies and capped it off by doing a 19 show run with horror rockers Mushroomhead in the US. Next up is a support tour in UK for Alien Ant Farm making it Sumo Cyco's 5th tour in UK in 3 years.