The Rock City archives: 2017
CIGARETTES AFTER SEX, Live In Rock City Main Hall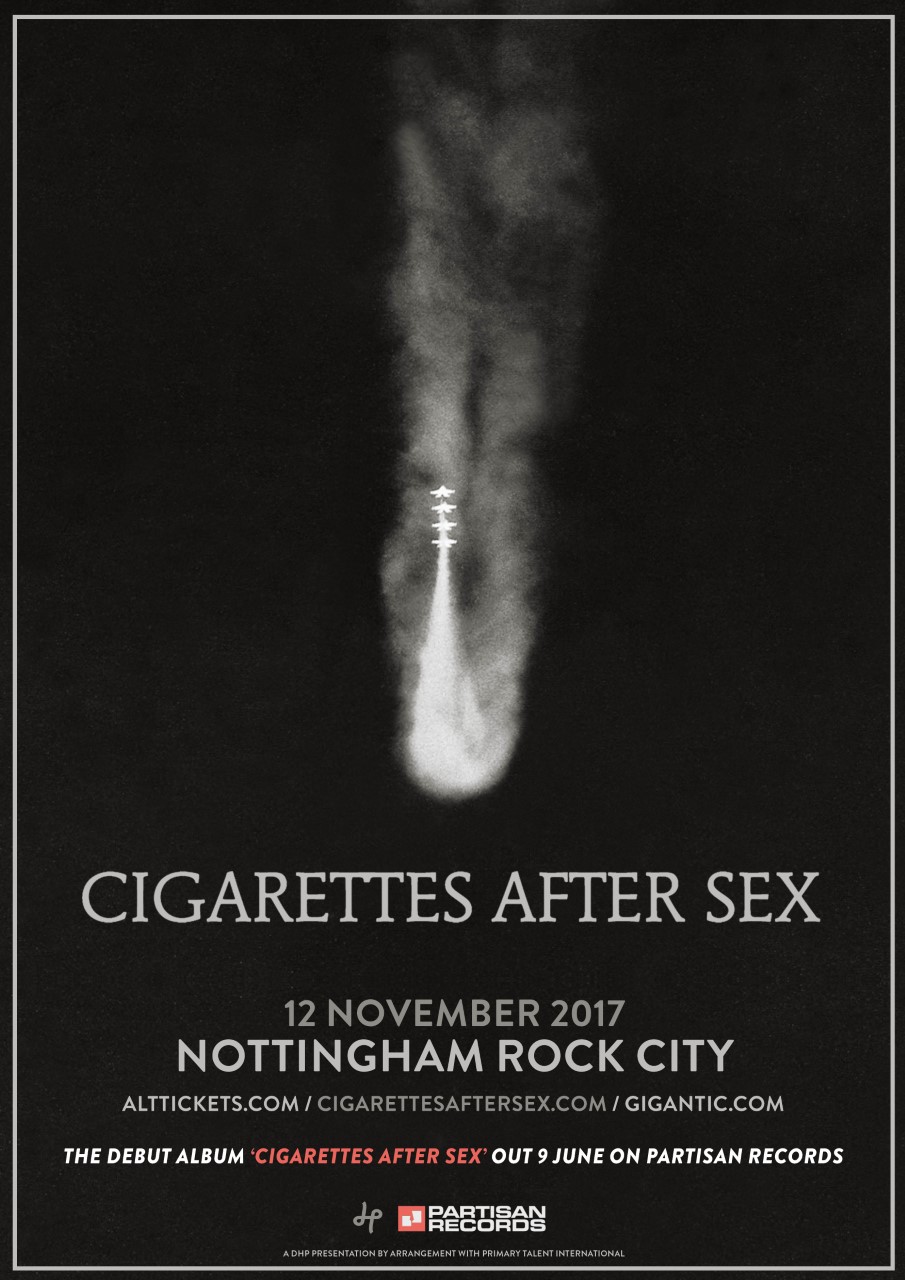 Cigarettes After Sex Debuts Dream-Like Single 'Each Time You Fall in Love,' Talks New Album: Exclusive
Ambient pop group Cigarettes After Sex unveiled their new single, "Each Time You Fall in Love" on Monday (May 15), premiering exclusively on Billboard. The elusive and dreamy track is off their long-anticipated self-titled first album, which comes five years after their debut EP, I.
The airy melody of the love song is soft yet strong, stringing together the messages of pain and memories of past relationships. With each lyric, the soft-spoken music group brings you back to that first moment of falling in love and the aftermath that follows behind it.
"She took you for a ride in summer, baby/ Lost all your money to her/ All I want to know is if you love her/ How come you never give in?" is the dynamic hook that weaves in and out of the somber song. The group's singer Greg Gonzales tells Billboard that the tracks is mostly about how he was never completely satisfied by any relationship he's had. "It was as if I was always on the lookout for something more," he says, "and it had gotten me into plenty of trouble over time."
"Each Time You Fall in Love" is the third track released from Cigarettes After Sex's full-length debut, which is set to arrive on June 9 on Partisan Records. Gonzales discussed their much-anticipated release with Billboard over email.
How does it feel to know you're putting out a full-length album versus another EP or a single?
It honestly feels like the right time to finally release a longer work versus all the short ones we've had for the last while. You might've got a string quartet or isolated piano work by Beethoven, but when he finally puts out a symphony, there's something that feels very bold about it. Definitely wanted that sort of idea in regards to this.
What has it been like having such a dedicated fan base and streaming success prior to even releasing an album?
It's been the greatest feeling in the world, honestly. I truly believe we really just have the best fans. Every time I talk to anyone who's been moved by the music they always have so many wonderful things to share & have such a positive energy about them. It's heavenly.
What made you feel like this was the right time to put out a full album, and why did you decide to self-title it?
After we put out the "Affection" single, it felt like we had developed a sort of template for what an LP by us might sound like finally. Then once we attempted a number of songs I had written over the last five years during the recording sessions for the LP it felt as if we had captured something special and that there would be enough good there to craft a full length album with at last… The record is self titled in keeping with the simplicity of the statement we wanted to make. Stripping everything down to its essence.
What can fans expect from you both lyrically and melodically?
Mostly different sides of what was established before honestly. It's important to me to refine what I see as the style at this time rather than trying to be eclectic. Some of the lyrics are more sweetly pornographic than before and some of them are stranger and more dreamlike than before, maybe.
You haven't released many pictures of your band nor have you released any music videos — why did you decide to do keep it that way before your album release? And will that change once the album is out?
It's mostly a reaction to wanting any image we release (single cover, band pic etc.) to be as powerful as anything and not distracting with any sort of weak imagery ever. Trying to be a bit picky can definitely limit the output however, so that is a part of the absence. As time goes on and once the record comes out there will be more though, mostly due to just trying more.
What do you hope fans take away about your music and Cigarettes After Sex as a band after listening to the full album?
I hope they feel understood or I hope they have a feeling of empathy, which is one of the greatest things music can provide. A feeling that you're not alone. No matter what someone can always understand how it feels during all the highs and the lows.
- Billboard http://www.billboard.com/articles/columns/pop/7793042/cigarettes-after-sex-each-time-you-fall-in-love-new-song-listen