The Rock City archives: 2017
WIDOWS (As Part Of Hey Hey Hey), Live In Rock City Basement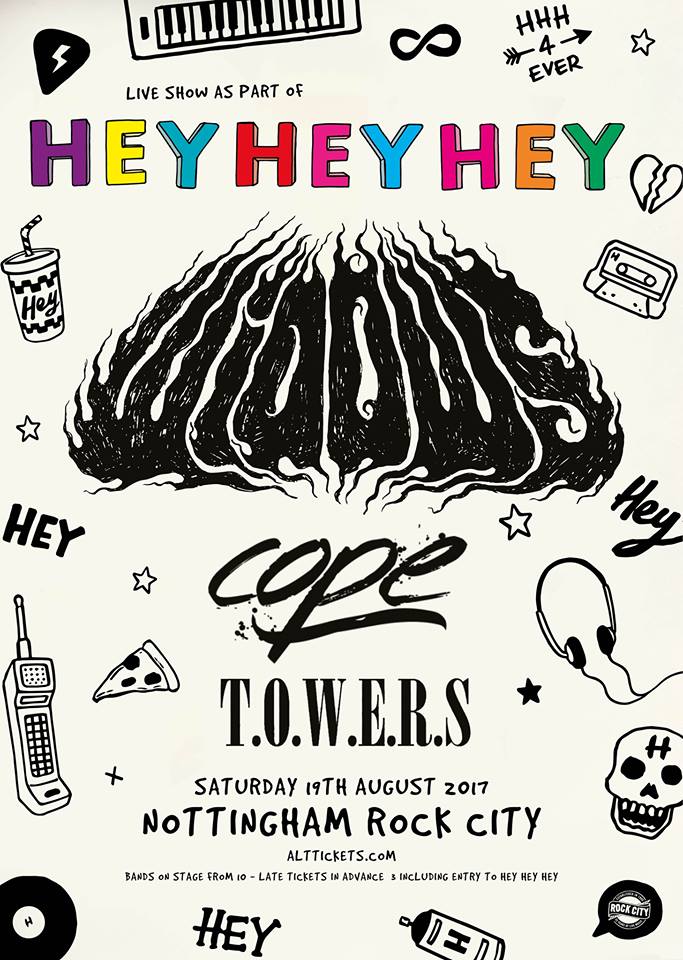 Formed in 2008 in the troubled UK town of Nottingham, WIDOWS play music you can raise a beer and swing a fist to and they do it hard fast and loud, with bone crushing grooves and undeniable swagger!
Influenced by the likes of Down, Kyuss, and Clutch, WIDOWS have spent the two years since the release of their debut EP (2010's Raise the Monolith) building up an ever more impressive live set as they chewed up, spat out, and pounded venue after venue into submission, adding weight to their sets with regular new tracks and building the collection of songs that would later become their debut full length CD, Death Valley Duchess.
The album was recorded after a stoner rock pilgrimage by members James (guitars) and Adam (vocals) to the Californian desert in a bid for inspiration for both the music and album artwork. The recording itself took place at MOOT GROUP STUDIOS in NOTTINGHAM with Johnny Carter (Pitchshifter) and Paul Yeadon (Bivouac) who's previous clients have included Send More Paramedics, the Plight, Bring Me The Horizon, and the Earache, Copro, 30 Days of Night labels.
The album, DEATH VALLEY DUCHESS was released worldwide through Bad News Records on April 27th 2012 in CD and digital download format. The album has been supported since day one of recording with a studio blog, UK tour, music video, playlisting on Kerrang Radio, a multimedia and press campaign by Quite Great Music PR, video plays on Propellor TV's Metal Tuune and Tuune Rocks shows. All this PLUS a string of killer shows across 2012 including the inaugural Desert Fest with COC and Orange Goblin, and more shows throughout the summer including another mini tour in July, shows up and down the UK across the Autumn, and tours in Finland, Holland, and the UK in November!
All this means WIDOWS are set to play your town, drink all your beer, steal your girlfriend, and take over your stereo. Watch the fuck out!
Support:
TOWERS
COPE