The Rock City archives: 2017
GOOD CHARLOTTE, Live In Rock City Main Hall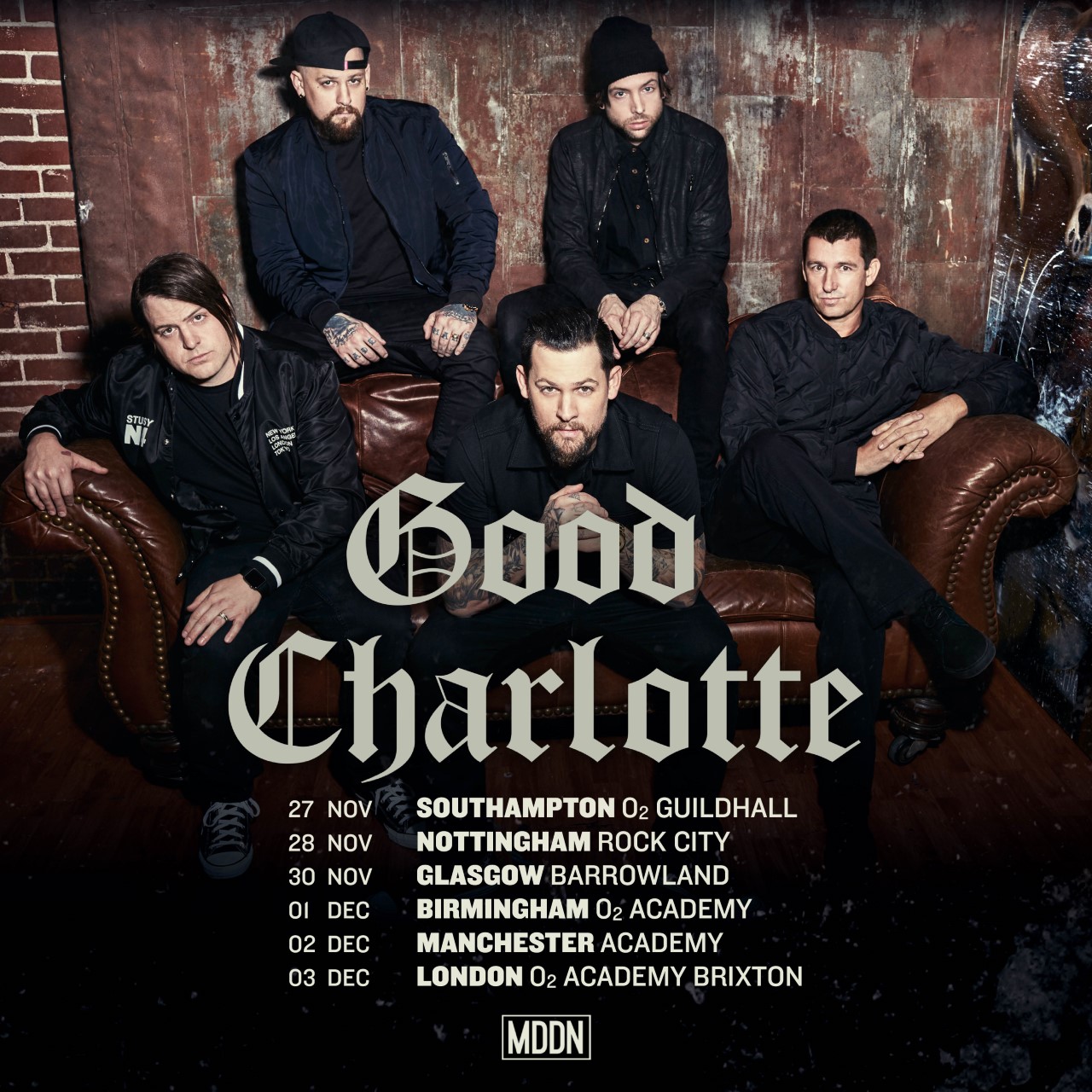 ANNOUNCE UK TOUR AND REVEAL NEW VIDEO FOR "KEEP SWINGIN"
Multi-platinum-selling rock icons, Good Charlotte are excited to announce their return to the UK in late 2017 for a headline tour.
Not only do we get tour dates but we also get a new video! "Keep Swingin" documents Good Charlotte's enormous live show and beautiful connection they have with their legions of dedicated fans. Check out the video (with a little guest appearance from Sleeping With Sirens' Kellin Quinn) HERE:
Keep Swingin' (Explicit) by Good Charlotte & Kellin Quinn on VEVO.
2016 was a monumental year for the band. It saw their highly anticipated live return with dates around the world including a UK tour with All Time Low, a scorching summer run of dates on the Vans Warped Tour, Festival performances and a US headline tour. 2016 also saw the critically acclaimed release of the their sixth studio album "Youth Authority" via the band's' own indie label MDDN, distributed worldwide through Kobalt .
Formed in the mid-90s, Good Charlotte have six albums and two collaborations under their belt. The band was integral in establishing a global critical mass for the pop-punk genre. The group's 2000 self-titled debut laid the foundation with the singles "Little Things" and "Festival Song". Then in 2002, the breakthrough success of The Young and the Hopeless catapulted pop-punk into the stratosphere and set them on the path to worldwide superstardom. The group followed with multi-platinum albums including The Chronicles of Life and Death (2004) and Good Morning Revival (2007). Following their most recent release Cardiology (2010), the group needed to take a breather.
"We had grown up inside the band and it was all we knew," Benji says. "We all needed to step away to find out who we were outside of it as well as do some growing personally."
The Madden brothers focused on the fully-functional recording studio they own and operate in the heart of Hollywood where they write, record and produce music for other artists in many genres. The brothers also serve as coaches on the highly-rated Australian version of "The Voice." The drive resurfaced and Benji and Joel credit the young Australian pop-punk group 5 Seconds Of Summer for re-igniting the Good Charlotte spark. After working with 5SOS in 2014, it reminded the brothers of how much fun they'd had with their own band--and in 2015, the timing felt right. "We got the bug and the writing just started flowing," explains Joel. "We worked on a few records that made us realize it would be fun to make our own record again. There's a certain record that only we can make; those Good Charlotte records. We got a little nostalgic and we went our best instincts."
In November 2015, Good Charlotte released a video for the song "Makeshift Love", a classic anthem that unabashedly screams early 2000s. Recorded with longtime writer/producer John Feldmann, the infectious song captures the vibe that made GC so revered. They quickly followed it up with a triumphant, sold-out show at The Troubadour in West Hollywood, CA. After a run of U.K. shows in February, U.S. dates in April and the release of their new album "Youth Authority" on MDDN July 15th, 2016, Good Charlotte are ecstatic to get back to their true purpose.