The Rock City archives: 2017
PAPA ROACH, Live In Rock City Main Hall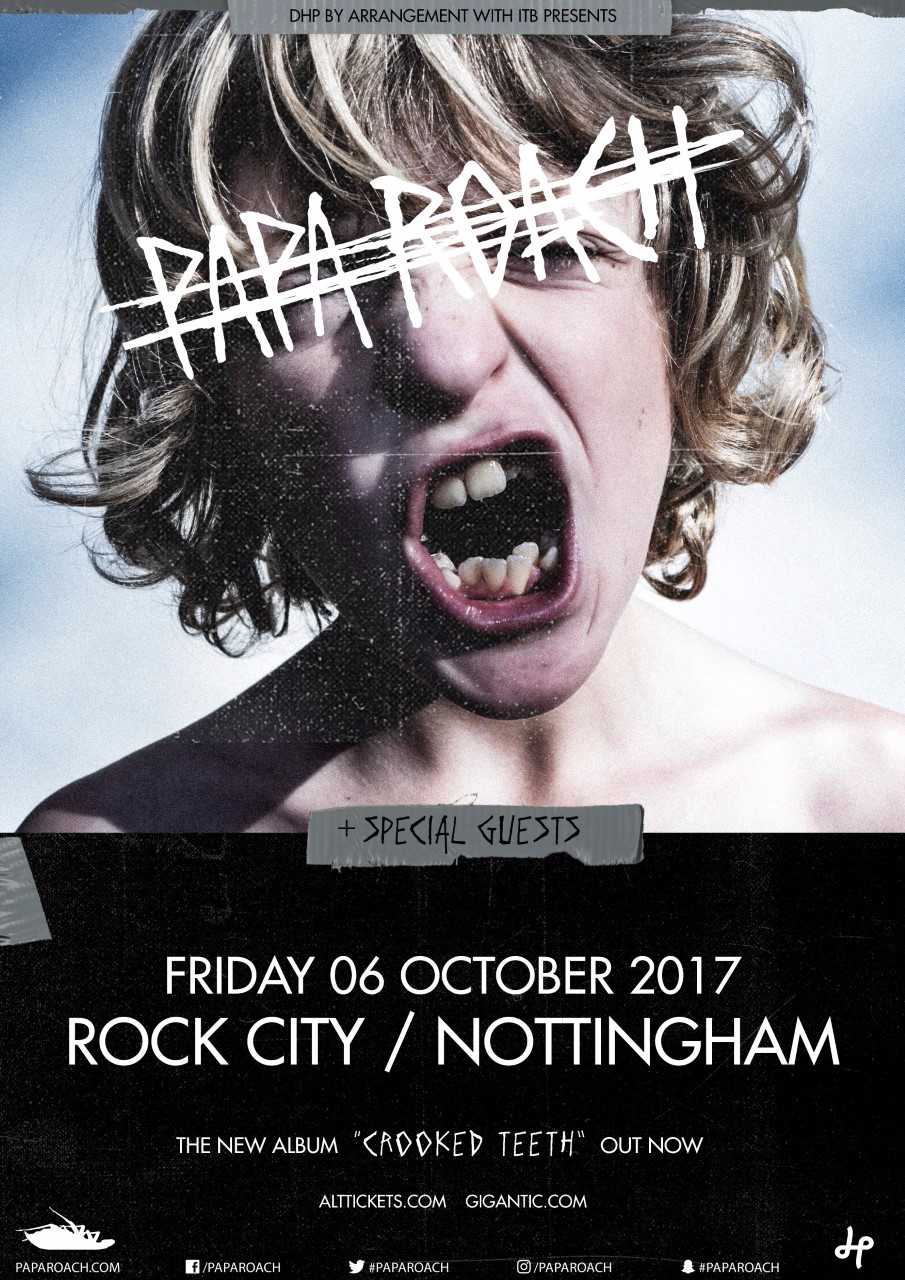 Papa Roach have never taken the easy way out and they aren't going to start now. Over the past two decades the group have established themselves as true trendsetters in heavy music: They've been nominated for two Grammys, toured the globe with everyone from Eminem to Marilyn Manson and crafted the nü metal anthem "Last Resort," which is still in heavy rotation on rock radio seventeen years after its release.
However, the group's ninth full-length Crooked Teeth sees the band returning to their humble—and hungry—roots. The album was recorded in a cramped North Hollywood studio with up-and-coming producers Nicholas "RAS" Furlong and Colin Brittain, who grew up listening to Papa Roach and inspired them to revisit some of the traits that personally endeared the band to them, most notably frontman Jacoby Shaddix's remarkable rapping technique. "We've always kind of considered ourselves to be the bastard cousins of everything we've every been involved with so we wanted to be true to that and switch things up this time around," Shaddix says. "The first time we met up with RAS and Colin, they said that [2000's] Infest was on constant rotation when they were growing up and they wanted to bring back some of that fire."
The connection between the artists and producers was immediate and the first song Papa Roach—which also features guitarist Jerry Horton, bassist Tobin Esperance and drummer Tony Palermo–came up with for Crooked Teeth was "My Medication," an instantly catchy banger that sees Shaddix spitting verses in between massive choruses and ambient accents. "I really felt like we had a personal connection and the music was just there waiting to be written and once we nailed that song things really clicked and we knew exactly what we had to do" Furlong explains. "We really followed our instincts and tried something unproven with this record and because of that we ended up with a bold, courageous and more adventurous version of Papa Roach."
It was in this studio that "old school" Papa Roach ways, morphed to create this "new school" Papa Roach sound.From the instantly infectious nature of the title track to the atmospheric sheen of the ballad "Periscope" (which features Skylar Grey) and the hip-hop rock mashup "Sunrise Trailer Park" (which features an impassioned verse from Machine Gun Kelly) Crooked Teeth displays the various sides of Papa Roach and illustrates why they've managed to remain relevant while musical trends ebb and flow. "We didn't go into this album with the intention of trying to write radio singles," Horton explains. "The collection of songs was really about bookending everything that we've done prior to this album and reintroducing Papa Roach to people who didn't realize the depth that we have," says Palermo. "The whole idea was to take the classic elements of Papa Roach that everyone loved and revamp them into a modern version of the sound through the creative process," adds Furlong. "We just wanted to flip everything on its head and see what would happen... and it turned out more amazing than any of us could have expected."
"The people who have wanted to hear me rap for years are gonna love some of the viciousness on this record," Shaddix explains adding that while he had his own initial reservations about some of the album's more unorthodox moments – such as the the 808 bass drop into a metal breakdown on the album-title track, "Crooked Teeth" –ultimately those adventurous decisions are what make the album such a refreshing change of pace in a rock climate that's grown increasingly sterile. "I'd like to personally thank all of the guys in the band for making this happen because all it takes is one person to give you a shot and this was definitely mine," Furlong adds. "I want to be one of the best producers in modern day music so I wanted to work as hard for these guys as they would for themselves because as a producer it was my job to push them to get the kind of quality work everyone has been expecting." Just as Papa Roach felt like they still had something to prove with this record, so did the production team who attempted to bring in elements of music from different genres and parts of the world while still staying true to Papa Roach's sound.
"One of the big elements in my production is finding those pockets of rhythm that people associate more with rap or reggae," Furlong explains, a fact that came in especially handy when Shaddix was fine-tuning his freestyle skills. "I know rap rhythms because I grew up listening to hip-hop, so I was able to make sure that the delivery was on point and the beat was in the pocket so it didn't suffer from a lot of the stylistic pitfalls that can happen when you merge rock and rap." Crooked Teeth also sees Shaddix pulling no punches lyrically, as evidenced on intensely personal tracks like "Born For Greatness," produced by Jason Evigan (Jason Derulo, Demi Lovato, Kehlani, Madonna), which sees Shaddix getting sentimental about his three children, or "American Dreams" where the lifelong pacifist begs the listener to ask, "have you ever thought war was a sickness?" "My father is a Vietnam veteran and a lot of those soldiers came back to a country where people weren't accepting them back into society or aware of the effects that war has on your psyche,"
Shaddix says of the song." "Post-traumatic stress disorder and the disintegration of the American family are things I've dealt with personally and I knew other people could relate to. I think that's what makes this record bold. Nothing was off limits when it came to what was on my mind." Never one to shy away from difficult topics, Papa Roach dug deep with Crooked Teeth and refused to censor themselves when it came to their opinion of the current political landscape and organized religion. For example, on "None Of The Above," every ounce of musical intensity on the album is mirrored by Shaddix's words whether he's screaming, singing or rhyming. "It took me a long time, but eventually I realized that in life we're all human and we all make mistakes whether you're the president or the preacher, you know?" Shaddix explains when asked about the latter song. "It's an example of how I can get lost in a story line and explore so many different issues in one track and that's what I love about this record. Just the spark of an idea would instantly ignite and the next thing we knew we had another song that we all loved."
In many ways making Crooked Teeth reminded Shaddix of the band's early days, well before they sold millions of albums and became a household name. "When we were in the rehearsal space I wasn't thinking about who I needed to impress, I was thinking about how much I love making music with the guys in this band," Shaddix admits. "It feels honest and it feels pure," adds Esperance. Fittingly, throughout the process, Shaddix gained inspiration from bands like Led Zeppelin and Faith No More, acts who constantly redefined themselves and were never content to rest on the merits of a hit single. "This band encompasses some of greatest victories, but it's also brought out some of my darkest character flaws," Shaddix summarizes, "so I have kind of a love-hate relationship with this music, but I can't stop because I've got too much of my life invested in it at this point. We are a purpose-driven band and I've got a responsibility to myself and our fans to continue to create."
Check out the new track 'Periscope'
: