The Rock City archives: 2018
MORETALLICA & WIZARDS OF OZ ( Metallica and Ozzy tributes ), Live In Rock City Basement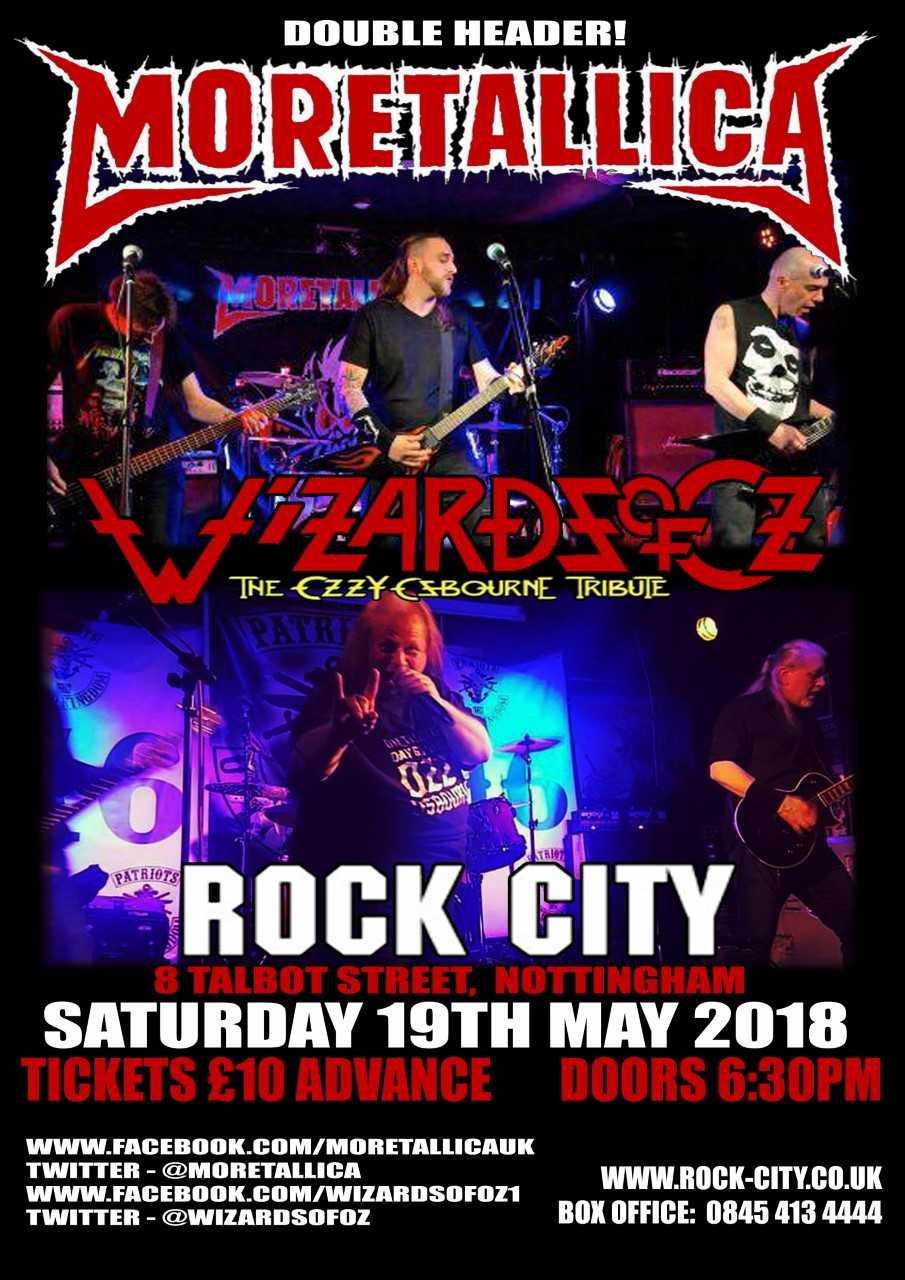 MoretallicaUK are the hardest hitting, most exciting Metallica tribute in the UK.
A commitment to play the music to the highest standard is what sets Moretallica above other tributes. Using the same equipment that Metallica themselves have used throughout their career, the sound is the most authentic that you'll hear outside of an actual Metallica concert!
Their breath-taking show captures the raw energy of Metallica's early career, and sustains that high intensity on the new material.
Formed in mid-2012, MoretallicaUK are winning over audiences across the UK with their versions of the best Metallica songs. Their fast growing reputation is well deserved.
Reviews include nothing but praise:
"Moretallica. No prizes for guessing whose music they were tributing. They were very good." - MusicinLeicester
"Best Metallica tribute I've ever seen – and I've seen them all" "Have to say Moretallica nailed it. A great set-list spanning all eras"
"From Kill 'em all to Hardwired, absolutely seamless! Awesome!"
If you like Metallica, old or new, you'll LOVE MoretallicaUK!
Bang the head that doesn't bang!
Wizards Of Oz:
Formed in 1988 by singer Mike Jurgens, Wizards of Oz are the UK's longest running and most authentic sounding Ozzy Osbourne tribute band.
Whereas other tributes may put all their effort into looking like Ozzy and his band , Wizards of Oz have put their time and energy into recreating the sounds of the songs as they originally appeared on the albums. The band says: "We're not a lookylikey band by any stretch of the imagination, although we did try and get Mike to agree to a sparkly dressing gown and blond hair-do a là 'The Ultimate Sin' tour, but he was having none of it!! Seriously, though, we'd go for the music over the image, any time. And one look at our photos will explain everything!!!!"
Between the 4 members of the band, they have played the length and breadth of the country and played more Ozzy songs in more venues, in more towns and for longer, than any other Ozzy tribute band on the scene. This wealth of experience combines to bring you a must see show for any Ozzy fan.
The set-list is positively a win-every-time lucky dip into Ozzy's post-Black Sabbath career, with the emphasis just possibly on the Randy & Jake eras and even the occasional Sabbath song sneaked into the set for good measure!
So come on in, get yerself a good spot somewhere down the front and, as the man himself so eloquently puts it...."GO FUCKING CRAZYYYYYYYYY!!!!!!"