The Rock City archives: 2019
ENTER SHIKARI, Live in Rock City main Hall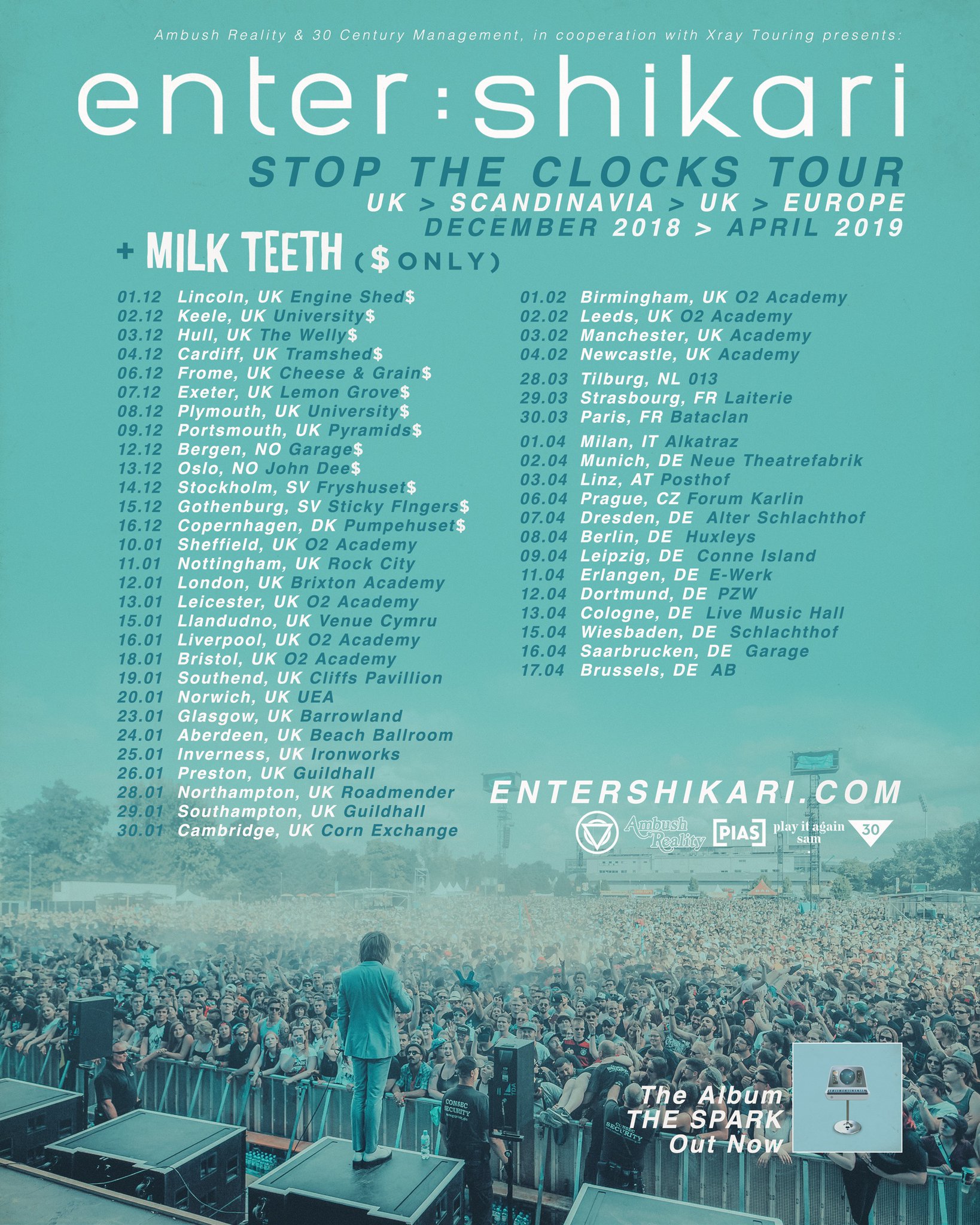 The mindblowing Enter Shikari head to Rock City for an intimate show on their Stop The Clocks Tour!!
ENTER SHIKARI CONTINUE TO SOAR AS THEY ANNOUNCE LONGEST EVER UK TOUR AND MORE EUROPEAN DATES
ENTER SHIKARI HEADLINE UK FESTIVALS 2000 TREES AND BOOMTOWN FAIR
Hot off the heels of winning Best Album at the Kerrang! Awards for Top 5 album 'The Spark', the soaring career of alt rock band Enter Shikari continues to rise as they announce their longest UK tour to date beginning on 1st December 2018. Tickets go on sale at 9am on Friday 13th July at https://www.entershikari.com/shows
The extensive 'Stop The Clocks' tour which takes in London's Brixton Academy, The Welly in Hull, the Cheese & Grain in Frome, Cymru in Llandudno and Glasgow Barrowlands is an opportunity to see the band up close on their longest ever UK tour.
Rou Reynolds says:
"Our most recent UK tours have been of the "eight or nine shows in arenas / big sheds" variety, so we consciously wanted to switch it up a bit going into 2019. Enter Shikari have always kept dipping back into more intimate venues over the years, no matter how big our headline shows have become. That's where we cut our teeth. The heat-sweat-and-visceral-human-connection of smaller gigs is every bit the equal of the impressive-scale-and-expensive-production of arena shows. We've never seen the latter as an evolution away from the former. They exist on opposite sides of the same coin for us.
It's also no secret that austerity and the looming potential disaster of Brexit have seen people having to be a lot more careful with how they spend their money. With things being what they are right now, it doesn't seem fair for only those who can afford the travel to a major city for a night out (plus the inevitable other costs that go along with it) to be able to see a show. Playing 28 dates across the UK is our way of taking what we do back to as many people as possible, in the most intimate and direct way".
Support bands to be announced.
Enter Shikari are currently in the midst of festival season which has seen them play to huge crowds at Germany's Rock Am Ring / Rock Im Park and Vainstream festivals, Austria's Novarock and Czech Republic's Rock For People. The band has headline sets at the UK's 2000 Trees festival (Main Stage) in Gloucestershire in July and BoomTown Fair (Town Centre Stage) in August, both of which come accompanied by intimate warm-up shows which sold out in minutes.
Acclaim for 'The Spark':
"An almost faultless fifth album." Sunday Times Culture (Dazzler of the Week)
"Enter Shikari¹s most eclectic and accomplished album to date." **** The Independent
"There is a new found clarity and focus here that suggests The Spark could be the album that cements them as one of the U.K¹s biggest bands." Evening Standard
"A tempestuous tribute to a world on fire. a crossover classic." **** NME
"The Spark is undoubtedly going to be one of the albums of the year." KKKK Kerrang!
"… still entirely unique." 8/10 Rocksound
"The Spark is the most daring thing Enter Shikari have ever done." **** Upset
"Innovative post-hardcore quartet push their boundaries" The Guardian
"Different like never before." **** Dork
"… a brilliant, imperfect record that affects you in ways Enter Shikari never have before." **** Drowned In Sound