The Rock City archives: 2015
Kunt & The Gang, Rock City Basement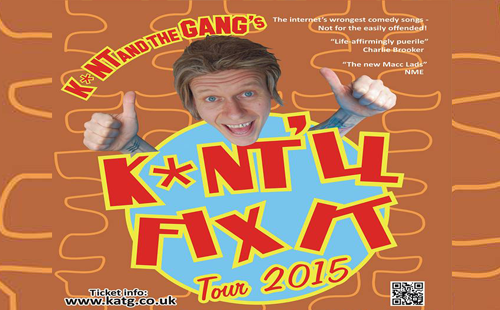 Returning to the Rock City Basement once again is Basildon's "one man filth machine" (Bizarre Magazine), KUNT AND THE GANG. Responsible for some of the internet's most lowbrow comedy songs and videos, 'Kunt' has to be seen to be believed. The last few years have seen him playing sell out runs at The Edinburgh Fringe Festival, packing out the comedy tent at Download Festival, being featured on Channel 4's Rude Tube and scoring two of the most offensively titles top 75 hit singles of all time with his tracks, 'F*cksticks' and 'Use My Arseh*le As A Cunt'.
Kunt and the Gang is a UK band fronted by lead singer and keyboardist Kunt and featuring puppet sidekick, Little Kunt. They originate from Basildon, Essex, England (most famous for Depeche Mode, Yazoo)

Kunt and the Gang 's songs take a light-hearted approach to many modern issues, with song titles such as 'Wanking Over A Pornographic Polaroid Of An Ex-Girlfriend Who Died'.

Performing since 2003, the debut LP, 'i have a little wank and i have a little cry', was released in 2004, the first part of a 'wanking and crying' trilogy of albums. A Greatest hits album and DVD Complete Kunt was released in 2010.

The act has been compared, musically at least, to fellow UK comedy act John Shuttleworth as all the songs are performed on a cheap-sounding keyboard and simple drum machine.

Rest assured... this one won't be for the faint hearted. But is definitely one you won't want to miss!
First Played @ Rock City: October 2013