The Rock City archives: 2015
Architects, Rock City Main Hall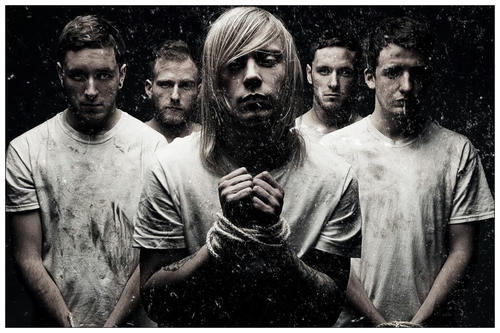 From the band: "We are extremely proud to announce our biggest ever headlining tour of the UK and Europe! We're bring along our good friends in Every Time I Die, Blessthefall and Counterparts to make it one of the biggest heavy bills of the year. We'll be doing everything we can to make sure these shows are the biggest and best Architects shows in our 10 year history. We can't wait."
Following the release of the hugely acclaimed, Kerrang! Award winning recent album 'Lost Forever, Lost Together', the band have also been incredinly busy. This includes being part of Radio 1 Rocks week (along woth acts like Of Mice And Men, Marmozets and Bury Tomorrow), performing live on Zane Lowe/Radio 1, touring the US with letlive (joint headline), touring the globe from South America to far East Asia.
 Some critical praise from 'Lost Together, Lost Forever' in UK:
"Complex and brutal album that belies metalcore's stagnation"
The Guardian (4/5)

"Lost Forever, Lost Together' is the sound of Architects finding and unleashing the buried treasure they've been searching for." - Rock Sound (9/10)
"Architects are a true national treasure and they continually pump out some of the most engaging, challenging and outright gnarly metal around"
Metal Hammer
 (8/10)
"Architects finally find themselves" – Kerrang! (4/5)

"Architects really are the best British metal band of their generation"
Kerrang! Live Review (5/5)

"LFLT is a an unbelievable album, and most probably the best thing Architects have ever done" – Big Cheese (9/10)

"Intense as ever, Architects have matured in sound and songcraft"
The Sun (4.5/5)
ARCHITECTS are:
Samuel Carter – Vocals
Tom Searle – Guitar
Dan Searle – Drums
Alex Dean – Bass Guitar
Architects are a British metalcore band from Brighton, England. The band currently consists of lead vocalist Sam Carter, drummer Dan Searle and his twin brother, guitarist and keyboardist Tom Searle and Alex Dean on bass guitar. The band went through several name changes before they decided upon Architects. Their first name was Inharmonic, which was swiftly changed to Counting the Days. After a couple of years this was in turn changed to Architects. They have released six studio albums and one split ep with Dead Swans.
They released their debut album Nightmares in 2006 on in at the Deep End records. After the departure of the original vocalist, Matt Johnson, Carter joined the band and made his first appearance on Architects' second album Ruin released in 2007 through United By Fate records. In 2009 the band released Hollow Crown through Century Media records. They then released their fourth album The Here And Now in 2011, which showed the band step in a more melodic "clean-cut post-hardcore" direction.Upon its release the album received critical acclaim but was panned by their fanbase. The next year Architects returned to their original style with their fifth album Daybreaker, with more politicised lyrics as opposed to the violent and comedic lyrics that can be heard throughout their older work.Their sixth album Lost Forever // Lost Together was released in 2014 through Epitaph Records.