The Rock City archives: 2014
The Treatment, Rock City Basement
The Treatment is an English hard rock band, which formed in Cambridge in 2008.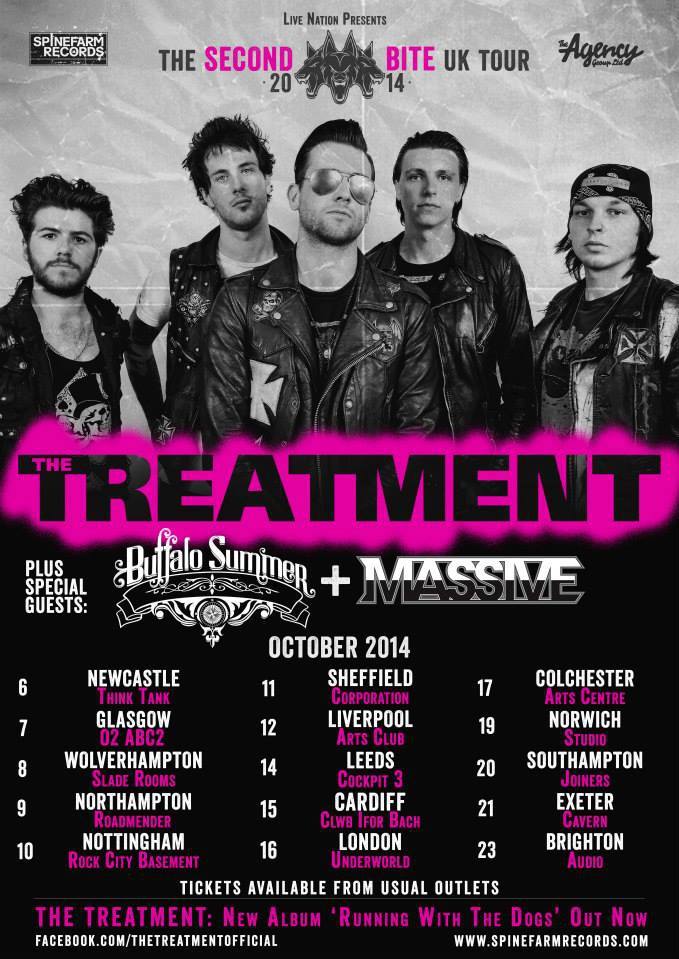 After the Medication For The Nation Tour in the United Kingdom in December 2011 the band went in tour in support of Alice Cooper, Steel Panther and Thin Lizzy.
In 2011 the band played at Sonisphere Festival on Jägermeister stage. The Treatment played on Pepsi Max Stage at Download Festival in Castle Donnington, UK on June 9, 2012.
In 2012 the band went in tour with Kiss and Mötley Crüe in their The Tour. In 2013 they played at Ozzfest in Japan and four dates with Slash in the UK. They also supported Status Quo on their Frantic Four reunion tour with Quo's original line in 2013.
At a time when so much rock music is defined according to a specific genre or sub-genre, it's refreshing for a new band to come along who are both happy and proud to be called simply 'rock'… and when that band are just 18 years old, then the project becomes very exciting indeed: classic sounds filtered through young hearts an' minds.

A five-strong outfit based in the Cambridge area of the UK, The Treatment are indeed tender in years, but you'd never guess that from the quality of their song-writing or the confident swagger of their live show. It's only really the exuberance and in-built energy of their playing that gives the game away, adding a fresh-faced twist to some deeply classic grooves.

Combining the drive of early Def Leppard with the song-writing ability of prime UFO and Thin Lizzy, the whole thing underpinned by the sort of low-slung riffing redolent of early Aerosmith or G n' R, The Treatment are unashamedly inspired by an era when rock bands looked like rock bands and were generally intent on causing a stir (both onstage and off); an era when the lifestyle was important, when music was everything and when vinyl was king.