The Rock City archives: 2015
Hit The Deck 2015, Rock City, Rescue Rooms, Stealth
Sunday 26th April 2015
Supported by:

Skindred, Cancer Bats, While She Sleeps, MC Lars, Allusondrugs, You Blew It + MANY MORE!!!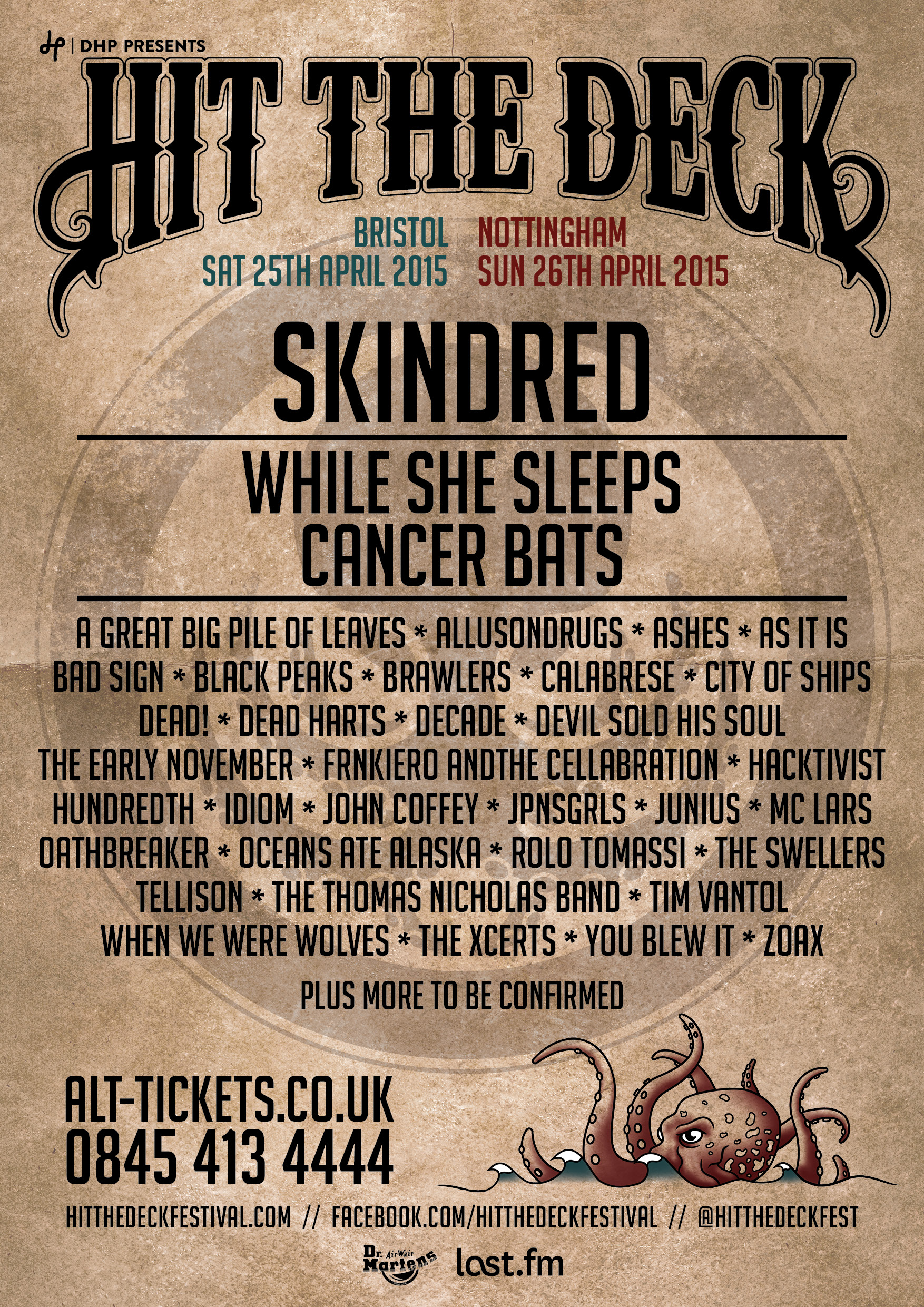 FESTIVAL INFORMATION:
The annual Hit The Deck Festival takes place across various venues in Bristol and Nottingham in April. This year the Bristol date takes place on Saturday 25th April and the Nottingham leg follows on Sunday 26th April. Below you'll find all the information you need for Hit The Deck 2015.
Bristol Venues
Thekla, O2 Academy 1, O2 Academy 2, The Fleece.
Nottingham Venues
Rock City, Rescue Rooms, Stealth.
Age Restrictions
14+ (except The Fleece which is all ages, but under 16s need to be accompanied by an adult)
Wristband Exchange
You'll be able to exchange your Hit The Deck ticket for a festival wristband from 11am at Rock City in Nottingham and at Thekla in Bristol. Hit The Deck starts at 12pm, but we strongly advise you to collect your wristband early to avoid long queuing times. Please note: you will not be able to gain entry to venues without having collected your Hit The Deck wristband first.
Room Capacity
Each stage has a specific capacity and when this is reached entry to that stage will be limited, so if you are wanting to see a specific band please arrive early so you don't miss out!
After Party
Please be aware that if you are purchasing tickets that include entry to the Hit The Deck after party, that the after party is for customers aged 18 and over.
Underage Drinking
Hit The Deck operates a no tolerance policy on underage drinking. If anyone under the age of 18 is found drinking alcohol or attempting to purchase alcohol, or if anyone over the age of 18 is found to be obtaining alcohol for anyone underage they will be removed from the festival and have their wristband confiscated.