The Rock City archives: 2015
Splendour in Nottingham, Nottingham Wollaton Park
Saturday 18th July 2015
Supported by:

The Specials + James + Jess Glynne + Lawson + Bananarama + The Twang + Joy Mumford + The Swiines + MANY MORE!!!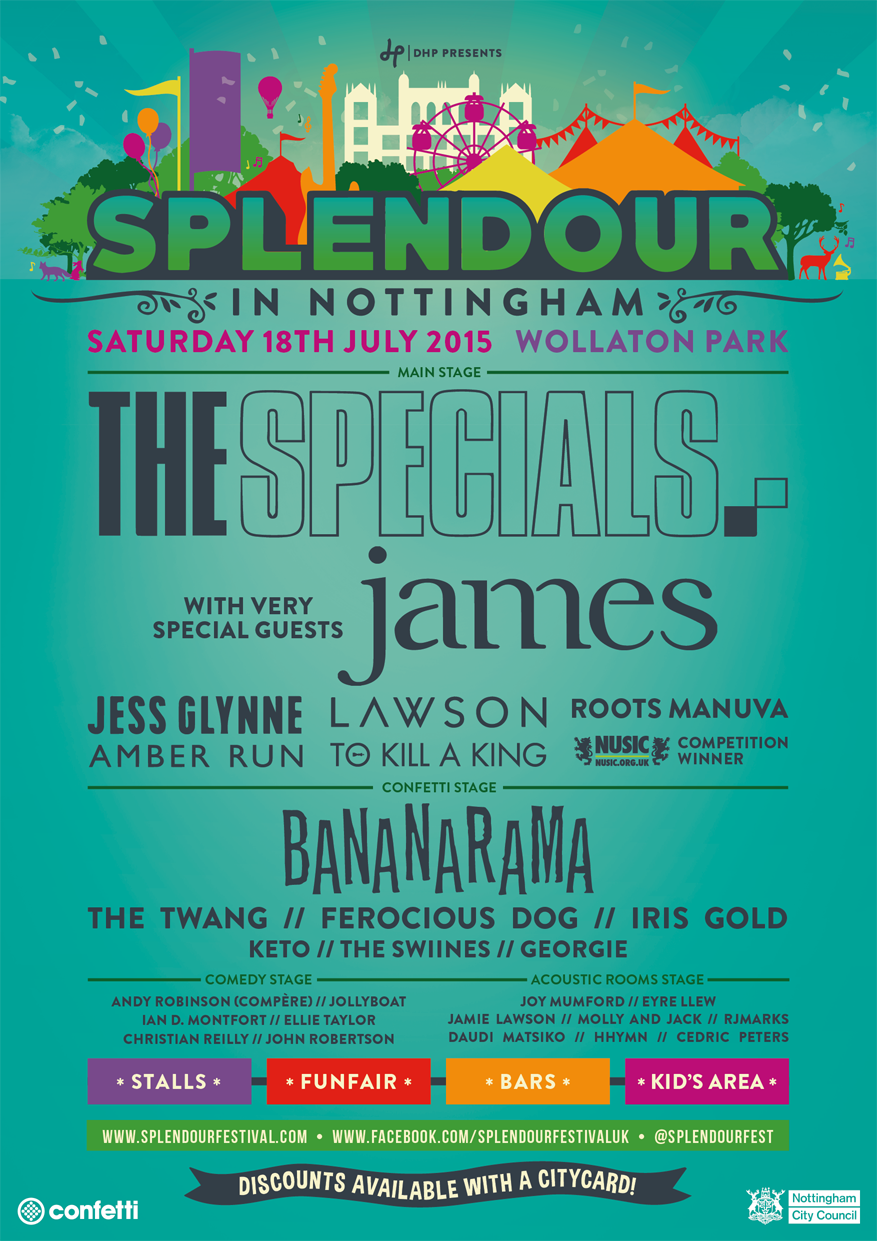 UPDATE (20/03/15) SECOND ANNOUNCEMENT! NEW ACTS ANNOUNCED!!!
Headlined by two-tone revivalists The Specials, the all dayer in the beautiful grounds
of Wollaton Park is set to be one of the biggest summer days out across the
Midlands on July 18 2015. Continuing the strong line up on the main stage as special
guests are the legendary James, perhaps best known for anthemic hits such as 'Sit
Down', 'She's A Star' and 'Laid'. With all seven band members coming back to reform
in 2007, the Manchester band released their 13th studio album La Petite Mort last
year to critical acclaim and showed the unique James magic is still firmly in place
with engaging powerful songs that demand to be heard live.
Images available here:
https://www.dropbox.com/sh/cx2ysj8snmy295g/AADK5S6Pkh89Q_vAUGX6GIPa?dl0
Promoter DHP Family, in partnership with Nottingham City Council and
Confetti, has been working hard behind the scenes to bring the perfect mix of long-
loved heritage acts alongside contemporary pop artists to cater for all the family.
One of the best all female pop bands of all time, Bananarama joins the bill for
Splendour headlining the Confetti Stage.  The band already share history with The
Specials lead singer Terry Hall who tracked the girls down to perform with Fun Boy
Three, the trio he formed with two other bandmates, for the single 'It Ain't What You
Do It's The Way That You Do It'.  Will Splendour see the girls join Terry and co on
stage?
With 32 Top 40 UK hits, they went on to support everyone from Iggy Pop to Paul
Weller. For the next ten years the girls were everywhere and so were their hits, all
penned by the girls themselves. As their biography says 'Bananarama were not a
manufactured band but three friends who came from the London Club scene with a
Punk attitude and were always in control of their own destiny.'
Singer of the moment Jess Glynne, best known for featuring on Clean Bandit's 'Rather Be', which made number one in the UK and can also be heard on the current M&S food advertising campaign, as well as debut single, 'Right Here', will be bringing her distinctive voice to the main stage.
With their latest single Roads out in May and an eagerly anticipated album due out later this year, pop rockers Lawson will have plenty of fresh material to excite the crowd alongside songs from their debut album Chapman Square and their six top 20 hit singles including Juliet and When She Was Mine. Joining them on the main stage and described as 'the voice of urban Britain' by The Times, MOBO award winner, vocalist and rapper Roots Manuva, best known for the hit single 'Witness The Fitness', will be bringing his UK hip hop style to Wollaton's lush fields.
The full main stage line up is The Specials, James, Jess Glynne, Lawson, Roots Manuva, Amber Run and To Kill A Kingand the day will be opened by the winner of the Future Sound of Nottingham competition.
The search to find the best unsigned local act to open the festival is underway once again with the Future Sound of Nottingham now open for entries, building up to the chance to play the Rock City final on June 14 2015. For more details, visit www.nusic.org.uk
Keeping up the tradition for bringing the best of the local scene to the attention of 20,000 crowd, will be Amber Run, the band who formed at Nottingham University, with a huge indie-rock sound laden with hooks and driving choruses that looks a surefire bet to be filling stadiums some time soon. Expect a great response from their growing fan base to tracks such as the anthemic 'Just My Soul Responding'; 'I Found' and 'Spark' hot on the heels of the release of their debut album, '5am', on April 27 through RCA Victor.
For something completely different, head over to the Confetti Stage where the Mansfield crew Ferocious Dog will be delivering their own take on Celtic folk by mixing up traditional instruments -  fiddles, whistles, mandolins - with a bit of rock n' roll attitude. With their unique, aggressive yet feel-good music they are a favourite in the city making history last year by becoming the only unsigned act to ever sell out the Rescue Rooms in Nottingham, not only once but twice.
Second on the bill to Bananarama on the Confetti stage are Birmingham indie-rockers The Twang. Hailed by the NME as 'Britain's best new band' when they emerged, their second single Either Way was a top 10 hit and strongly championed by Radio 1 while the band commanded a prestigious headline slot at Glastonbury on the John Peel Stage. The Twang have kept the albums coming and the anthemic guitar rock of their latest, NEONTWANG, is sure to keep the audience moving.
Confirmed for the Confetti stage are Bananarama, The Twang, Ferocious Dog, Iris Gold, Keto, The Swiines and Georgie. 
Completing the feast of live music will be the line up on the Acoustic Rooms stage, named after the popular weekly event at the Rescue Rooms. Joy Mumford, Eyre Llew, Hhymn, Jamie Lawson, Molly and Jack, RJMARKS, Daudi Matsiko and Cedric Peters make up the offer for the final stage.
At the bottom of the courtyard, the popular Funhouse Comedy stage compered by amiable cheeky-chappie Brummie Andy Robinson will once again be entertaining the crowds throughout the day and into the evening. Ian D. Montfort, the Sunderland psychic creation of character comedian Tom Binns, very convincingly uses the cold reading of stage mediums to debunk their techniques with fantastically funny interactions with his audience. Bringing his musical comedy act Lost in Music, Christian Reilly, now an international comedian playing all the major comedy venues, started out in Nottingham. Expect sharp wit combined with effortless charm and the occasional snipe at histrionic rock bands, musical theatre and morose indie musicians. Presenter Ellie Taylor of BBC3 dating show 'Song, Marry, Avoid', awesome Aussie improviser John Robertson and brilliant young musical comedy duo Jollyboat complete the comedic offer.
The entertainment doesn't stop away from the main stages with loads for children on offer including fairground rides, and a free kids area hosted by Big Top Mania, featuring circus skills workshops and shows, crazy inflatables, giant bubbles and Big Bear's Big Balloon Disco.
Councillor Dave Trimble, Portfolio Holder for Sport and Leisure at Nottingham City Council, said: "It's great to see more much-loved groups being added to the Splendour line-up. We're looking forward to a fantastic family summer day out in the beautiful surroundings of Wollaton Park."
Tickets for Splendour start at £20 for 11-17-year-olds and £34 for adults with a citycard. Children 10 and under go free. Available from www.splendourfestival.com
To get the latest line-up announcements and festival updates go to www.splendourfestival.com or like www.facebook.com/splendourfestivalUK or follow @splendourfest.
MAIN STAGE
The Specials
James
Jess Glynne
Lawson
Roots Manuva
Amber Run        
To Kill A King
NUSIC Competition Winner
CONFETTI STAGE
Bananarama
The Twang        
Ferocious Dog
Iris Gold
Keto
The Swiines
Georgie
COMEDY STAGE
Andy Robinson (Compere)
Ian D. Montfort
Christian Reilly
Ellie Taylor
John Robertson
Jollyboat
ACOUSTIC ROOMS STAGE
Joy Mumford
Eyre Llew           
Hhymn
Jamie Lawson
Molly and Jack
RJMARKS
Daudi Matsiko
 Cedric Peters
Two-Tone legends The Specials To Headline Splendour
Hot on the heels of two sold out shows at Rock City last year, The Specials will be bringing their infectious blend of two-tone Jamaican ska and punk energy to the main stage at Splendour for the first time.
For those who missed out getting their hands on tickets for the fast selling shows last November and for all those who want to get their skank on again, Saturday 18th July 2015 will be another chance to see the band renowned for the energy of their live performance, but this time in the beautiful setting of Wollaton Park. Widely credited with changing the face of pop in the late 70s, The Specials reformed in 2008 and have gone on to tour the world, playing to bigger audiences than ever before.
This summer the 20,000 Splendour Festival crowd can enjoy the two-tone revival with hits such as A Message to you Rudy, Too Much Too Young and Ghost Town sure to feature in the headlining set.
George Akins, DHP Family, who invited The Specials to headline Splendour after watching their two fantastic shows at Rock City, said: "Although the band were only around for a short time in their heyday, nearly every one of their songs from their debut album has rightly become a classic over the intervening decades. I know they will go down a storm at Splendour as they still sound as vital and relevant today as they did when they burst onto the scene in 1979."
Promoter DHP Family will be announcing further acts for the three stages in the coming weeks and months. Already promised is an even bigger and better entertainment offering with fringe acts and a new expanded children's entertainment area helping to deliver one of the city's biggest and best family days out.
Councillor David Trimble, Dunkirk and Lenton Ward Councillor and Portfolio Holder
for Leisure and Culture said: "The Specials are a great headline act for our popular
family festival, Splendour. It's a great day out, in a wonderful location, with brilliant
music and a fantastic atmosphere. We're proud to be able to continue to offer
discounts to Nottingham city residents, and to offer free entry to children 10 and
under.
"We're really pleased to be able to work with our partners DHP to put on such a
good show for Nottingham. With the comedy stage and expanded kids' and funfair
area for 2015, it will be a really fun family day out."
Tickets for Splendour are on sale from 9am Friday 13 February starting at £20 for
11-17 and £34 for adults with a citycard. Children 10 and under go free. Available
from www.splendourfestival.com
To get the latest line-up announcements and festival updates go to
www.splendourfestival.com or like www.facebook.com/splendourfestivalUK or follow
@splendourfest.