The Rock City archives: 2015
Foals, Rock City Main Hall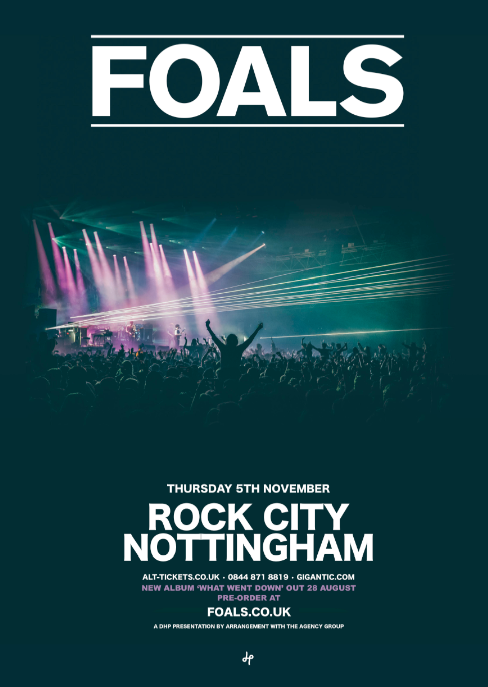 New album 'What Went Down' is out August 28th
"Has the potential to be the one [album] that makes Foals truly massive" – NME
 "An enormous, seriously impressionistic contemporary rock album imbued with spectacular splashes of gothic darkness" – Q
""Theyrefine their distinctive sound and conjure melancholy with accomplished,vast electronic textures. What Went Down is their most fully realised yet" - 8/10, Uncut
"Foals are very firmly on the good foot" 4* Mojo
"There's no ignoring the fact that Foals are back" – Evening Standard
"Who's going to dominate next year's festivals? Foals – and this heavy-duty new album is why" - GQ
"Pushes the envelope - Foals are at their peak" - 5*, Shortlist
Anticipation continues to build for Foals' eagerly anticipated new album 'What Went Down' which looks set to shape a bold new era in the quintet's career when it's released on August 28th. Their thrillingly visceral return with the single also titled 'What Went Down' earned a flurry of Radio 1 support (Hottest Record in the World, Tune of the Week and Track of the Day) as it accelerated towards 1.7 million views mark at YouTube.
That sense of Foals ascending to new creative peaks was intensified with the reaction that greeted the follow-up single 'Mountain At My Gates' and its ground-breaking GoPro interactive video which was directed by Nabil, as well as with 'A Knife In The Ocean' which received a World Record premiere on Beats 1 courtesy of Zane Lowe.
After the confirmation of a special album launch show at London's Village Underground on August 25th, Foals can now announce that they'll embark upon their first UK club tour since February 2014.
The dates – scheduled below – include the opening night of Rockfeedback and Moshi Moshi'sunique new 'By The Sea' event which will be held at Dreamland Margate. The intimate show, held at the recently relaunched and reimagined venue which was one of the nation's original pleasure parks, will see Foals (plus special guest supports and DJs) play across different eye-catching and imaginative spaces within the Dreamland complex.
November
5th – Nottingham, Rock City
6th – Liverpool, Olympia
7th – Norwich, UEA
8th – Cardiff, University, Great Hall
10th – Aberdeen, Music Hall
11th – Newcastle, O2 Academy
13th – Southampton, Guildhall
14th – Margate, Dreamland – By The Sea event
15th – Bristol, Anson Rooms
16th – Cambridge, Corn Exchange
Tickets go on sale at 9am on Friday August 21st and will be priced at £25 for all dates except for the Margate By The Sea event which will be £28.50. They'll be available from www.alt-tickets.co.uk,www.gigsandtours.com,www.gigsinscotland.comand www.seetickets.com.
Foals – Yannis Philippakis (vocals/guitar), Jimmy Smith (guitar/keys), Walter Gervers (bass), Jack Bevan (drums) and Edwin Congreave (keys) – recorded 'What Went Down' at the desolate Studios La Fabrique which is located in the same village in the south of France in which Van Gogh was hospitalised after savaging his own ear.
'What Went Down' is an album that grapples with questions that are a world away from the bland bleatings of homogenised pop: permanence and impermanence; life and death; solitude; vulnerability; intimacy; passion; rage; humanity – weighty issues that make demands of the people creating that music, and of all those who listen to it, too.
Sonically, it's an album that precariously seesaws between primal aggression and naked vulnerability. It's an approach that delivers a contrast of muscular shocks with the fiery central riff of 'Snake Oil' and the menacing percussive march of 'Albatross' set against some of the band's most openly experimentally moments to date such as cocktail of afrobeat and drum machines that underpins 'Night Swimmers' and the stripped-back, vocal-led 'Give It All'.
The album closes on an astonishingly beautiful note with 'A Knife in the Ocean', akin to both the calm before the storm, but also the stillness and silence after it has passed.
The album is now available to pre-order on digital, CD, CD/DVD and vinyl formats, as well as limited edition box set which is available exclusively from Foals' online store.
'What Went Down' will represent Foals' fourth album after 'Antidotes' (2007, #3), 'Total Life Forever' (2010, #8) and 'Holy Fire' (2013, #2). After an almost unprecedented double-bill of shows in a day at the prestigious Royal Albert Hall, the summer of 2013 saw Foals present a teaser of their future as they headlined their first major festivals at Bestival, Latitude and Parklife with the biggest and most reactive crowds of the weekend. Next summer's festival circuit, it seems, will see Foals ascend to new heights.
By the close of the year, the band's critical reception had also continued to soar with a plethora of major honours including Best Live Act at the Q Awards, Best Single for 'Inhaler' at the NME Awards and Best Live Act at The Sun Bizarre Awards. As with 'Total Life Forever', 'Holy Fire' again earned the band a Mercury Prize nomination.