The Rock City archives: 2015
Celebrating 35 Years Of Rock City: The Charlatans, Rock City Main Hall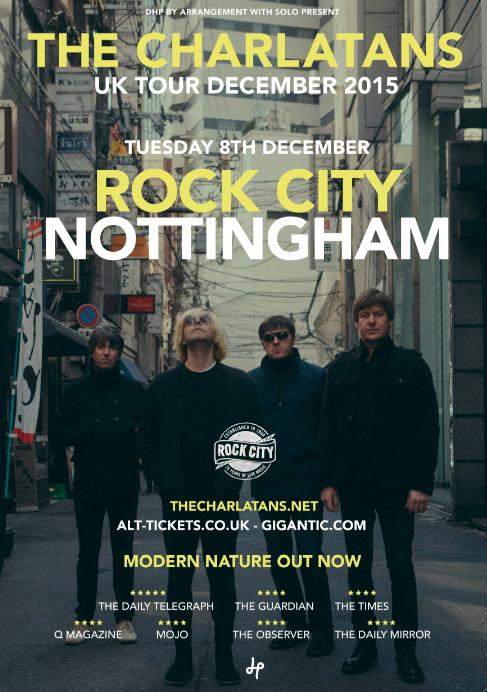 How to come back from the death of a best friend, a band member, and a core part of your sound?
How to stay motivated in the middle of a cold, damp Cheshire February, in a building full of memories, with no record label, and just a few sketches of songs from aborted recording sessions the year before? The Charlatans did what they always do. They dug deep, and searched for soul.
Yet Modern Nature, The Charlatans' twelfth album and their first for new label BMG, nearly didn't happen at all. Following the death of drummer Jon Brookes after a long battle with brain cancer in August 2013, Tim Burgess, Mark Collins, Martin Blunt and Tony Rogers struggled not to feel deflated, and the songs wouldn't come.
When they reconvened at their Big Mushroom studio in early 2014, it was the memory and spirit of Jon Brookes that spurred the rest of the band on to finally make a breakthrough and make a bright, uplifting, summery record that stands up as one of the finest of their career.
"Jon was adamant that there was going to be another Charlatans record, and you have to put that into your own thoughts,"
says Rogers.
For there was just too much history not to carry on. Over the near-25 years since they formed, The Charlatans have never split up to lucratively reform like so many of their peers. They've overcome death, arrest, Britpop and bankruptcy to release eleven albums, including seven UK top tens, retaining a fanatical fanbase who still clamour for album tracks rather than any of the band's eleven top 20 singles - Sproston Green, the song with which The Charlatans finish every single gig, still sends crowds wild. Yet despite these accomplishment this has been the moment when they've decided to push themselves hard towards the future.
"I think it's really important for us to sit down and go through everything and get it all cleared before we went through together". United in Big Mushroom with Jim Spencer at the controls, The Charlatans were determined to make a positive, upbeat record. "We were aching for the summer when we wrote it" says Burgess. "It was freezing and we were trying to write songs that made us happy."
Collins says that
"There was a soulful element that we all agreed on. Martin in particular wanted to make a soulful record. It's quite a big word isn't it, soul?"
Music that the band were listening to in the studio and their sitting room, a huge space wallpapered with photographs of mountain scenes, included Arthur Russell's Let's Go Swimming, Brazilian funk, Northern Soul, William Onyeabor, Serge Gainsbourg with Jean Claude Vannier "weird, electronic, Moog-sounding things", Curtis Mayfield and "a lot of stuff with decent basslines. We were all dancing to Maxine Nightingale, 'Right Back Where It Started From'".
The band all agree that despite the "big negative" of their loss, the aim was always to try and transcend tragedy while remembering their old friend. Jon's drums remained where they were in the studio, tuned exactly as he left them. Blunt is quick to credit Brookes for his input in the direction the band were taking from 2001 album, Wonderland. "Jon did start bringing in loops and things, trying to be that Man Machine."
The three temporary Charlatans drummers - Pete Salisbury of The Verve, Stephen Morris of New Order and Gabriel Gurnsey of DFA's avant-disco group Factory Floor - had to turn up and record parts based on drum machine loops on Brookes' kit. "Gabe reckons he got a slap," says Mark. "Halfway through a take he stopped drumming because he felt a smack on the back of his head. Nobody is saying we believe in things from the other side, but...."
The result is The Charlatans' most confident, effortless, light album for years. Mixed by Craig Silvey (Arcade Fire, Portishead), its title comes from the avant-garde filmmaker Derek Jarman's diary collection, a copy of which fell on Burgess' head as he worked on solo material with psychedelic electronic folk group Grumbling Fur. First out of the traps is Talking In Tones, to come out as a limited edition 7" via The Quietus website's record label, which launched the career of East India Youth and earlier this year released Grumbling Fur's critically acclaimed album. It builds out of wheezing, popping rhythms into a graceful, understated and strange pop song about telepathy in relationships, the title for which came to Burgess after a walk through the streets of London.
Then there's Trouble Understanding, featuring rattling electronics and piano, with drums from Stephen Morris. "He said 'this is a bit of an anthem'. I told him at the beginning, we've got this song, it sounds like New Order, but I don't think he agreed," says Burgess. "It reminded me of This Time Of Night off Lowlife, just a sense of it. He plays brilliant on that." Come Home Baby has another bright, summer organ part, oddly rough guitar scrabbling in the background, and when the chorus does emerge it's entirely unexpected. The Charlatans have always been a band who exude a British take on classic American soul, and this time it feels effortless and has a chorus that still has a perfect rousing chorus of a band whose natural home is headlining festivals. I Need You To Know is cosmic and yearning, Keep Enough - the track that Collins says was the breakthrough moment in the studio - is smooth and soulful and features strings arranged by Sean O'Hagan, the prolific collaborator and former High Llamas man. In The Tall Grass and Lot To Say dreamlike and pastoral, So Oh reminds Collins of Barry White and Burgess of Bill Callahan. Emilie, meanwhile, is a contrasting delicate moment that Mark finds "good vibes" and Martin "melancholy", though Tim says it "reminded us of summer, again. Maybe a nice beach in California... from when we were freezing in February".
'Let The Good Times Be Never Ending' does what it says on the tin, a rolling Tony Rogers organ part over a snare-heavy disco funk rhythm, female backing vocalists and a confident Burgess vocal that seems to sum up the sense of love, life and confidence that's writ large throughout Modern Nature: "We know each other / I get the love that you're sending / let the good times be never-ending".
"I liked the way we went about it. I found it to be a really enjoyable record to make," says Burgess, reflecting on the past six months. "Sometimes you try hard, or even too hard, to do something new and fresh, but this time it felt so right, and we were all together, that it was just, 'Let's be ourselves, let's make a great record' and we started with the smallest idea and felt confident to be ourselves." In Modern Nature, The Charlatans have achieved that rare feat of making a gigantic step forward without losing what made them so special in the first place... and they're still looking toward the future too. As Tony Rogers promises: "the best is yet to come".