The Rock City archives: 2015
Celebrating 35 Years Of Rock City: Ghost, Rock City Main Hall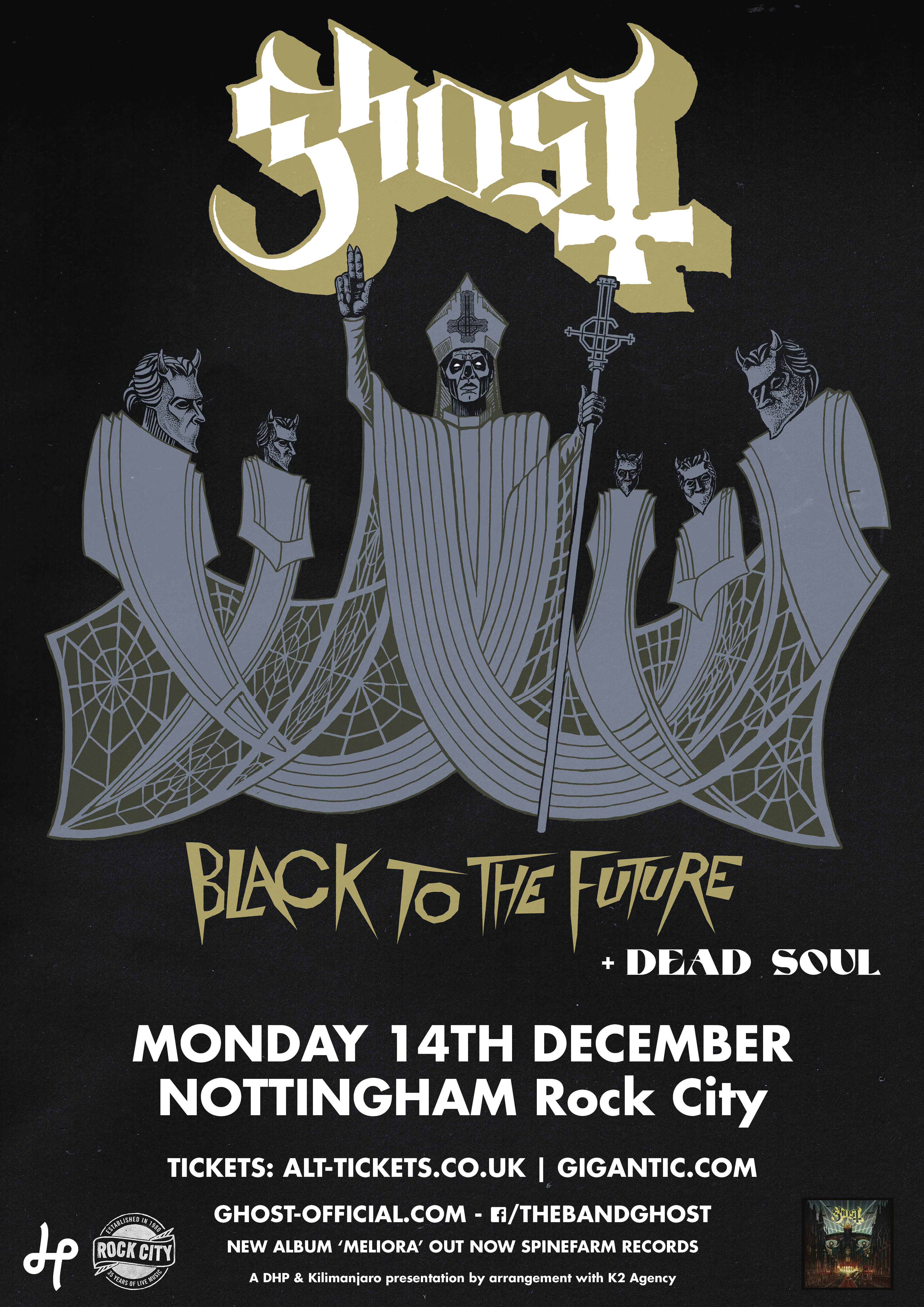 A band rife with contradictions, Sweden's Ghost (known as Ghost B.C. in the United States) preach extreme Satanic viewpoints over surprisingly accessible heavy metal cum pop-driven hard rock. Its members maintain a strict vow of anonymity, both on record and on-stage; they obscure themselves under monks' cowls, except for their lead singer, known only as Papa Emeritus (there have been three, each supposedly younger than the last denoteed by a successive Roman numeral as a title, though it's the same singer). His appearance, synonymous with the band's image, is instantly recognizable with skull-faced makeup, cardinal robes, miter and thurible; his image is that of an anti-Pope.
Formed in 2008 in Linköping, the band began playing underground shows and sharpening their sound. Given their occult ritual-styled performances, their popularity with metal fans in their home country flourished.
Opus Eponymous In 2010, they issued a three-track demo, followed by the single "Elizabeth," both quickly sold out. Their debut album, Opus Eponymous, on Rise Above Ltd. defied expectations with a surprisingly welcoming melodic sound, weaving together '60s psychedelia, '70s doom, and '80s New Wave of British Heavy Metal, and their reputation spread. They took to the road, touring internationally. They were forced to take the Ghost B.C. moniker in the U.S. because another band had laid claim to the name. Though it was a tad confusing, it didn't hurt the band's reputation for wildly theatrical performances and their identities remained cloaked in mystery. Infestissumam After a wait of over two years, Ghost issued the single "Secular Haze," followed by their sophomore album, Infestissumam, in January 2013 and debuted Papa Emeritus II. (It caused plenty of controversy during the recording process. Begun in Nashville, its Satanic themes caused it to be boycotted by virtually every backing chorus -- an important aspect of the album). These vocals had to be recorded in Hollywood. The critical and fan acclaim was nearly universal; the release increased their profile across the globe and won them many fans who didn't necessarily claim heavy metal as a favorite style. The album debuted on some charts at number one. Later in the year, they released a covers EP, If You Have Ghost, produced by Dave Grohl.
Meliora A festival tour followed in 2014 including appearances at Coachella, Lollapalooza, and Rock on the Range). The band reentered the studio late that year. In May of 2015 it was announced that Papa Emeritus II had been fired and was succeeded by his younger brother (by three months), Papa Emeritus III adding to the band's schtick. A new single, "Cirice," was issued in May of 2015, followed in August by their third album, Meliora, on Loma Vista Recordings. It was produced by pop heavy hitter Klas Åhlund (Katy Perry, Usher, Kesha, Madonna) and mixed by Andy Wallace. After a lengthy legal battle, they won the right to their name without the suffix. Just how long Ghost's musicians will manage to keep their identities a secret even as their notoriety grows remains to be seen. A fan search of the Swedish Performing Rights Society's website revealed that Tobias Forge, formerly of Repugnant, has songwriting credits under the pseudonym, "A Ghoul Writer."