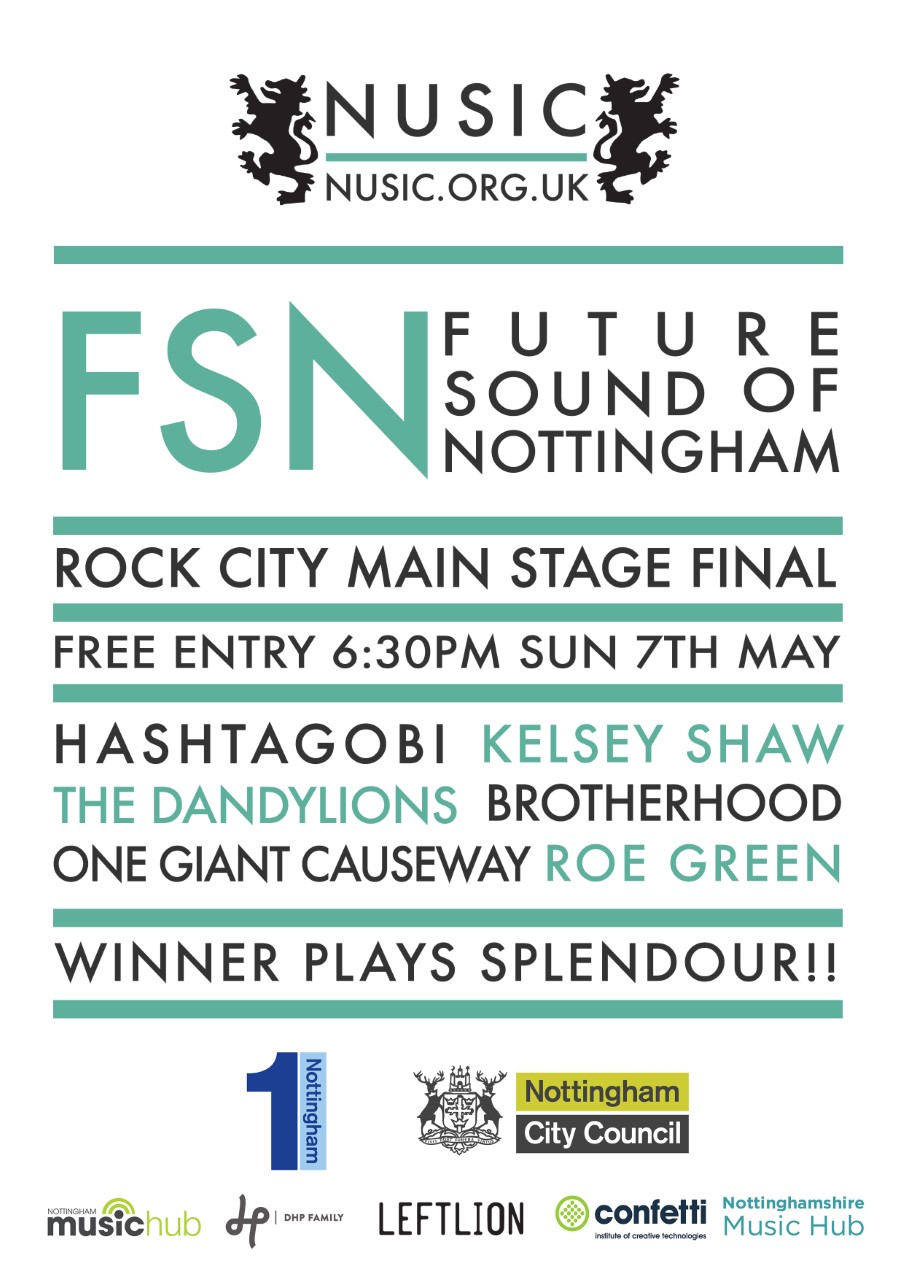 >>>>>>>> WWW.NUSIC.ORG.UK/FSN <<<<<<<<

Doors 6.30pm / FREE / 14+ / Vote on the night / First Finalist 7pm

FREE GIG, JUST ROCK UP, NO TIX NEEDED.

*FINALISTS*

HASHTAGOBI
ROE GREEN
BROTHERHOOD
THE DANDYLIONS
ONE GIANT CAUSEWAY
KELSEY SHAW
Plus special guest who plays at the end whilst the judges are working out their scores – tbc.
2014's Final – http://nottstv.com/programmes/noise-floor/?bctid=3938145013001
2013's Final – https://www.youtube.com/watch?v=R1YLMw5yjlA
2012's Final – http://www.youtube.com/watch?v=cZUYsRCdj9s
2010′ s Final – http://www.youtube.com/watch?v=d97_PCRBvK8
2009's Final – http://www.leftlion.co.uk/articles.cfm?id=2452
More deets at www.nusic.org.uk/fsn
Listen to the latest podcast here: www.nusic.org.uk/wordpress/category/podcasts/
TW: @FeelTheNusic 
WINNER PLAYS MAIN STAGE AT SPLENDOUR!!!!!!!!!
We're looking forward to seeing you all there!
Yours in Love of New Music
#SpreadTheLove
x
Big luv to all our supporters for helping make FSN happen.
****
Splendour Festival Offers Local Talent the Chance to Shine!
The opportunity to perform in front of a 20,000 strong crowd at the award-winning Splendour Festival at Wollaton Park is on offer for the unsigned act which tops this year's Future Sound of Nottingham.
Organised by NUSIC, Future Sound of Nottingham (FSN) will give one Nottinghamshire act the chance to perform the opening slot on the main stage at the festival on Saturday 22nd July. Open to entrants now, the first round of FSN invites local bands and artists of all genres to send in demos for a panel of industry judges.
So far, Kaiser Chiefs have been announced as festival headliners. The winning act of FSN will join the multiple Brit Award winning, indie-rock band on the main stage at the city's biggest summer day out.
Entries for the first round will close on Monday 20th March and finalists will be expected to battle it out on the main stage at Rock City on Sunday 7th May where the public and an independent panel of judges will decide the champ.
Mark Del, of NUSIC, said: "The Future Sound of Nottingham presents Notts musicians with several huge opportunities. From playing Rock City's main stage, a gig many have called 'the best night of their life', to getting their music in front of industry people who can help them make a living doing what they love."
Anton Lockwood, DHP Family, added: "For the last nine years FSN has supported Nottinghamshire's best talent, and once again DHP Family is delighted to be working alongside NUSIC. The talented act who is crowned champion will this year rub shoulders with Yorkshire quintet Kaiser Chiefs, with additional performers to be revealed soon."
NUSIC is dedicated to all things 'Notts, Musical and New' and aims to support unsigned musicians from the county, across every genre of music. Future Sound of Nottingham is now back for its ninth year.
For more information on FSN, visit www.nusic.org.uk/fsn.
Tickets for Splendour Festival are on sale now and start at just £20, available from splendourfestival.com or in person from the Nottingham Tourism Centre.
Sign up to the mailing list to be the first to hear about Splendour 2017 tickets and artist announcements: www.splendourfestival.com/mailing-list. To stay in touch with festival news like @splendourfestivalUK on Facebook and follow on Twitter and Instagram @SplendourFest, using the hashtag #SplendourFest.