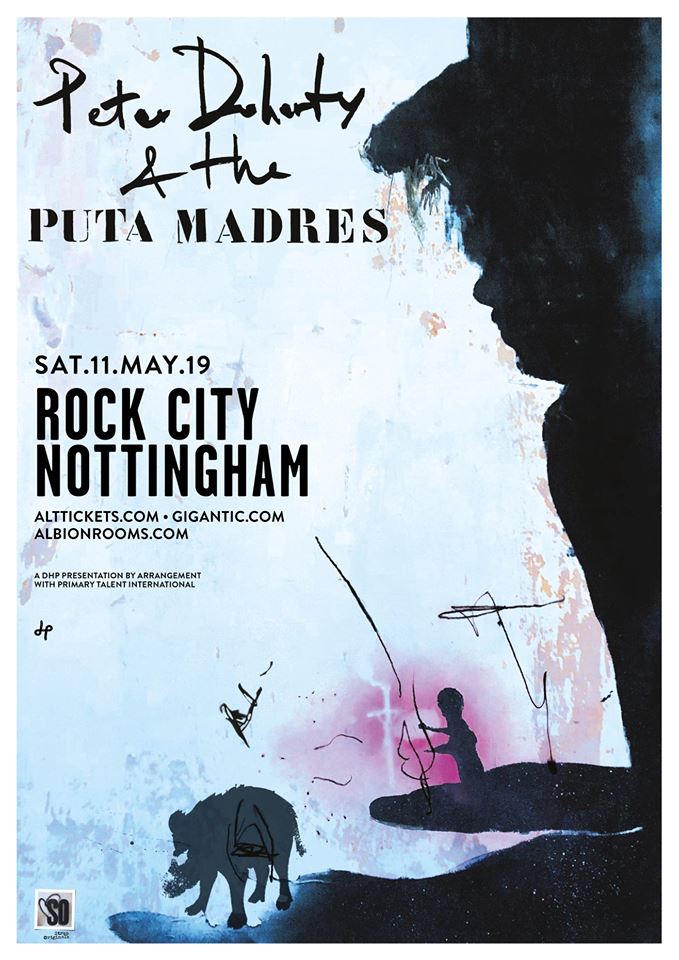 EUROPEAN TOUR MAY 2019
UK/FRANCE/GERMANY/AUSTRIA/BELGIUM/SWITZERLAND
VIDEO 'WHO'S BEEN HAVING YOU OVER'
WATCH HERE https://youtu.be/p5rxaDPT0Hs
Having just completed a sold out tour of the UK, Peter Doherty & The Puta Madres have announced a UK and European tour to coincide with the release of their eponymously titled debut album on Friday 26th April through Strap Originals/Cargo Records.
Tickets for all shows go on sale at 9am on Friday 1st March. Tickets for the European shows are available from: https://www.albionrooms.com/live To make sure you bag a ticket for the UK Tour, pre-order the new Peter Doherty & The Puta Madres album from https://peterdoherty.seetickets.com/tour/peter-doherty and get access to an exclusive pre-sale starting 27th February at 9am.
A single, mixed by Cenzo Townshend, 'Who's Been Having You Over', is available now when you preorder the album from: http://smarturl.it/PeterDohertyThePuta The video for the single was filmed in Margate and directed by Roger Sargent and is a collaboration with Art Collective; Worship the Ground (Chu & Dr. D):
"We believe the act of creating public artworks is visual activism, punk ethics have always been at the very core of it's soul. We are arming an inactive society with an alternative knowledge, standing up to ongoing vilification by the press and their immoral standards, and to the authorities who encourage the soulless gentrification and social control in our public space, whilst ignoring their duty of care."
'Peter Doherty & The Puta Madres' will be available on Vinyl in a gatefold sleeve (SOLP1), CD (SOCD1), Cassette (SOCASS1), Deluxe CD (SOCD1X) & Deluxe Vinyl (SOLP1X) (including live album and film)and digital download.
'Peter Doherty & The Puta Madres' was recorded at a family home overlooking a fishing village in Étretat Normandy, over 4 days last summer and mixed at Urchin Studios (East London). The album is engineered by Dan Cox (Laura Marling, Thurston Moore, Florence & The Machine)and produced by Jai Stanley (long time friend and manager). All the songs from the album were road tested over the last 18 months across Europe at Festivals and headline shows.
Songs include the reflective 'All At Sea,' the raw 'Punk Buck Bonafide,' the upbeat and playful 'Shoreleave,' the joyous hymn of liberation 'Paradise Is Under Your Nose,' 'Someone Else To Be' Peter's re-imagining of the Velvet Underground's 'Ride Into The Sun' and Oasis' 'Don't Look Back In Anger, 'Traveling Tinker' an elegy to Peter's friend Alan Wass and 'Who's Been Having You Over' with dialogue from the 1948 film adaption of Graham Greene 'Brighton Rock' and the cheeky poke at his own notoriety…or is it,"Your so Rock & Roll."
Peter Doherty has released three album with The Libertines ('Up The Bracket' (2002), 'The Libertines'(2004) & 'Anthems For Doomed Youth'(2015) and With Babyshambles 'Down In Albion' (2005), 'Shotter's Nation' (2007) & 'Sequel To The Prequel'(2013) and two solo albums 'Grace/Wastelands' (2009) and 'Hamburg Demonstrations'(2017).
Peter Doherty & The Puta Madres are: Peter Doherty (Vocals/Guitar), Miggles (bass), Miki Beavis (violin), Katia DeVidas (Piano/keyboards), Jack Jones (lead guitar) and Rafa (drums).