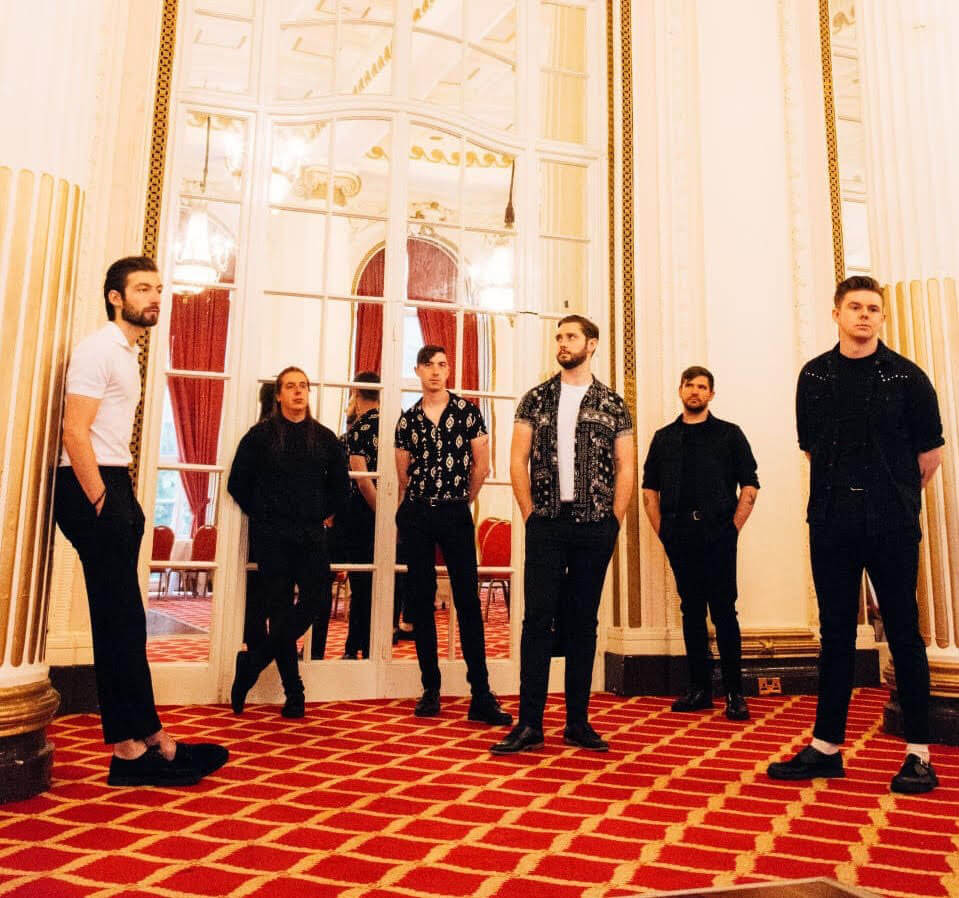 "Bridging the gap between colloquial indie rock and cinematic soundscape… fresh, frenetic" – LOUDER THAN WAR
"Epic and anthemic" – GIGSLUTZ
"Another great band from Liverpool" – Chris Hawkins, BBC 6MUSIC
Charging towards their January 2019 album in dramatic fashion – RED RUM CLUB – today close the gap to its fast-approaching release with a scintillating new single: 'Angeline'.
LISTEN HERE
Sounding like a lost score to the showdown to end all showdowns; the latest single by Red Rum Club is truly a tune of epic scale and enrapturing narrative.
One of the oldest penned tracks with the sextet's current and complete line up, "Angeline" tells the tale of a protagonist with a lustful pining for a lover, and the ensuing regret as the lover slips right through their fingers.
With its relentless motorik-beat galloping through a blaze of frenzied fanfare and a briar of wiry guitars that lay the path to its incendiary crescendo, 'Angeline' is a pulse-quickening work of wide-screen beauty and one that aptly sets the scene for their debut opus 'Matador' – out on Modern Sky UK, on 11 January 2019.
Speaking about the cinematic new track, frontman Fran Doran says:
"Angeline" is the first song that was written after Joe "The Blow" on trumpet joined. It's a combination of the Bunnymen-esque guitar lines that we're known for with powerful mariachi brass. We thought it would be a boss song to drive to as it has an undeniable raw power and so we initially named it "Gasoline", which was later changed to "Angeline" to make the tune more personal… It's always been a big feature of our live shows to open with and it's definitely seen as a fan favourite. There's just no other song better to set the mood for a RRC gig."
'Angeline' is the third and latest single from Red Rum Club and follows head-turning previous tracks "Would You Rather Be Lonely?" and "Honey", both of which have been receiving nationwide radio play on BBC 6 Music (Chris Hawkins, Tom Robinson, Steve Lamacq), BBC Radio Wales (Janice Long) and Radio X (Ross Buchanan, Gordon Smart, John Kennedy).
The tracks will all be found on Red Rum Club's highly anticipated debut album: 'Matador', set for worldwide release on 11th January 2019 via the Modern Sky UK label (The Blinders / Slow Readers Club).
With lyrics taut with all the grittiness of a high-noon drama and soundscapes bristling with the arid atmosphere of a cactus-studded panorama, Red Rum Club debut album 'Matador' will take you to a world of Spaghetti Western Rock'N'Roll like no other. Packed with swashbuckling song narratives, gripping guitar lines and the trumpeting trademarks worthy of Tarantino's finest film scores, 'Matador' lassoes the listener with 10 potently original tracks gleaming with widescreen ambition. From its Bandito blues to its Alamo allegro, the intrepid originality and knowing sense of adventure of this sextet's outlaw oeuvre are sure to have you hooked.
'Matador' was recorded at the infamous Parr Street Studios in Liverpool, with added production assistance from Chris Taylor.