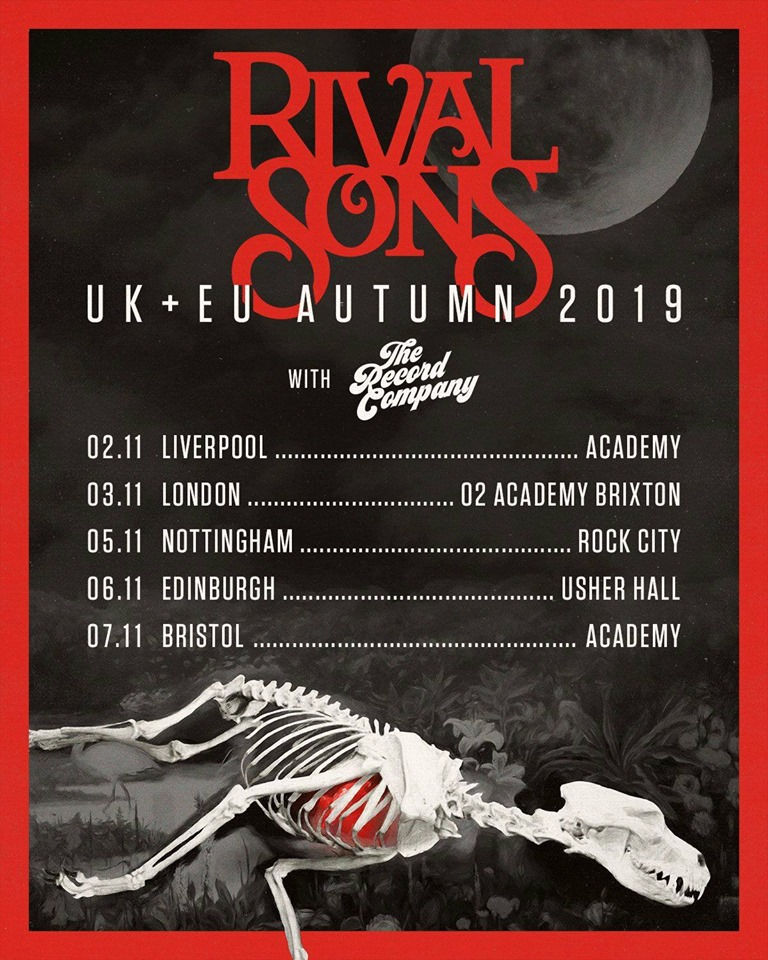 With new album 'Feral Roots' out now, Californian rockers Rival Sons will be heading out on tour with a date at Rock City, Nottingham, in November!!
10, June 2019 – Long Beach, CA's Rival Sons have announced plans for a return to the UK this fall for 5 shows, including a stop at London's mighty Brixton Academy. The Record Company will support on all dates. Full routing listed below.
Pre – sales begin tomorrow, Tuesday 11 June, at 10:00 AM, which for the first time include upgraded packages, including an opportunity to meet the band as well as an exclusive signed and numbered poster. All remaining tickets will go on sale to the public on Thursday, 13 June at 10:00 AM. For complete details, please visit www.rivalsons.com.
The upcoming tour schedule is in support of their wildly popular new album, FERAL ROO TS which was released in January via Low Country Sound/Atlantic Records and gave the band their highest UK chart position to date at #12. FERAL ROOTS was produced by GRAMMY Award – winner Dave Cobb at Nashville's famed RCA Studio A, and the equally legendary Muscle Shoals Sound Studio in Muscle Shoals, AL, and has already brought the band their first #1 single in the USA at rock radio, with the song, "Do Your Worst."
Rolling Stone ( https://www.rollingstone.com/music/music-news/watch-rival-sons-bash-out-new-anthem-do-your-worst-723690/ ) hailed "Do Your Worst" as "a relentless rocker with a gritty verse spearheaded by a sinister lead guitar riff and thumping drums. The track takes a deft turn when it hits the chorus, forgoing out – and – out guitar bombast for rousing gang vocals with singer Jay Buchanan leading the charge."
The song, "Back In The Woods https://www.youtube.com/watch?v=s5ZzE5NQamk " made its debut by way of Consequence of Sound < https://consequenceofsound.net/2018/11/rival-sons-back-in-the-woods-new-album-feral-roots/ >, which declared it to be "a rootsy rock track, with (Rival Sons) not only taking us 'Back In The Woods' but also back in time to big classic rock sounds of the '60s and '70s."
MOJO remarked that FERA L ROOTS featured the band's "finest work to date," while KERRANG! called it "a fuzzed – out, heavy – arsed, thoroughly soulful blast of glorious rock thunder." The primal intensity of FERAL ROOTS reflects a certain unrest at the heart of the album, sparked by vocalist Jay Buchanan's recent move to Tennessee. "I'm working to reconcile my dirt – road DNA with our growing dependency on technology and the over – communication that comes with that," noted Buchanan. "We're surrounded by and are subordinate to our own creation. I looked to the undomesticated nature that lies dormant beneath our civil choreography, to what created us. " But with its nuanced explorations of both the wild and the domestic struggles of love and truth, FERAL ROOTS ultimately argues for pushing beyond pure survival instincts and striving for something more exalted: to reclaim a long diluted genre wit h a galvanizing return to form.