After ten amazing years, the awesome fundraising festival Macmillan Fest will be here at Rock City for the last time this Saturday. The festival has stages in Rock City Beta, Rescue Rooms, Stealth and more, and runs from 1pm until late in the evening. This year is not only the festival's tenth birthday, but also the final event – the organisers recently announced they want to finish on a high this year. We caught up with founder Kris Graham-Martin to ask more about Macmillan Fest and how he's feeling about it all!
Hey Kris! Congrats on ten years man, very well done. Tell us, when exactly did you set up Macmillan Fest and why?
When I was 16, my form tutor was diagnosed with a brain tumour. I heard Macmillan Cancer Support helped him through his journey and I wanted to do something as a thank you. I held a small fundraiser at the old Junction 7 (now student flats) in 2009 with just three bands and raised around £400. From 2010 onwards, I decided to carry on with the events under the name of Macmillan Fest. We started at The Central in 2010 (now the Karaoke bar on Huntingdon Street) and moved to our current homes of Rescue Rooms and its surrounding venues in 2011. Each year, I ended up meeting so many incredible people with stories about themselves or their family and it fed the desire to carry on doing this for a whole bunch of people who have been supported by Macmillan Cancer Support.
What's been your highlight(s) over the years?
I don't think I could pick one, there are so many memories attached to these events now. Shaving my head and removing my extremely long locks of hair in Nottingham at the age of eighteen, which had been with me since the age of twelve or thirteen to a crowd of people and the clippers breaking halfway through – that is one highlight. Having the almighty Tesseract headlining our festival in 2013 was a huge turning point in knowing we could make a real nationally competitive festival out of the event. In 2015, I ran both events for the first time and as a way of raising awareness I cycled from Nottingham to Bristol with four friends to open up the festival; that hurt the morning after! 2016 was the largest event we had ever dared to put on in Nottingham, and we managed to execute it perfectly. Watching our artists perform on the Rock City main stage was something I didn't think I'd see, either. In 2018 we saw a record-breaking attendance for the event, and seeing every stage completely filled was an awesome yet humbling feeling. Every raffle, leg wax, body wax (yes everywhere), head shave and ice bucket challenge. They've all be incredibly memorable.
Any ideas on who you're most looking forward to seeing this weekend?
It's got to the point where I can't decide, so i've had to use one of those digital clash finders, which will hopefully allow me to catch a few bands. I'm looking forward to seeing Nordic Giants the most though and our Great British Grind Off taking place in Alberts. Nordic Giants stage show is going to be mesmerising and I can't wait for people to witness it. Raised by Owls vs Brian Blessed (The Great British Grind Off) will just bill super silly.
If you can't decide who to see, visit here: https://clashfinder.com/s/macmillianfest2019/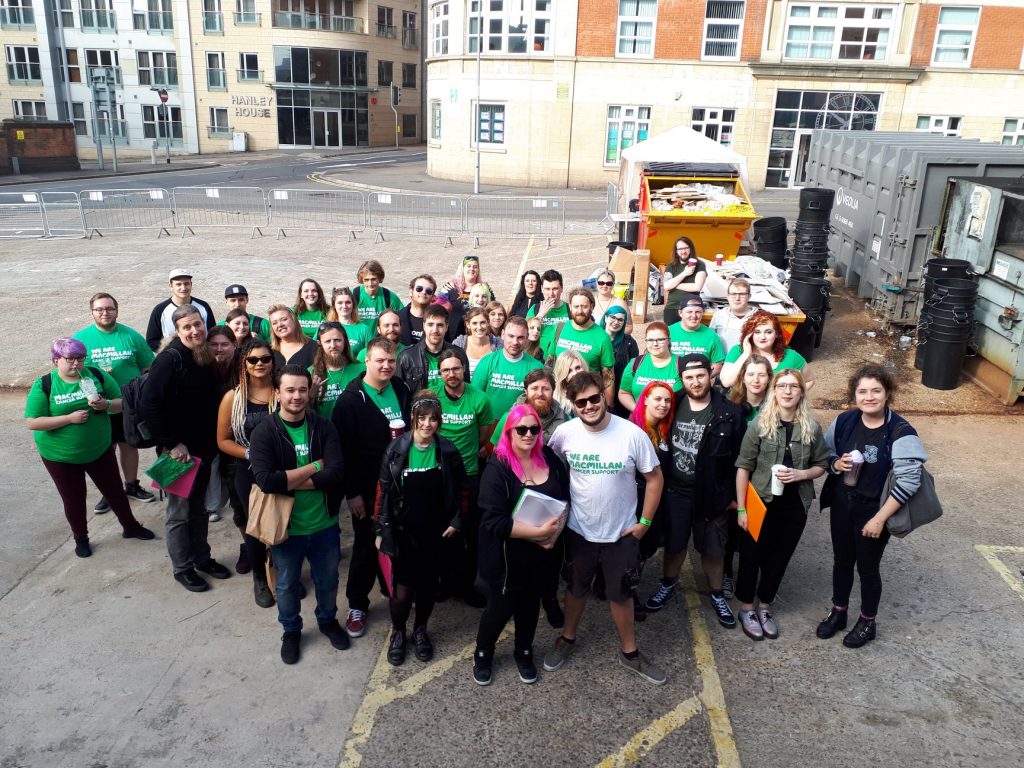 The Macmillan Fest team after working hard at last year's event. This year will be their last festival 🙁
As this year is the festival's final outing, how do you feel looking back on it all? I'm assuming you're very proud of the amazing work you've done?
I still don't think i've quite processed it all yet. I'm sure I will on the day or a few days afterwards, or even once we have Bristol done after the 11th November…
I feel proud to have created something that will be remembered by a lot of people and will be known for helping those who need it. I think the real affirming point for me is knowing teenagers looking at the festival (those who are 16 now, the same age as me when I started doing this) thinking its awesome and wanting to attend it and meeting some of them from across different points in the country. It's really comforting.
And of course, are there any final thoughts you'd like to share?
I just want to thank everyone for the continual support over the years. Hopefully we will see those people who have been attending the festival at IKE Productions shows and all day events in the future. Don't forget, if you want to support Macmillan Cancer Support, you can do via here:
https://www.macmillan.org.uk/get-involved/fundraising-events
Awesome work again, Kris. Looking forward to Saturday!
*
A huge congratulations from all of us here at Rock City to Kris and his team who put on an excellent event every year with great bands and an awesome vibe, and all for a very important cause. We wish everyone well in their future endeavours!
Words by AJ Stevenson