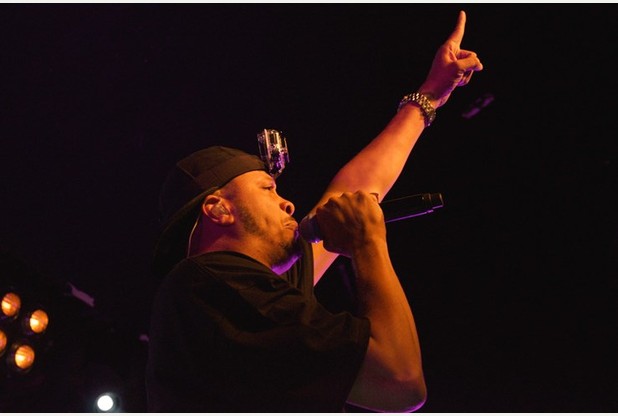 What an absolutely awesome night! Everyone at Rock City HQ had waited seemingly forever for this one, and when it finally did happen, it definitely didn't disappoint!
Nottingham Evening Post's Katie Bonner was there:

Rock City jumped, swayed and roared to a blistering hour and 45 minute set from Los Angeles hip-hop group Jurassic 5.
After breaking up in 2007, the six original members have reunited for the 20 year anniversary of the first record.
Despite being a little rounder around the waist and a little greyer around the temples, MCs Akil, Zaakir, Mark 7even and Chali 2na can still pour out rhymes at phenomenal speeds. Backed by their two DJs Cut Chemist and DJ Nu-Mark, the rappers moved seamlessly from song to song, mixing tracks from all four of their previous albums with barely a breath taken.
Their messages are all about friendship, respect and having a good time. From love letter Thin Line to the summer vibes of Hey and the fist-pumping Freedom, not one song advocates violence or money as the answer. (In fact the love-in vibes were so strong that a couple were practically fornicating in front of me…)
Concrete Schoolyard came complete with a kazoo solo (see Culkin, it can be done on a Notts' stage) and show closer What's Golden had everyone dancing.
It wasn't just the MCs providing the entertainment either. After a non-stop 20 minutes, the rappers took a back seat and the DJs came centre stage with a "scratch-off'. Cut Chemist played a portable turn table, whilst DJ Nu-Mark tapped out the rhythms on a waistcoat made of records.
The audience thrust their camera phones into the air, attempting to capture the moment for YouTube. I would recommend searching for them, it is as fun as it sounds.
Throughout the show all four MCs looked like they were having the time of their lives. They flirted with the front row, engaged in choreographed dancing, took requests from the audience and filmed the show from Chali 2na's baseball cap. The smiles and the genuine astonishment at the noisy crowd suggested that reforming was a good idea.

Read more at http://www.nottinghampost.com/Review-Jurassic-5-Rock-City/story-21288125-detail/story.html#ZTtvryPHL2TLq73k.99