FONTAINES D.C LIVE AT ROCK CITY – JANUARY 11TH
After a gig-less couple of weeks over the Christmas period, there is an exciting, palpable tension in the air-conditioned atmosphere of Rock City's main hall. The opening act for tonight's gig, Melts, are quickly storming through a couple of their post-punk tracks to finish their soundcheck before the doors open. Staff rush backwards and forwards across the empty floor, preparing for the 2,000 people about to descend on the venue for the first show of 2020. And what a show it is going to be…
2020 is Rock City's 40th Year of existence, and will be a landmark occasion, with a run of special shows and massive parties to celebrate throughout the year. So, what better way to kick it off than with a sold out gig by arguably 2020's biggest act – Fontaines D.C.
The doors open and the engineers dim the lights as the first gig-goers rush up the stairs and into the main hall. Shoes squeak on the shiny floor, voices echo as the newcomers find their place at the barrier, eager to be up close to the bands. The venue fills quickly, with many people just as excited as we are for their first show of 2020.
Melts set our evening off just right, rocketing through their set of bass-heavy tunes. Their confident yet chilled swagger pulls everyone in, feet are stamping, heads are nodding. They've only got a couple of years under their belt as Melts, but their blistering show proves they're happy to take on big stages. Their chance to support Fontaines DC is appreciated, as front man Eoin Kenny gives his thanks between songs, though after hitting Spotify's 'Hot New Bands' playlist, as well as BBC 6 Music's 'Recommended', they're already on their way. The bandmembers' previous experience in a few of the bands of Dublin's scene shines through, with a self-assured performance that also fuses their various backgrounds – dreamy textures of psych-rock weave into new wave and krautrock, with sprinklings of Britpop. Eoin's voice shouts into the void as droning bass-lines lead us into the night.
A quick break. People rush to the bathroom, others to the bar – time is of the essence. The lights go down again, an Irish folk ditty plays over the speakers as the audience pushes forwards. Somewhere on stage a door opens, and silhouettes stride out in dim blue glow. A white light bursts into life, Fontaines D.C. frontman Grian Chatten stands at the front of the stage waving a hand erratically, 'come on!' he yells, barely audible over the noise of the audience. People scream, a guitar whines as a girl screams 'Hurricane Laughter!', and then the stage erupts into that very track. The bass-line chugs as Grian stomps his way around the stage and strobe lights flash. We're off.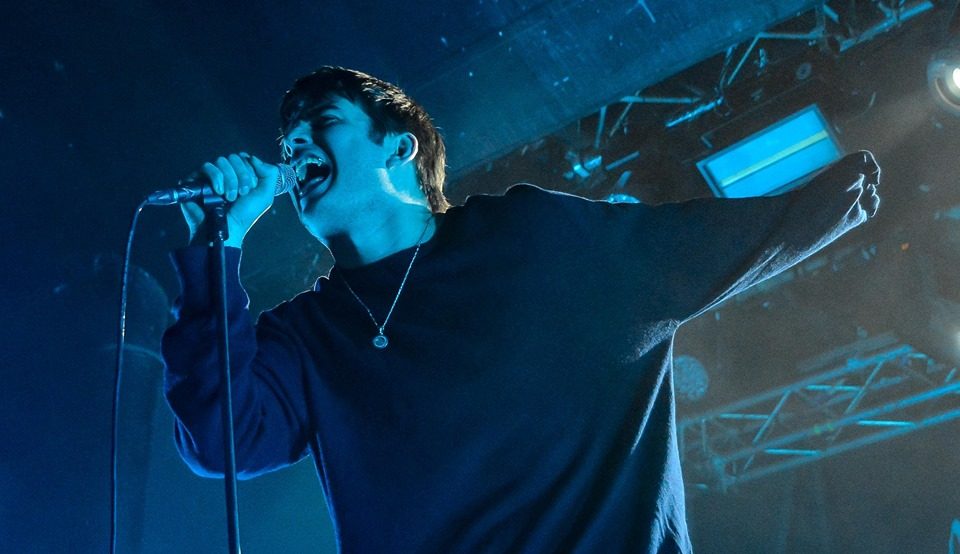 The band rip through their set, barely stopping to breathe. The connection between audience and artist is entirely about the music – why waste time to speak or chat when the sound, the lyrics say everything you want to say? With the nation entering into the decade with an air of political uncertainty, history has shown that music will pull us through, whether that's to act as a healing balm or as an emotional outlet. In turbulent times gone by, bands like The Specials and The Sex Pistols emerged as the soundtrack of survival. We've seen the rise of Sleaford Mods' anti-establishment attitude, followed by the angry rebellion of Idles, and now Fontaines D.C swoop in to claim 2020 with their dark, DIY anthems of disenchantment. The crowd screams along as Grian blasts through the run-down of Chequeless Reckless, 'A sell-out is someone who becomes a hypocrite in the name of money, an idiot is someone who lets their education do all of their thinking,' and then the stomp-along Sha Sha Sha.
Punk has always been synonymous with frustration, but the melancholic, disillusioned sound of Fontaines DC cuts to the fore, especially live. The group wear their history on their sleeve, their daily experience of Dublin and the districts they love now slowly being swept away by gentrification. Their quest for authenticity amidst observation of change, fused with a love of poetry and romanticisation of their city creates a live experience that is all-encompassing yet individual, intimate and local. Their aesthetic differs from the raw anger of bands such as Idles, and shows a haunting thoughtfulness, lamenting for the things they see disappearing around them. The pounding drums, rolling bass-lines and thrash of their live show displays all the disillusion of youth, with a unique storyteller as frontman.
Stand out tracks are of course 'Too Real' and 'Boys In The Better Land', everyone thrashing, clapping, screaming along. But the dreamy wistfulness of penultimate track Dublin City Sky is a particular highlight, with an emotional wave overcoming the audience. Then, to close, 'Big'. The moment everyone's been waiting for, as 2,000 people let rip, belting out 'My childhood was small, but I'm gunna be big!'. Tom Coll on drums drives us all on, pounding out their biggest single at an unholy pace.
As the song ends, and our night comes to a close, one thing's for sure – 2020 is gunna be big.
Setlist:
Hurricane Laughter
Chequeless Reckless
Sha Sha Sha
The Lotts
Lucid Dream
TV Screens
A Hero's Death
Roy's Tune
Too Real
Liberty Belle
Boys In The Better Land
Dublin City Sky
Big
Words:  AJ Stevenson
Photos: Shaun Wootton