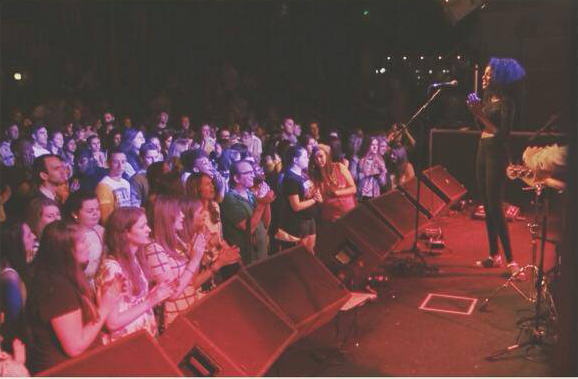 Last night saw the finals of The Future Sound Of Nottingham at Rock City, with acts competing to secure a place opening at Splendour '14 at Wollaton Park. With that huge prize at stake, there were nerves and unbearable tension at times. But what an awesome night it proved to be, with some absolutely sensational acts. However, there could only be one winner…
The audience voted, and Joy Mumford was a worthy winner of the crown! We are looking forward to seeing her at Splendour '14. Head on over to our friends at Alt-Tickets to get your tickets for Splendour!
Here's Nusic.org.uk's Sam Nahirny with his take on Joy's performance…
"Keeping things upbeat,we had JOY MUMFORD (and band) take to the stage. She kicked straight into "Attention" and I know I've used this line before, but dammit I'm gonna use it again, that song catches your attention. Seriously; Joy has a knack for penning one heck of a catchy Soul/Folk/Pop tune. As she moved into her second song, Joy put down the guitar, and went a bit gospel on us, and bleddy hell did it work. She had the crowd in the palm of her hand, clapping along, singing back the words; I can only imagine how incredible that must have felt for her. Joy's band compliment her sound incredibly well; and I'm still drooling over Matt's guitar. That caught my attention… okay, I'll stop now."
Here's her Facebook, and here's her Soundcloud if you want to get a dose of Joy Mumford before she hits the stage at Splendour Festival at Wollaton Park, Nottingham!
All that's left to say is a massive congratulations from the whole team at Rock City!