Wow. We have two months of festival awesomeness coming up. We are hardly been able to contain ourselves here at Rock City towers, and it all starts this coming Sunday with…
DOT TO DOT
---
This year's Dot To Dot, coming to Nottingham on 24th May 2015 is Dot to Dot's TENTH birthday! 
With some killer acts lined up, venues across Nottingham are prepared for an INVASION of talent, sold out crowds and an unreal atmosphere across the city. Getting involved with this one are, of course, ourselves along with Rescue Rooms, Red Room, Stealth, Bodega, Nottingham Trent Student's Union  Spanky Van Dykes. And if you thought that was pretty awesome in itself, wait until you hear just a tiny fraction of the lineup… are you ready?!
Saint Raymond, Rae Morris, The Wytches, Laura Doggett, Honeyblood, Hinds, Josef Salvat, April Towers and MANY MORE! You can get your tickets from Alt-Tickets! 
The full schedule can be found here: http://www.dottodotfestival.co.uk/times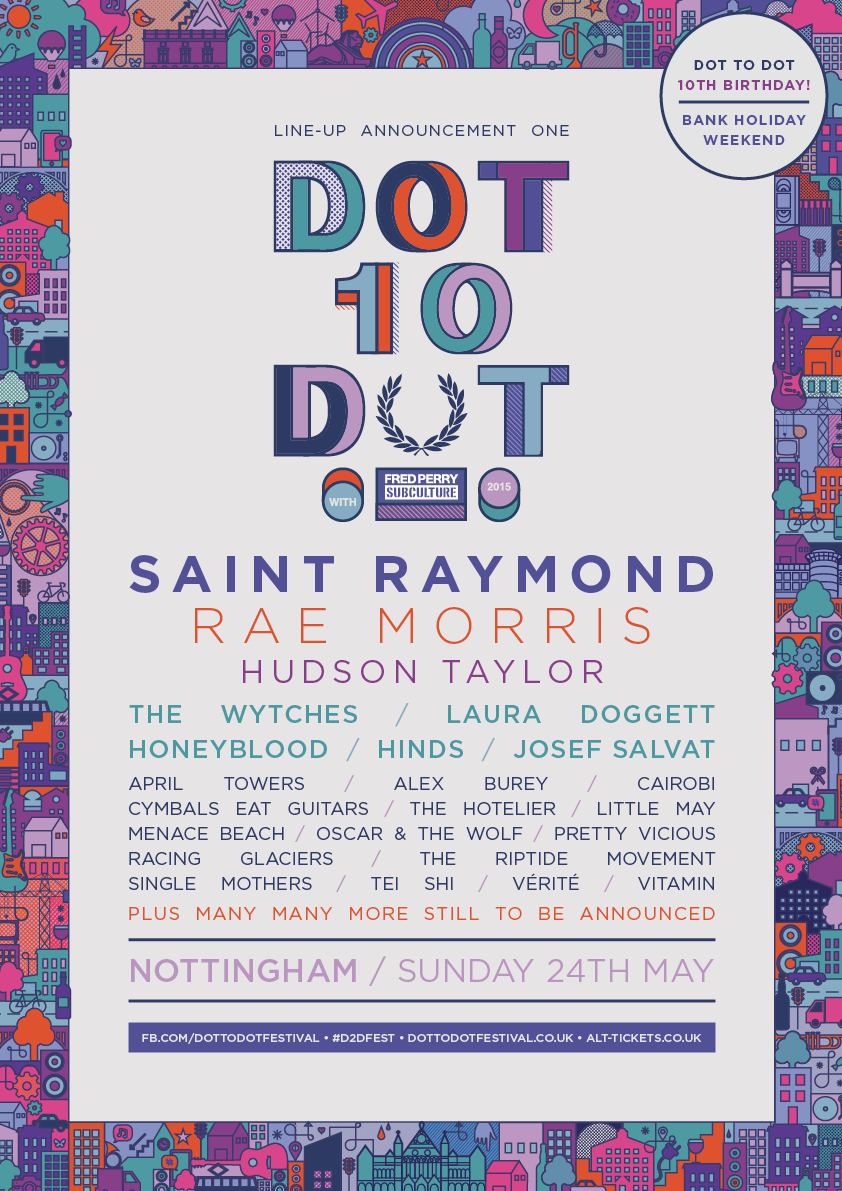 NO TOMORROW
---
Following up from that 'POW' is a 'BOOOOOM!' with  No Tomorrow Festival @ Wollaton Park, Nottingham. People who went to last year's debut No Tomorrow can testify, it is definitely not to be missed.
Back and in its second year, the weekend of the 6th and 7th of June is one to put in your diaries! Platinum selling John Newman, as well as Mercury Prize nominee Jessie Ware has been confirmed for this one, along with James Bay and Bondex. Across No Tomorrow's several stages the festival also boasts many more performances and a number of the finest international DJ talents. Bondax, DJ EZ, and Eton Messy will be delivering epic DJ set across the dance music spectrum.
Also expect strong live performances from the enigmatic Bristol duo Blonde with full band, Grammy-nominated MNEK and Bondax guest vocalist KStewart, appearing in her own right with solo material. Go grab your tickets, available now from Alt-Tickets!
More info at http://www.notomorrowfestival.co.uk/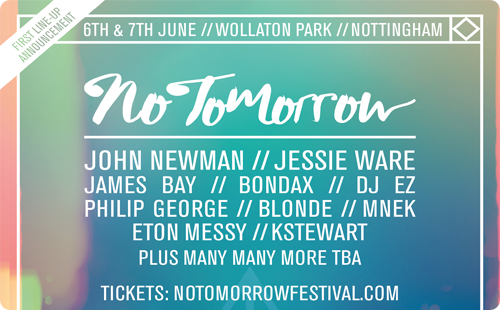 SPLENDOUR
---
Last, but definitely not least… We have Splendour. Set in the stunning grounds of Wollaton Hall, Splendour Festival has grown to become Nottingham's largest outdoor music event, attracting over 20,000 people of all ages. Internationally-renowned artists will once again share the stage with local upcoming talents for this one-day family-friendly festival.
Hot on the heels of two sold out shows at Rock City last year, The Specials will be bringing their infectious blend of two-tone Jamaican ska and punk energy to the main stage at Splendour for the first time.
For those who missed out getting their hands on tickets for the fast selling shows last November and for all those who want to get their skank on again, Saturday 18 July 2015 will be another chance to see the band renowned for the energy of their live performance, but this time in the beautiful setting of Wollaton Park.
Widely credited with changing the face of pop in the late 70s, The Specials reformed in 2008 and have gone on to tour the world, playing to bigger audiences than ever before.
This summer the 20,000 Splendour Festival crowd can enjoy the two-tone revival with hits such as A Message to you Rudy, Too Much Too Young and Ghost Town sure to feature in the headlining set.
Not forgetting, they will be joined by very special guests James, Bananarama, Jess Glynne, Roots Manuva, Lawson and MANY MANY MORE ensuring there will be something for everyone!
More info at http://www.splendourfestival.com/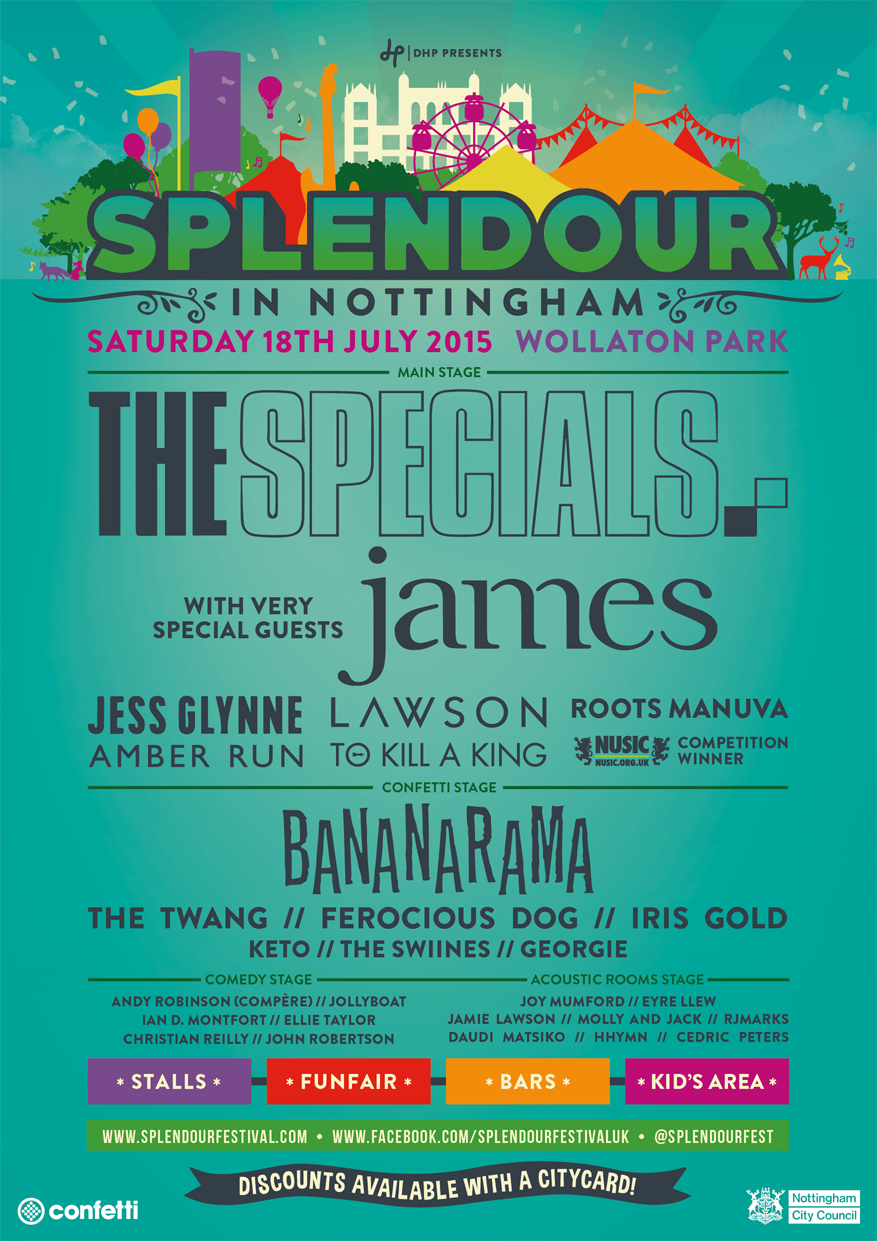 Everyone go go go and get your tickets @ http://www.alt-tickets.co.uk!