Nottingham's annual fundraising festival, Beat The Streets, have today announced that they are launching an ambitious "Winter Fundraiser". Beat The Streets 2O21 will project to run from now until the end of January. This is when the festival would usually take place. As with the usual festivities, all funds raised through the various fundraising activities taking place during this period will be in aid of the Framework Housing Association. They are the leading homelessness charity in the East Midlands.
Since launching in 2018, Beat The Streets has raised close to £250,000 for Framework. Proceeds from previous events, including the festival that took place in January 2020. It has enabled the charity to keep the Sneinton Hermitage shelter open all year round. It has also allowed them to employ two mental health workers, and continue delivering desperately needed services. This is during what has been an incredibly difficult period.
As the scheduled 2021 Beat The Streets is unable to take place due to Covid-19 restrictions. The festival organisers and DHP Family have shifted their fundraising efforts online.
Relate: GIG POSTPONEMENTS AND CANCELLATIONS: LIVE LIST
BEAT THE STREETS 2021
The yearly sell-out popularity of the tombola at the festival has inspired an online raffle, which like the regular feature, will offer a substantial selection of prizes including concert tickets, gift vouchers and other contributions from generous local businesses & artists including Rock City, Rough Trade, The National Ice Centre, Broadway Cinema and many more.
A further set of premium rewards will be on offer via a Crowdfunder option. This will be launching later in the month. Givers can pledge a set amount for exclusive rewards such as Splendour Festival VIP treatment and backstage tour; a salsa dance class; gigs to Rock City for a year; a digital marketing audit and consultation from award-winning digital agency Clicky; a custom commissioned portrait and lots more. Organisers are requesting local companies and organisations get in touch. If they have any rewards, prizes or experiences that they can donate.
Alongside the raffle and rewards schemes, members of the DHP Family and their friends will be taking part in an array of fundraising activities & challenges, and seeking sponsorship for their efforts. Teams will aim to collectively walk the distance between DHP's Bristol venue, Thekla, and Rock City (140 miles!). The donations for this can be made now at www.justgiving.com/team/beat-the-streets. More individual & team activities will be launched throughout the campaign by staff from DHP's venues & head office.
Beat The Streets is also encouraging the local artists who would usually make up the bulk of their line up to get involved with their own sponsored activities, and with so many creative minds combining forces for the cause, there are bound to be many more opportunities to raise & give announced throughout the fundraiser.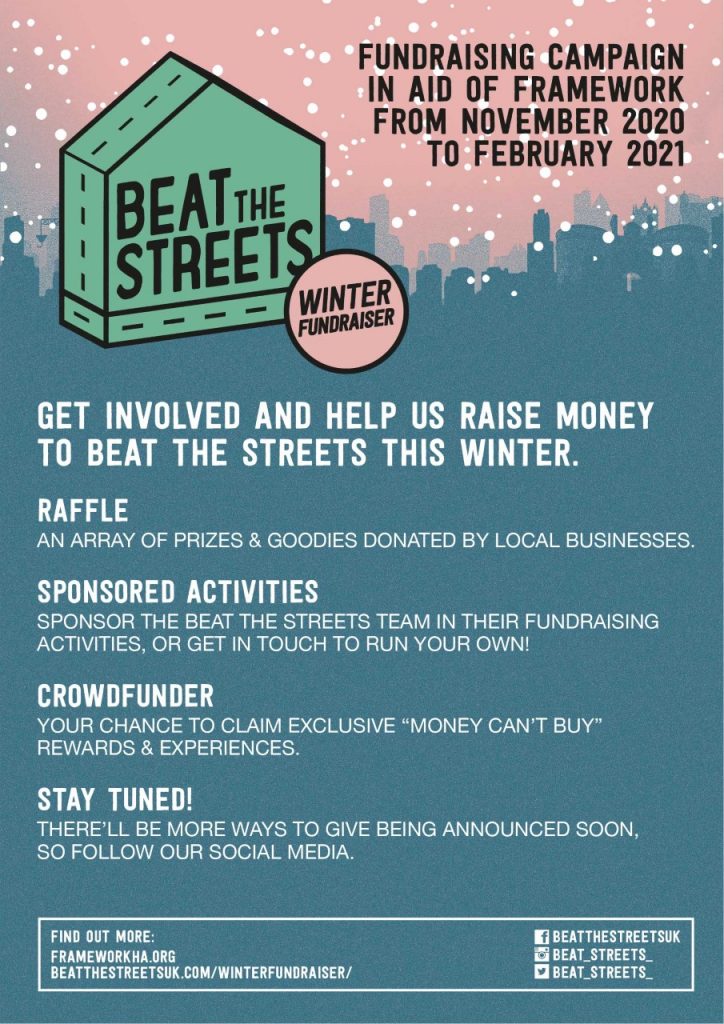 Quotes
Speaking of the contributions Beat The Streets have made in recent years, Framework Chief Executive Andrew Redfern said: "The enthusiasm of everyone at DHP in supporting what we do to tackle rough sleeping in Nottingham is inspiring. It has resulted in three massively successful 'Beat the Streets' festivals which have been enjoyed by thousands, and raised close to £250,000.
"DHP Managing Director George Akins has recently agreed that we can use the funds in whatever way they are needed to support rough sleepers – be it providing accommodation, putting additional resources on the streets or helping people through the resettlement process. This flexibility has greatly increased the value of the donation. Our appreciation of this help is made all the greater by the knowledge that the Covid-19 pandemic is having a devastating effect on the entertainment and hospitality industries.
"Another consequence of Covid-19 is that even as more former rough sleepers are found suitable homes, we are seeing new groups arrive on the streets, due to the economic distress that many are now experiencing.
"Our winter appeal Homeless to Home is about changing and saving lives – preventing homelessness, supporting rough sleepers and resettling them into long term secure accommodation. It's great to have the backing of our friends at DHP once again. In these
unprecedented circumstances their support – and that of the public at large – is needed more than ever."
Beat the Streets | Support
The coronavirus pandemic and fresh lockdown restrictions still are having a profound effect on local communities across the country. It is having a notably devastating impact on the live music industry too. There has never felt like a more important time for the two to stand together. This is to support the most vulnerable people in our society.
To support Beat The Streets Winter Fundraiser and see all the fundraising currently taking place visit: www.beatthestreetsuk.com/winterfundraiser
Follow along on social media & join the official mailing list to be the first to hear about the latest fundraising efforts from the team.
www.facebook.com/beatthestreetsUK/
www.instagram.com/Beat_Streets_/
www.beatthestreetsuk.com/mailing-list/
To find out more about the brilliant work Framework do visit: www.frameworkha.org
Rock City Nottingham
While you're at it, why not check out our gig guide and see if your favourite artists are playing soon! We also have our club nights on a Thursday (Tuned), Friday (Get Lucky) and Saturday (Rebel Rebel) so check those out too!
Finally, if you enjoyed reading this blog post, make sure to check out our other posts Yard Bar FAQs or  THE SURVIVAL TOUR