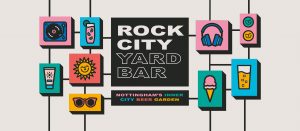 Rock City Yard Bar Booking Qs
Is the event 18+?
Yes, the event is 18+ and we will be operating a challenge 21 policy.
How do I make a booking?
Simply go to  https://www.alttickets.com/rock-city-yard-bar-tickets and purchase a ticket for the size of table you require at the session you desire. Please ensure you use a current email when purchasing so we can keep in touch with updates.
How will I receive confirmation of my booking?
You will receive an initial email confirmation from our ticketing partner, followed by a further email from ourselves a couple of days prior to the event with information on arrival times, our table ordering app and any changes in our procedures due to updates in government guidance.
Can I just turn up without a booking if you have available tables?
Currently, we are only accepting advance bookings, but depending on available tables for certain sessions we may make these available for walk-ins. We will announce on our socials if this is the case.
What size tables are available?
We currently have tables for either four or two people for members of no more than two households. This may be updated as/when government guidance is updated. We will be looking to offer this so as soon as the Government give us the thumbs up, we will allow it.
Can I book multiple tables?
You are able to book more than one table, however, we cannot currently guarantee they will be close to each other and you will not be able to "visit" other tables during the session. As government guidance updates, we may look to add larger tables as a booking option.
How long does my booking allow me to be at my table?
Each session allows you around 2.5 hours at your table within our sessions, this is to ensure staggered entry and exit times. You can of course leave before your session is over should you want to.
Can I book double sessions?
The day is split into sessions to ensure that we can deep clean all areas of the bar, patio and toilets throughout the day. You are welcome to book double sessions, but you may be asked to leave at the end of the first session and return at the specified time on your email correspondence for the second session to ensure our team are able to do their job properly.
What is the capacity of each session?
Each session we have up to 30 tables available for booking. This number is worked out with Social Distancing in mind.
Is there a minimum spend for each table?
Tables have a minimum spend of £10 per person based on the full capacity of the table – this is charged with your initial table reservation ticket and will be redeemed on your orders via our app, more information on which will be sent to you in a second email, closer to the date of your booking.
All sessions are currently sold out, will you be putting more on sale?
We are always looking at further options for sessions – we will update our socials when more are for sale at fb.com/rockcitynottingham
What happens in the case of adverse weather, such as rain?
Some of our tables will have umbrellas, and you are more than welcome to bring your own (which we would advise if it's looking gloomy). Alternatively, you can make an order to take away using the credit from your booking. We will not refund any bookings due to adverse weather.
What happens if my session is cancelled?
If your session is cancelled due to increased government restrictions or any further unforeseen circumstances, we will endeavour to move your booking to the next suitable session with table availability, otherwise, you can request a full refund through our ticketing partner.
Can I amend or cancel my booking?
Bookings are not able to be amended or refunded unless the session is cancelled.
Can I bring my Doggo?
People-friendly dogs are welcome on the patio, but not within the venue itself.
Relate: GIG POSTPONEMENTS AND CANCELLATIONS: LIVE LIST
Rock City Yard Bar Service Qs
What happens on our arrival?
Our staff will greet you and your group on arrival at your specified welcome time and your ticket will be scanned. Everyone in your group will be asked some covid-19 checks and then asked to use their own face coverings and sanitise their hands before entry. You will then be guided to your table and given a quick rundown of the beer garden rules and any help with our ordering app.
What if our whole party or one person from it is late for our entry time?
If your whole party arrive late for your booking, we will do our best to get you seated promptly, however you may be asked to wait to ensure our staggered entry times remain in place – those arriving on time will have priority. We ask that your party arrive at the same time so that you are seated together at once to avoid lots of unnecessary moving around.
How does table service work?
You will be sent a link to our ordering app in advance – you will be able to use your bar credits on the app to purchase refreshments and they will be brought to your table. You will need a smartphone with Android or iOS to use the app, and staff in PPE will also be on hand to assist if required.
How do I order drinks and pay?
Our app is simple to use and all drinks can be ordered there without coming into contact with our staff.
What is the app you are using for ordering?
We are using a new, secure app that is being built specifically for ordering. More details will be sent following your booking.
Do you have charging facilities for my smartphone?
We do not currently have charging facilities at the venue, so please ensure your mobile is fully charged on arrival.
What drinks are available to buy?
We will have our usual delicious drinks range on offer. Think ice-cold Two Pint Pots! Ice Cold Two Pint Cocktails. Ciders, Spirit and mixers! Anything you'd want to drink outside. We have it!
How much are drinks?
Drinks are priced at a typical level for a city-centre bar, with pints, craft beers, spirit and mixers all around £4.50 and
How are my drinks made and served?
Drink orders are put together by staff in full PPE including face masks and disposable gloves and then brought to your table on a tray. All service areas and trays are then sanitised after use. Pints and cocktails will be served in disposable plastic cups with lids and packaged drinks will be served sealed.
Are you selling food?
We are currently in discussions with street food providers to offer a food menu at all of our sessions. We will update as/when this confirms.
Is there a smoking area?
As our patio is outdoors, you are able to smoke at any of our tables.
Rock City Yard Bar Safety & Cleanliness
What are your cleaning procedures?
We have split our day into sessions to ensure that we can deep clean our tables, service areas and toilets before opening, between sessions and at the end of the day. Before and after each session, we will thoroughly wipe down all tables and benches; before and after each order our staff will wipe down their service area on the bar; our toilets will be cleaned every 30 minutes and fully disinfected with disinfectant spray after every session. Sanitiser and hand washing stations will be available throughout the venue.
What is the toilet situation?
We will be using the Main Hall Toilets and operating a one-way system in and out of the building. Some cubicles will be unavailable for use as we will be doing our best to keep distance between them, but we expect demand to be staggered enough to ensure limited queuing. Please follow all instructions on signage and floor markings throughout the venue, and respond to our staff if they are giving directions.
How is the Beer Garden area laid out?
You enter via Talbot Street (just past the main entrance and up towards the back of the venue) We will then invite you into the fenced-off event area and show you to your table. All tables are laid out within the government guidelines to ensure you have a pleasurable drinking experience.
Am I able to move around the venue freely?
You are able to go to the toilet, ensuring you are keeping socially distant at least 2m away from the next person, wearing a face covering and following all signage and instructions. Other than that, you must remain at your table and ask a member of staff for assistance.
Do I have to wear a face-covering?
We require face coverings to be worn when arriving at the venue and when moving around, but not when sitting at your table. We recommend bringing your own, but if you do forget, we can provide a disposable one.
Will I have easy access to hand sanitiser or hand washing facilities?
There will be hand sanitising stations at the entrance, exit and throughout the venue along with handwashing facilities in the toilets, naturally. We suggest bringing along a small bottle of sanitiser for use at your table if you wish.
Will your staff be wearing PPE?
Our staff will be wearing disposable face masks which they will throw away after every session. They will also be wearing aprons that have been washed at 60 degrees at the end of every day. Bar Staff will use disposable gloves to build and then deliver all drinks orders on a tray. They will also then dispose of the gloves and sanitise the tray. Bar staff will be instructed to wash their hand before their shifts and then every 20 mins to the NHS specifications.
How will social distancing and safe customer behaviour be enforced?
We will have friendly security in PPE present during all sessions.  They will simply be there to keep an eye on things and ensure the safety of all staff and customers. Should there be any repeated contravention of our guidelines or government guidance, they can be reported to staff or security. Those people will be asked to leave without refund and blacklisted from the venue.
How will you comply with the latest government guidance?
As you will have read above, we are complying with current government guidance around social distancing, PPE and cleanliness etc. We will continue to update our processes and procedures as the government update their guidelines and rules for licensed premises. Will will be in contact with any updates via email in advance of your booking.
Rock City Nottingham
While you're at it, why not check out our gig guide and see if your favourite artists are playing soon! We also have our club nights on a Thursday (Tuned), Friday (Get Lucky) and Saturday (Rebel Rebel) so check those out too!
Finally, if you enjoyed reading this blog post, make sure to check out our other posts THE SURVIVAL TOUR or BEAT THE STREETS 2021 WINTER FUNDRAISER