We're pleased to once again be a part of the award-winning, multi-venue metropolitan festival Dot To Dot Festival which will be here in May!
2020 sees the festival celebrating its 15th anniversary, and today they've announced the second wave of artists. Dope Lemon – Angus Stone's solo project – and indie-grunge outift Pip Blom will be joining Easy Life on the lineup along with loads of others!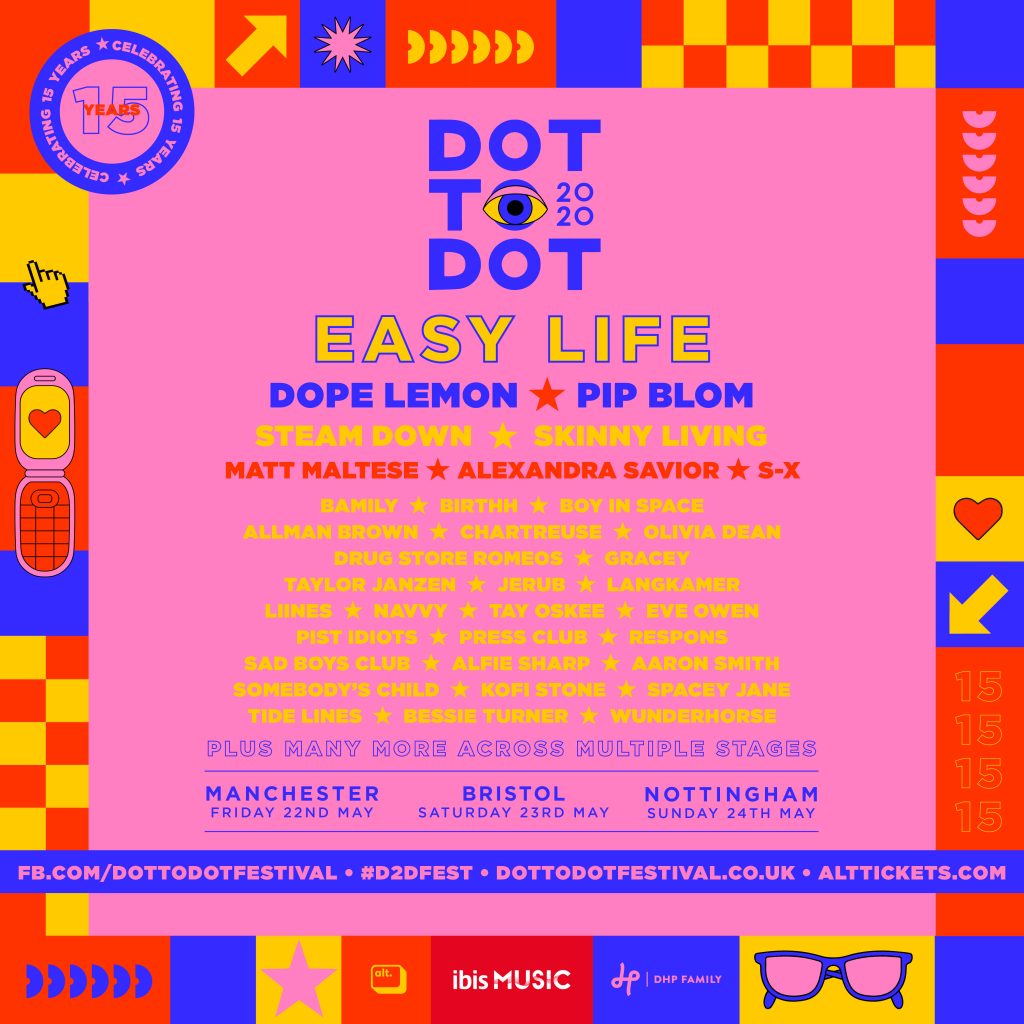 Dot To Dot has established itself an excellent reputation for bringing the hottest new talent to stages of all sizes in Manchester, Bristol and Nottingham over the late-May Bank Holiday weekend, the perfect time to party!
Dot To Dot | Easy Life
This year is proving to be yet another wicked weekend of top quality, fast-rising artists. Easy Life will headline following a breakout year, with a sold-out UK tour, a critically acclaimed mixtape – Spaceships – and a show confirmed at the prestigious Roundhouse in London. The Leicester five-piece triumphed in 2019 and will again in 2020, already being crowned Best New British Act at the 2020 NME Awards.
Dope Lemon
With the second announcement comes the addition of Dope Lemon, the vibrant and experimental project of renowned Australian musician Angus Stone (of folk-pop duo Angus and Julia Stone. On his solo project, Stone has explored new grounds, recently releasing his second studio album Smooth Big Cat and hitting over 100 million streams, with music he describes as 'songs for when the eve is about to turn into something special'. Sounds perfect for a Bank Holiday!
Pip Blom
Heavenly Recordings signee Pip Blom also joins the line-up along with her band, with their debut album Boat being a highlight of 2019. Their bright and infectious, grunge-infused melodies went down a storm on the John Peel stage at Glastonbury and will be a golden edition to Dot to Dot.
Other additions include prolific South London Songwriter Matt Maltese,  British R&B and trap artist S-X, and Bamily, who have conquered the London scene with secret shows in unusual locations.
Dot To Dot 2020
Each year Dot To Dot Festival prides itself on seeking out the freshest emerging musical talent and its 15th edition, with the appointment of Easy Life as headliners, demonstrates this approach and ethos right through the core of the festival. Dot To Dot organiser and Director of Live at DHP Family, Dan Ealam, said: "We can't wait to celebrate the festival's 15th birthday with some of the most exciting acts from across the World. It's extra special having Easy Life along to headline after gracing some of the festival's smaller stages in recent years and we're excited to mix up the programming to keep the festival moving forward for another 15 years! There's plenty more acts to be announced as we build up to our birthday and some surprises too!"
Accolades for Dot To Dot Festival:
Winner of Best Festival For Emerging Talent at the UK Festival Awards 2017
Winner of Best Multi Venue Festival at the Live UK Awards 2017
"Dot To Dot is proof that you don't need to pitch a tent in a muddy field to get that festival feeling"
The Independent
"With a stunning bill and venues within yards of one another we'll leave you to join the dots"
Clash
Check out more and see the full line-up.
Tickets are now available.
Rock City Nottingham
Also, while you're at it, why not check out our gig guide and see if any other of your favourite artists are playing soon! We also have our club nights on a Thursday (Tuned), Friday (Get Lucky) and Saturday (Rebel Rebel) so check those out too!